Angie Payne and Kyra Condie are taking a stand in their support of Save Red Rock and its efforts to defend the "crown jewel of the Mojave."
Writer: Carly Terwilliger
In a blog titled "Tipping Point. Save Red Rock," Payne and Condie relay their passion for the renowned climbing area and the importance of protecting these wild spaces.
"As the world is only getting busier, crazier and more crowded, we need places like Red Rock that provide an escape from the busyness and stress of the developed world. We need places that remain wild," said Payne.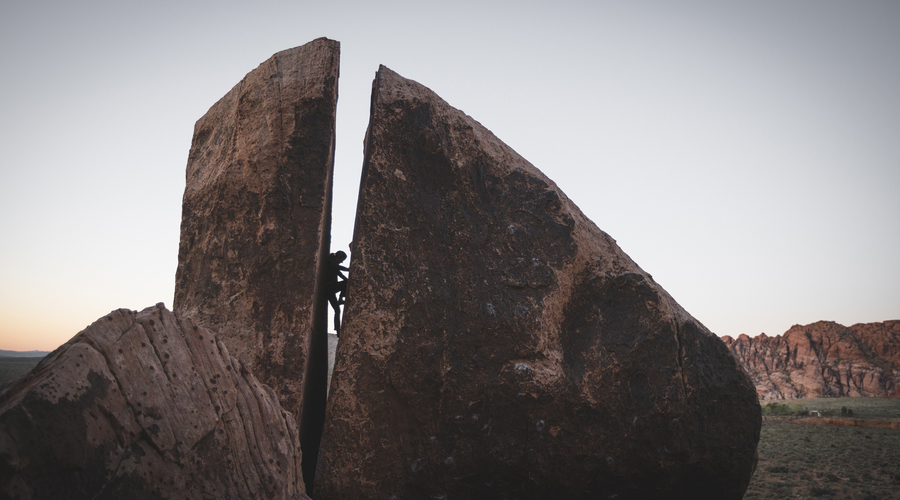 The original blog post, written by Christine Kassar, can also be seen here. Its full text reads:
"Every time I'm there, I fall a little bit more in love with Red Rock Canyon. The rock looks different at all times of day and I'm blown away by the beauty of the place," says Kyra Condie, a 20-year old Mountain Hardwear athlete with six USA National Championships to her credit. "And even though it's so close to Vegas, you still feel secluded – that's the real beauty of it. Having such natural beauty amid a man-made aspect of the world adds to the canyon's majesty."
It's this bizarre juxtaposition—of the built-up neon strip of Las Vegas and the essentially untouched maze of canyons, peaks, gorges and cliffs in Red Rock only miles away—that makes this spot so unique and appealing to so many. "Walking through the layered sandstone and desert plants makes Las Vegas feel many worlds away," says 32-year old photographer and Mountain Hardwear athlete Angie Payne, a former Bouldering National Champion and first woman to climb a confirmed V13. In reality, only 15 miles separate the congestion and madness of the nearby city from the serene otherworldly setting of Red Rock Canyon National Conservation Area, a 195,819-acre swath of land adorned with eroded spires, narrow ledges, and craggy chimneys.
Angie and Kyra are not alone in their connection with this special nook of Nevada where you can hike, bike, run, scramble, and climb, or simply reconnect with nature in a vast landscape awash in a magical rainbow of orange, pink, gold, red and cream-colored stone.  In fact, two million people from near and far escape to this unique sandstone sanctuary every year.
In recent years, however, a battle has been brewing between a developer looking to build more than 5,000 homes on land adjacent to the conservation area and a group of highly committed locals, conservationists and recreationalists who want to preserve the rural character of the canyon.  This dedicated faction hopes to keep out future high density and commercial developments that would adversely impact the environment and the experience of visiting this special place.
Forces of nature have been shaping Red Rock Canyon for millions of years, but this masterpiece could be irrevocably altered in a matter of months if we do not stop this proposal to build a city of over 14,000 residents, businesses, and commercial institutions in Red Rock Canyon.
"Each time I come here, I leave with a deeper appreciation of its beauty and the importance of protecting it. And I more completely comprehend the severity of the situation surrounding the proposed development plan," says Angie who, through climbing, has developed an appreciation for Red Rock that allows her to understand what is at stake . "In many ways, the development plan is representative of a larger threat that exists in today's world – the prioritization of development and economic gain over the preservation of nature and the wild places of the world."
Beyond climbing, Red Rock Canyon, designated as Nevada's first National Conservation Area in 1990, supports an exceptional level of biodiversity. This oasis in the desert not only acts as a refuge for people, but also harbors countless critters including mountain lions, desert bighorn sheep, bobcats, desert tortoise, 200 bird species, and more than 600 different species of plants, including 15 found nowhere else on earth. In striking contrast to a town geared to gambling and entertainment, Red Rock's nearly 200,000 –acres—dappled with deep canyons, weathered sandstone, ancient roasting pits, sacred rock art, fossilized dinosaur tracks and wilderness areas—offer unmatched opportunities for recreation, solitude and discovery.
"Not everyone can get away to remote areas to experience nature and outdoor activities so it's amazing to have a place that so many people can escape to that's also so close to the comfort of their everyday lives," says Kyra. "The proximity to the city coupled with its remote feel is an insane balance that somehow works, but this development would definitely upset that balance."
And like many, she's worried that the impact of a project like this one will reach well beyond its physical border. "If we don't draw a distinct line in the sand, there will be more and more people wanting to build in our beautiful natural areas because they're beautiful and so they make for prime real estate."
That's where a local 501c3 organization called Save Red Rock Canyon CDC (known as Save Red Rock) comes in. This small, but mighty non-profit dedicated to preserving and enhancing the rural, recreational, educational, and scientific resources in and around the Red Rock Canyon National Conservation Area has drawn the proverbial "line in the sand" by launching a campaign to safeguard this area from current threats. As a result, over 50,000 people have signed the saveredrock.com petition to "Keep Red Rock Rural" and over seventy-nine percent of Clark County voters oppose allowing the project to move forward with many arguing that the new community would increase traffic and pollution, encourage more unwanted development and spoil the view from the National Conservation Area's scenic loop and most popular trails, which are about 3½ miles to the northwest.
Despite widespread opposition from the community, respected elected officials, and a broad coalition of cyclists, hikers, climbers, environmentalists, and businesses, Clark County Commissioners recently voted in favor of the project, prompting further litigation from Save Red Rock.
Now, more than ever, the fate of Red Rock Canyon hangs in the balance.
"As the world is only getting busier, crazier and more crowded, we need places like Red Rock that provide an escape from the busyness and stress of the developed world. We need places that remain wild," says Angie. "To take away those places or bombard them with the noise, light and pollution people are hoping to escape would be, in my opinion, catastrophic."
But, Save Red Rock is not backing down from their fight and is pursuing further legal action to keep the canyon as it is—relatively untouched by the encroaching would-be urban sprawl.
"We have to stand strong and hold the line.  Red Rock Canyon is the canary in the coal mine, so to speak, for the entire public and for our future" says Save Red Rock President, Heather Fisher. "If a place this beautiful and peaceful, and yet this valiently fought for (by over 50,000 people and 15 years) cannot be preserved, then nothing can. As long as there are people who still believe, we will still fight to protect Red Rock Canyon for everyone, and especially for our most motivating force, our future generations."
We, at Mountain Hardwear support Save Red Rock in their efforts to defend this crown jewel of the Mojave. If this issue is important to you, please make your voice heard by signing this petition and sharing this story with others on social media.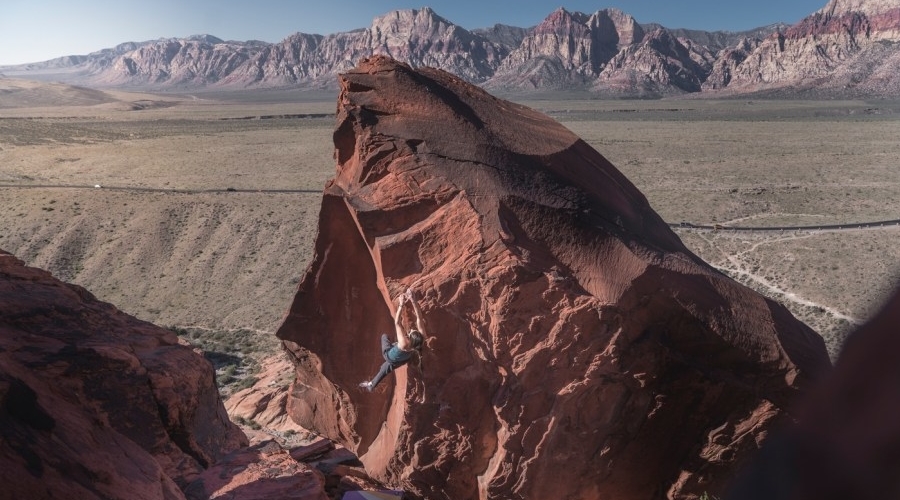 Photos courtesy Cheyne Lempe