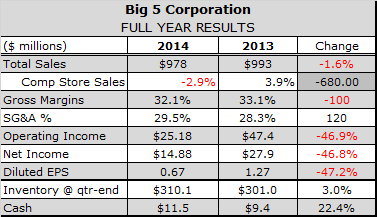 Big 5 Sporting Goods expects same-store sales to grow in the low-to-mid-digit range in the current quarter thanks to robust sales of winter products in January, strong sales of some non-winter categories and a slowing decline in firearms related sales.
The forecast, which the company issued Feb. 24 with its audited results for the fourth quarter and year ended Dec. 28 2014, calls for earnings per diluted share of 6-to-13 cents, compared with 9 cents in 2014 and 23 cents in 2013 when gun sales were peaking. The guidance assumes the tentatively resolved labor dispute at West Coast ports will continue to delay deliveries and raise shipping costs.
As of Feb. 24, same-store sales for the quarter-to-date period were running ahead of last year, but only because of robust growth in January that has since been reversed amid some of the highest temperatures seen in the Western United States in years.
BGFV, which operates 223 of its 439 stores in California, said that low double-digit increases in same-store sales over the New Year holiday continued through the MLK holiday, but were partially offset by a low-single-digit decline in February, when temperatures spiked throughout its markets even as they plunged to record lows in the Eastern half of the country.
"The [temperatures] turned, not just higher than normal, but really higher in a rather epic way," noted BGFV President and CEO Steve Miller. He said the retailer's market area faced some of the highest temperatures in many years, and in some instances, in recorded history. A "lack of snowfall that tremendously impacted the opportunity to sell winter products over the February and the very important Presidents' Day holiday."
Strong sales of non-winter product categories and a slower decline in firearms sales, which knocked 650 basis points off BGFV's comps rate in the first quarter of 2014, have helped buoy comps. Partially offsetting those gains was the Seattle Seahawks failure to repeat as Super Bowl champions, which made for difficult comparison with last year, when their victory drove sales of apparel and other licensed fan gear. Labor unrest at West Coast ports has also hurt top and bottom line growth.
"We are definitely experiencing significant delays in receiving lots of product," said Miller. "In some cases, it means that we are out of (it). We've had to change a number of products within our promotional campaigns to accommodate late shipments."
When pressed for a dollar impact on expenses, Miller was evasive.
"It's difficult to quantify what the impact is of replacing an item that you thought you would have with essentially the next best item that you could put in the spot, but we've factored that all in our thinking," he said.
BGFV ended the quarter with inventory valued at $310.1 million, up 3.0 percent from a year earlier. Miller said the favorable weather in January helped BGFV liquidate much of the winter gear carried over from last year, when the Lake Tahoe region was in the depths of its worst drought in more than a century.
BGFV provided the first quarter update with audited results for its fourth quarter and full fiscal year ended Dec. 28, 45.8 percent to $2.8 million, or 13 cents as share. Same-store sales decreased 0.5 percent, including a 220 basis point impact from lower firearms sales. BGFV had warned on Jan. 12 that earnings would come in well below initial guidance due to weaker than expected sales of firearm-related products and soft December sales of winter-related products. Full-year diluted earnings per share came in at 67 cents, or a penny shy of the 68-to-70 cents range forecast last month.
BGFV is targeting 10 net store openings in 2015 reflecting the opening of up to 16 stores and the closing of 10.
BGFV's first quarter guidance 0f 6-to-13 cents per diluted share assumes a return to same-store sales growth and costs related to expediting deliveries delayed due to the tentatively resolved labor dispute at West Coast ports, through which most of its products are imported.
"They are really cranking it up at the port and we're going to try and open our doors and work some overtime to get the product into our DC and then allocate it to our stores," explained CFO Barry Emerson. "There could be some demur costs at the ports and some overtime on our end, but that's been incorporated into our guidance."