By Eric Smith
Almost one year to the day that Volcom's former parent Kering Inc. said it planned to sell the surf, skate and snow brand to focus on luxury goods, the company made good on its promise by unloading what it no longer considered a core asset.
Volcom, which spent a year on the selling block, can now focus on its new chapter under the ownership of Authentic Brands Group (ABG), which earlier this week acquired the company for an undisclosed amount. (Click here to read our news story on the deal, Authentic Brands Group Acquires Volcom From Kering.)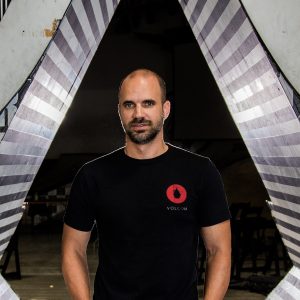 "It's definitely been an adventure," Volcom CEO Todd Hymel, pictured right, told SGB this week. "It's been a long year, but at the end of the day, I think we have a solution that was probably best for everyone, so we're all excited that this long year is over. We're ready to dig in and get back in business."
A long year indeed for Volcom, which Kering bought in 2011 for $608 million. But on April 10, 2018, Kering announced plans to spin off the brand, issuing this statement at the time: "In accordance with Kering's strategy to fully dedicate itself to the development of its luxury houses, Volcom no longer constitutes a core asset and Kering has initiated a disposal process." (Also that year, Kering announced plans to spin off Puma.)
Kering finally found a buyer in ABG, whose broad portfolio includes active lifestyle notables like Prince, Spyder and Nautica, in addition to a number of footwear brands (e.g., Airwalk, Nine West and Tretorn) and sports celebrity brands (e.g., Shaquille O'Neal, Greg Norman, Muhammad Ali and Julius Erving). ABG even counts the Elvis Presley and Marilyn Monroe brands among its assets.
The deal ended an awkward limbo for Volcom, a global apparel company that owns nearly 100 retail stores around the world and distributes in 60 countries. It also brought another lifestyle stalwart to ABG's portfolio, which is now valued at more than $9.3 billion in annual retail sales. (Volcom doesn't disclose revenue.)
"We are thrilled to have completed the purchase of Volcom," said Jamie Salter, chairman and CEO of ABG. "For nearly three decades the Volcom family has created one of the most iconic brands in the skate, surf and snow markets. During the last few years, the brand has been consistently gaining traction with broader audiences around the world while staying true to its core. We could not be happier to finally get to work with this team."
The structure of the deal breaks down like this: ABG took a minority stake in Liberated Brands, the newly formed operating company for Volcom, with Hymel and Volcom's current management team taking the majority stake in the new company and maintaining operations in the U.S., France, Australia and Japan.
The same management team will continue to oversee the brand's product development, athlete marketing, and retail and wholesale businesses worldwide, while ABG will focus on building brand awareness and enhancing business development in current and new markets for Volcom.
Despite the apparent connection between the name of the new operating company, Liberated Brands, and Volcom's release from Kering after operating for the last 12 months with a figurative "for sale" sign plastered across its logo, Hymel said the new moniker had nothing to do with feeling "liberated" from the previous owner.
"It's funny because it certainly turned out to be perceived that way," Hymel said. "When we were coming up with names, we wanted to make sure that the new company paid homage to Volcom and its founding roots, and one of its founding pillars was creative liberation."
The concept of being "liberated" from Kering did become somewhat of an inside joke among employees as news of the deal broke, but Hymel said the name is quite meaningful for those who design Volcom's products and bring them to market.
"It's to make sure that we don't forget, every single day, why we're here, how we got here and the success of Volcom," Hymel said.
ABG was clearly drawn to that success, especially how Volcom has remained true to its core pillars of skate, surf and snow, with music and art tossed in as well, Hymel said. Now the goal is to take the brand's core categories and elevate them for new audiences at home and across the globe.
"They [ABG] love the ability of the brand to retain its foothold in a strong position in surf but also be a brand that can be much bigger in the outdoor and snow space, as well as city and skate and music," Hymel said. "They're looking at being able to take all those pillars and help us bring those to a larger audience, which is what we've been working on over the last few years. They just have a much bigger platform in terms of their social reach, their internal media platform, their ambassadors and their entertainment business."
Nick Woodhouse, president and CMO of ABG, echoed that belief, adding that the two companies are now focused on combining their strengths to put the Volcom brand into a new stratosphere.
"Volcom is one of the world's most sought-after lifestyle brands by board sports enthusiasts," Woodhouse said. "Liberated Brands' operational expertise combined with ABG's brand building know-how and a global network of best-in-class partners, make an unstoppable combination. We look forward to joining forces to take this brand to new heights."
Those new heights center on Volcom leveraging its parent company's capabilities in distribution and digital, strengths that have helped other assets in ABG's portfolio flourish. That means entering new regions and developing new channels— primarily in international markets and not the U.S., Hymel said.
"They've got great partners that can help us grow in regions of the world where Volcom doesn't exist yet or hasn't overly penetrated—certain places like Asia-Pacific," Hymel said. "They're seeing opportunities to build the brand in new places."
ABG's portfolio includes a number of brands, but when asked if he sees some similarities in how any those assets compare to Volcom, whether that's in an overall profile or end markets or growth trajectory, Hymel said one in particular came to mind—Spyder.
"They've really put Spyder on a pedestal," Hymel said. "In just a few years it has really built up a strong business. But there's just this general dynamic across the portfolio when you look at what Jamie [Salter] and ABG have done. They're taking lots of different brands and a lot of different segments, and they're making those brands grow through more brand awareness.
"They've got the formula down, and I think that formula applies to all their brands. They know how you can grow your consumer, how you can bring the brand to new eyes and turn that into conversion and revenue. They've gone from zero revenue to almost $10 billion in less than 10 years, so that's a pretty strong track record."
Hymel said the company has been busy meeting with channel partners and key accounts, both small and large, to discuss the plan moving forward and how it will ramp up its market presence with the power of ABG behind it. So far, so good on how customers and partners are receiving the message about Volcom's commitment to keep the brand's DNA intact while also forging a new path.
"They love the fact that management is not changing, that management is putting up money to be a part of this next chapter, that we're going to continue to do things as we've done in the past but with more firepower behind us," Hymel said. "Everyone loves the message—and they love that the deal is done. There are no more questions about who, how, what and when, so now we're just charging forward."
Photos courtesy Volcom
Author's note: "Behind The Deal" is an occasional series that takes a deep dive on M&A transactions in the active lifestyle space. Email me at eric@sgbonline.com to have your deal featured.