By Eric Smith
At the Big Rock Sports Canada trade show in Richmond, British Columbia, last October, fishing hook manufacturer O. Mustad & Son and recreational fishing line brand TUF-Line were assigned adjacent booths.
As is customary at shows, attendants of the neighboring booths used any lull in customer traffic to gab about their businesses and the products they were displaying. But the conversations between these particular businesses, at this particular show, soon provided the roots for something much bigger than the usual trade show talk.
The Mustad sales rep had been chatting with Rex Nelson, president of Western Filament, the Grand Junction, CO-based company that owned TUF-Line. And as Jordan Davis, president of O. Mustad & Son Americas, later recalled, this chance encounter would prove to be serendipitous.
"One of our salespeople struck up a conversation with Rex, which, as he described to me, got him thinking about the natural fit between Mustad and TUF," Davis told SGB. "That same week, Rex called me to introduce himself and brought up the opportunity to acquire TUF."
Davis said serious talks of Mustad acquiring TUF-Line from Western Filament began "almost immediately." As it happened, Mustad was looking to acquire growth in hopes of expanding its reach in the U.S., and this well-known fishing line brand emerged as an especially attractive asset in that capacity.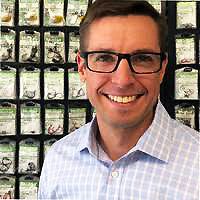 "The TUF brand has always been a strong one in certain regions, and product quality has always been far and above other brands," said Davis, pictured right. "I knew this from personal use and former interactions with the brand from my days in retail management and pitched the opportunity to our senior team. The synergies and opportunity were evident, and we quickly engaged TUF in conversations."
After conversations and negotiations, the companies reached a deal. On May 30, Mustad closed on its acquisition of the TUF-Line brand and assumed the marketing, product development and distribution responsibilities of the business. Under the agreement, Western Filament will maintain its manufacturing role through a five-year supplier agreement with an additional three years of automatic renewal.
The companies declined to disclose the financial terms of the deal, and because Mustad is privately held, it doesn't reveal annual sales. But Davis said the addition of TUF-Line is "a solid add to our revenue."
It's also a solid addition to a legacy brand's aspirations of expanding even further into new categories and markets.
Mustad's U.S. headquarters are in Miami and its global headquarters are in Gjøvik, Norway, a fishing village on the country's largest lake, Mjøsa. The company, which traces its history back to 1877, makes and sells all manner of fishing equipment, including hooks, multifilament and monofilament lines, lures, flies, tackle and apparel. A true OG in the fishing world, to say the least.
"We are thrilled to be working with a company that has such a rich history and has been an industry leader for so many years," Nelson said. "Through Mustad's leadership, marketing, and expertise of the fishing tackle industry, we are confident that TUF-Line will help Mustad exceed their goals while reaching its true potential as a globally recognized brand."
As for what the deal means moving forward, the TUF-Line brand will retain its name because it is a "premium quality brand" that "can—and should—stand alone," Davis said. He added that the addition of TUF-Line will enhance Mustad's product assortment and offerings around the world, even in product categories that overlap with Mustad's current and past SKUs.
"While Mustad has launched fishing lines in the past, TUF will set us apart in the space," Davis said. "The technology behind the fibers and the proprietary processes used by Western Filament to coat and color the lines is second to none."
What's more, he added, the addition of TUF-Line will complement Mustad thanks to the brand's reputation and quality, especially in certain pockets of North America.
"After closing, we have been inundated with calls from customers praising the quality of the TUF product—some that are already interested in growing the business now that they have a consolidated solution for hooks, terminal tackle, lures and lines," Davis said. "Our strategy of targeting high-quality brands and products aligned perfectly with a brand like TUF. Their manufacturing process (many of which are proprietary) differentiate the TUF line products in a way many competitors cannot reproduce. That's perfectly aligned with our core value of innovation and excellence."
At the same time, Mustad also offers TUF-Line plenty of opportunities in terms of brand exposure and getting into new geographies through the company's extensive distribution capabilities, including a global network of sportfishing dealers, retailers, and wholesalers.
Mustad plans on executing a multichannel approach for TUF-Line to "get us as close as possible to the end user," Davis said. "Customer feedback and engagement is vitally important to brand success these days, and we want to make sure our customers are as close as possible. That being said, we place a huge value on our traditional brick-and-mortar customers, as well as our wholesale partners. Without them, we wouldn't be where we are today."
Davis said Mustad has not traditionally been acquisitive in the past, but a new ownership group is keen on investing in the company's growth and capabilities, and has provided the company with "aggressive outlook on acquisitions."
Now, Mustad is looking for new targets to further grow through acquisition. Nate Pund of Houlihan Lokey, who represented Mustad in the deal, said the company has retained Houlihan Lokey to look at adding some additional assets to its now-growing portfolio.
"Mustad is seeking to add select acquisitions to further strengthen their leading portfolio of products," Pund said. "We've have been retained to assist the company and have identified a number of potential targets and have initiated several ongoing conversations."
Pund added that Mustad's acquisition of TUF Line is indicative of an active lifestyle market that is ripe for M&A to accelerate in the coming months. It doesn't matter the category; look for more of these deals to get announced soon.
"There's a lot of consolidation going on," Pund said. "Companies are striving for growth and working to reach more consumers, and whether you're in footwear or fishing lures or anything else in the active space, there are deals to be done and this is a fantastic market for it."
In other words, plenty of keepers are lurking out there—for Mustad or any acquisition seeker.
Photos courtesy O. Mustad & Son
Author's note: "Behind The Deal" is an occasional series that takes a deep dive on M&A transactions in the active lifestyle space. Email me at eric@sgbonline.com to have your deal featured.