By Eugene Buchanan
With many resorts restricting their operations this winter due to COVID-19, consumers are spending less on the purchase of ski and snowboard passes and instead buying dream gear for backcountry use. SGB Executive asked retailers and manufacturers if that's where they think the category is tracking.
Past trends point in that direction. Over the past three seasons, according to The NPD Group, sales of backcountry skis, boots and bindings have increased 137 percent, with accessories (beacons, shovels, poles) rising 69 percent. All of this was pre-COVID-19, with retailers reporting sales growing even more ever since.
More recently, sales of alpine touring equipment (boots, skis and bindings), climbed 15 percent from August 2019 to March 2020. Leading the category are alpine touring boots which grew 34 percent, due to a 60 percent month-over-month growth in March, followed by touring bindings; 7 percent and skis; 6 percent, according to NPD, with many of these sales made online. Total Alpine Touring Internet sales, according to NPD, were up 34 percent in March.
—
»"We've seen a tremendous boost in backcountry sales," said Drew Saunders, country manager, Oberalp North America, the U.S. headquarters for the Italian group's four brands, which include Alpine touring company Dynafit and touring skin company Pomoca. "When the pandemic hit in mid-March there was about a two-week window before the lockdown when there was a flood of interest that cleaned out retailers' inventory. It got suppressed when the lockdown hit in April, but it's come back early and strong. We had record sales in August and September and that's coming off a strong spring. Retailers have responded with record demand, adding to their pre-seasons," said Saunders.
Dynafit reports all categories in its line are selling well.  Salewa's Pomoca skin line, Saunders added, has done especially well. "It's a new brand in the face of accelerated demand," he said.
As for entry-level versus higher-end sales, he said it's hard to discern. But they are offering packages for the first time — an all-around Seven Summits ski with skins and the Radical ST touring binding, already mounted (the smaller YoungStar ski is targeted for youth and women). "There's been a big boost in interest in them," Saunders said. "They're compelling from a price-point standpoint and make the process easier. We've seen a lot of interest from families with kids and other emerging consumers."
—
»Retailers echo this sales sentiment. "Sales for avalanche safety gear, splitboard and alpine touring have been on fire," said Steve Osborn, director of merchandise, Evo Gear, which operates an online store and eight brick & mortar outlets, (3 in the U.S.; 5 in Whistler, B.C.) "Splitboards, in particular, are selling much earlier than in prior years as there has been a shortage in the market, and consumers are trying to get what they need before the supply dries up."
Osborn added that the uncertainty for lift-access skiing and riding this year is fueling the craze. "More people seem to be preparing for backcountry travel with inevitable COVID-19 restrictions at resorts," he said.
»Cripple Creek Backcountry Owner Doug Stenclik, with five stores in the Rocky Mountains, including its most recent store opening in Denver this fall, said that online sales of touring and backcountry skis, boots and equipment were up "at least fourfold" in August and September, spurring him to open all five brick & mortar stores earlier than normal. "Normally right now we'd be open by appointment only, or only on a few weekdays," he said. "But all our stores are fully open. The demand is huge. Backcountry has been the fastest-growing sector in snowsports for the nine years we've been in business, and this year it seems like it leapfrogged two years of this growth."
Despite the pent-up demand from COVID-19 shut-downs and this season's upcoming resort restrictions, Dynafit's Saunders added that snow conditions still trump all when it comes to sales for the upcoming season. And this past weekend's early storm throughout the Rocky Mountains will likely only fueling this sales surge. "Snow always rules the day and ultimately dictates how sales will be," he said. "But even with a moderate winter, we'll still have strong sales. There is a growing demand for backcountry season-over-season for the last 10 years, and COVID has just accelerated it."
From the retailer's perspective, this increased demand has led to empty shelves and supply-side issues — especially for a certain product. "We've definitely had some supply-side issues," said Cripple Creek's Stenclik. "We placed our main orders last January, so what we have on stock now is likely what we'll get." As with Evo, he said splitboards have been going like hotcakes and will likely feel the supply crunch first. "They've been selling especially well," he said. "We'll probably be out for the season by Thanksgiving. There are still only a few brands making most of them so the bottleneck got hit right away."
From a non-splitboard standpoint, Dynafit's Saunders added that many of the North American snowsports brands never experienced supply-side issues this year with the increased demand. "All of our hardgoods are made in Europe, and were able to keep providing us all year long," he said. "We kept all of our purchase orders intact and will deliver on-time for winter and next fall as well as we work on our budgets and predictions for 2021/22. The pandemic has set a new level of backcountry growth, and the market will continue up from there. The industry is at a higher base to build from — it's not a flash in the pan but continual new users coming to the sport."
—
»Alpine Touring boot maker Scarpa agreed. "We saw an end-of-season spike in AT and telemark boot sales last spring, reflecting the closure of ski areas and people still touring," said Kim Miller, CEO, Scarpa NA. "So far this year, we're seeing a spike in boot sales earlier than normal."
Miller added that the pandemic predicament resorts face this year should also fuel backcountry sales. "With the uncertainty around what ski areas will look like this season and their limited capacity, combined with the participation increase backcountry skiing enjoyed prior to COVID, we expect that demand will continue to increase," he said. "The industry saw that around cycling, hiking and running gear this summer. For consumers with access to backcountry locations, we anticipate that will be the winter equivalent."
Avalanche Gear
Paralleling the rise in backcountry hardgoods sales, avalanche gear sales are also experiencing an upward curve. According to NPD, sales of avalanche safety accessories climbed 53 percent compared to March 2019.
"Avalanche safety gear has been tracking up about five times as compared to last year and is exceeding hardgoods sales on a unit basis," said Evo's Osborn. "This isn't surprising given the increase in backcountry travel not only for skiers and snowboarders but also for those traveling via snowmobile or snowshoes."
But avalanche gear sales didn't take off as quickly as hardgoods sales did, largely because last spring many people were touring within the relatively safe confines of closed resorts.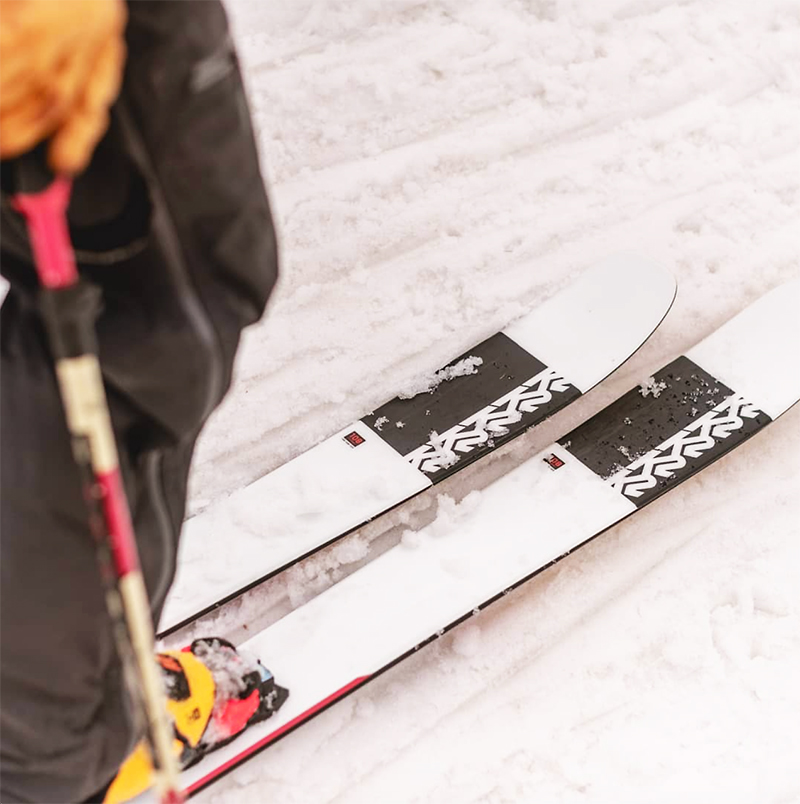 » "We didn't see a surge last spring when the resorts closed — that appears to mainly have been 'uphill skiing,' not true backcountry," said Bruce Edgerly, vice-president and co-founder, Backcountry Access."But already this fall we've seen some big in-season orders from retailers, especially for our lower price-point products. And many others have moved up their pre-season order ship dates. It seems our retailers are seeing some big demand already for snow safety equipment, most likely from new participants."
While this could cause some inventory and supply-side issues, Edgerly added that they should be able to handle any surge in sales. "Our lead times are long nowadays, we can't react to surges in demand," he said. "But we have a big lineup of new products for this season and some substantial carryover of last year's products, so we should have adequate inventory. The exception could be transceivers, which we assemble in the U.S., so we have some 'just-in-time' capability. Some of our components were delayed when COVID hit last spring, but we're working overtime to catch up."
This uptick in safety equipment sales is a good thing — especially with more newcomers coming to the sport.
—
Nordic And Snowshoes
Sales and interest in the Nordic category have been robust as consumers look for new ways to get outside this winter, and without the backcountry safety concerns.
"After the slowdown last spring, sales have increased dramatically and continue to do so," said Jeff Courter, Nordic category manager, Rossignol Group NA. "We've seen a great interest in entry-level to mid-priced touring equipment — packages that offer a perfect blend of ease-of-use with performance while still remaining affordable. Most regions see cross-country skiing as a great way to continue to get outside safely in the winter."
While Courter expects the demand to level off heading into 2021/22, this year, he said, offers Rossignol the opportunity to expose cross-country skiing to a new segment of the population — an opportunity they don't get that often. "As long as we can have some snow on the ground, we'll hopefully see cross-country participation continue to rise both this season and over the years to come," he said.
Rossignol has also taken steps to meet the increased consumer demand from its supply side. "We've added to our deliveries from our factories and will continue to try to provide products as best as possible to retailers in need," he said.
The Snowshoeing category is also making big strides at retail. Most manufacturers and retailers have seen increased sales during the pandemic, which they expect to carry through this winter.
»"Snowshoeing is a great entry-level sport for those who want to get outside in the winter," said Steve Christie, director of sales, K2 Outdoor, whose snowshoe brands include Atlas and Tubbs. "It's super easy; all you have to do is be able to walk. And considering it's outside, users can social distance. It's a great activity during the pandemic."
As with other self-powered snowsports, he added that sales have skyrocketed with backcountry and other snowsports categories. "We've literally sold out of snowshoes and have had to go back to our factory to manufacture product for Q1."
Photos courtesy Salewa, K2