By Eric Smith
<span style="color: #999999;">Lifts are spinning at about 30 resorts in North America, but with winter weather blanketing parts of the country and the Thanksgiving holiday around the corner, look for many more to open their gates or expand their terrain offerings in the next week or two.
The 2019/20 season begins with a new look and feel across much of the industry—a fresh coat of wax, so to speak—so let's look at the changes that occurred since last spring (or summer for a few lucky resorts and riders).
Our winter sports preview touches on the least you need to know about the changing industry landscape—and also says farewell to an industry legend.
M&A Accelerates
For yet another year, one of the biggest stories of the off-season was consolidation—among resort operators and owners and even within the trade show world.
A significant market shift occurred during the summer when Broomfield, CO-based Vail Resorts Inc. announced it had agreed to acquire Wildwood, MO-based Peak Resorts Inc. for $264 million. The acquisition, which was signed in July and closed in September, put an additional 17 ski areas in the hands of the largest ski area owner in the world.
Vail, whose annual revenue in fiscal 2019 was about $2.3 billion, in the last couple of years also added Triple Peaks LLC—the parent company of Okemo Mountain Resort in Vermont and Mount Sunapee Resort in New Hampshire (plus Crested Butte Mountain Resort in Colorado)— Stowe Mountain Resort in Vermont and some resorts in Australia.
When announcing the deal, Vail said it would invest $15 million over the next two years in one-time capital spending at the Peak Resorts properties. However, Peak's ski areas don't need many upgrades, Carol Fabrizio, VP of communications for Vail Resorts, told SGB for a recent report.
"The ski areas within the Peak Resorts portfolio are in good condition thanks to a number of recently completed capital projects, including upgrades to their snowmaking capabilities, terrain expansions and infrastructure improvements," she said.
That means the biggest change will be the number of skiers and riders with an Epic Pass—Vail's multi-mountain pass that comes with a variety of options (more on passes below).

In other words, potentially more skiers from metro areas that were once Peak Resorts target markets—e.g., Boston, Cleveland, Indianapolis, Kansas City, Philadelphia, St. Louis and others—should now be more likely to hop a flight to Vail or Whistler-Blackcomb or Park City.
"[The acquisition] represents the next logical progression in [Vail Resorts] building out the Epic Pass network along the under-penetrated East Coast following the recent acquisitions of Okemo, Mount Sunapee and Stowe," Brett Andress of KeyBanc Capital Markets wrote in a note to investors after Vail bought Peak. Vail, he added, will now be able to "market to Peak's base of ~2.1 million skier visits in FY19."
Vail wasn't the only ski resort operator to make moves. Alterra a week ago announced it had agreed to purchase Sugarbush Resort in Vermont, which will bring the company's total to 15 year-round mountain destinations throughout North America, including the world's largest heli-skiing operation. That follows the acquisitions of Crystal Mountain Resort in Washington and Solitude Mountain Resort in Utah in 2018.
But ski areas weren't the industry's only acquisition seekers. About two and a half years after Snowsports Industries America (SIA) sold its annual B2B event Snow Show to Outdoor Retailer, the Park City, UT-based industry trade association last week agreed to acquire the consumer-focused Boston and Denver Ski and Snowboard Expos from BEWI Productions Inc.
SIA gets back into the live event business, which it exited after hosting the 2017 Snow Show, and will bring its mission of promoting snow sports to a wider, consumer audience.
"Part of the natural evolution of the changing landscape of the industry is finding a way to create direct connections between our members and consumers," Maria McNulty, COO of SIA, told SGB. "Consumer expos were a natural fit, especially given that we have in-house expertise on how to run shows. Taking that expertise and being able to apply it to the B2C space made a lot of sense."

Pass Wars Heat Up
What does all this consolidation mean for skiers? In addition to enhancements at their favorite hill and perhaps a bump in lift ticket prices at the window (not to mention a cost increase for that après beer and burger), multi-mountain passes are growing exponentially in value. More mountains under one pass mean more opportunities to ski at numerous locales throughout the season.
Not only have Vail and Alterra upped their game by adding more mountains to their products (Epic for Vail, Ikon for Alterra), but 36 independent ski areas recently banded together to form the Indy Pass, which implores skiers to "Discover the spirit of skiing at North America's authentic, independent resorts."
Vail brought a new twist to the pass wars with its Epic Day Pass, which was designed for skiers or snowboarders who don't want a traditional pass but the option to select the number of days they want to ski or ride—from one to seven—and whether or not to add holiday access.
Even technology has become another battleground for the mindshare of skiers and snowboarders, the most recent example being Alterra's slick new Ikon Pass app. The app (which yours truly will test out this season) features the ability to track on-mountain stats, view leaderboards, find a location on destination trail maps, create friend groups and more.
"As we enter the second season of the Ikon Pass, we are excited to offer Ikon Pass holders an app to enhance their experience on the mountain as they visit any of our 41 destinations around the globe," said Erik Forsell, Alterra's CMO. "The app is a new outlet for the Ikon Pass community to engage with our destinations and other pass holders."
Pray 4 Snow
The biggest X factor for any ski season is snowfall. Resorts were blessed with plenty of it in 2018/19, and as the season kicks off, all winter sports stakeholders are hopeful for a repeat performance.
Look for their zealousness to emerge at the dozens of "pray for snow" parties at ski resorts and retail stores in ski towns and big cities across the country in the coming weeks.
In fact, those who work in the industry will among the first to break out old skis and snowboards and toss them in the bonfire as a sacrifice to Ullr, the Norse god of snow. If their prayers are answered, like they were last year, look for another good season for resort operators—both publicly traded and privately held—and for riders of all disciplines and in all regions.
But while plentiful freshies will increase skier visits—as it did last season with skier visits up in 2018/19—that doesn't necessarily translate to more participation among skiers and snowboarders.
Although participation numbers increased slightly in 2018/19 after being flat to down over the previous few years, the industry is taking an "all hands on deck" approach to ensuring the barriers to skiing and snowboarding are lowered.
The National Ski Areas Association is bringing the popular Learn to Ski and Snowboard Month initiative in-house. Ski areas are allowing for uphill access to tap into the growing alpine touring trend.
And SIA announced a new platform, Generation Snow, to increase participation in winter snow sports. The industry trade association partnered with the Share Winter Foundation in hopes of adding 100,000 new winter sports participants by 2028.
SGB will have much more on the participation push throughout the winter.
RIP Jake Burton Carpenter
Innovator. Creator. Trailblazer. Pioneer. All-around badass.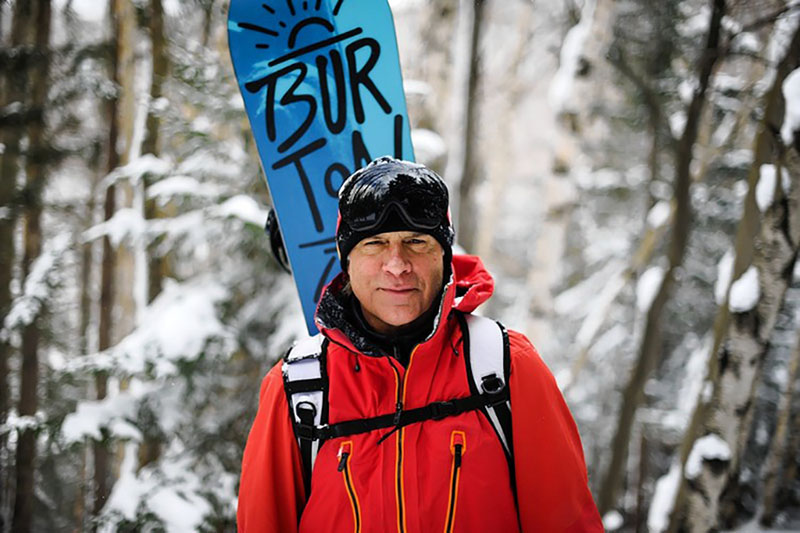 These are just a few of the words people used in their tributes to Jake Burton Carpenter, shown right, founder of Burton Snowboards, who died this week at 65. Click here for SGB's obituary from early Thursday.
It's likely many people who hit the slopes this weekend or even this season—whether they're a skier or a snowboarder—will be pouring one out for Jake. Eulogies have poured in about Burton Carpenter from across the winter sports industry and beyond, and SGB is compiling a collection as we receive them. Here are a few:
Burton Snowboards—"It is with a heavy heart that we share that Burton founder Jake Burton Carpenter passed away peacefully last night surrounded by loved ones as a result of complications from recurring cancer. He was the soul of snowboarding, the one who gave us the sport we love. #RideonJake"
Nick Sargent, President, SIA—"Jake was not just a pioneer in snowboarding, he was my boss for 15 years and a personal friend. As an industry, we owe a debt of gratitude to Jake. He played a huge role in the inspiration and transformation of the winter industry. Snowboarding has brought youthful energy, innovative technologies and invited an entirely new generation of winter enthusiasts to the mountains. I know I speak on behalf of SIA and the entire industry when I say that our thoughts are with Donna, George, Taylor, and Timi during this difficult time, and I find solace knowing that right about now, Jake is making endless powder turns, smiling the entire time."
Mario Molina

, Executive Director, Protect Our Winters—

"Jake not only invented the sport and founded the world's largest snowboard company, he built a culture that brought together millions of people from every corner of the world around a shared passion for riding snow. He opened the mine."
Tony Hawk, Skateboarding Legend—"Goodbye Jake Burton, thank you for paving the way for us to skate / surf on the snow. It was an honor and a privilege to share an epic powder day with you and this heavy crew 10+ years ago."
Rob Katz, CEO, Vail Resorts – "Jake Burton Carpenter was one of the most innovative and transformative individuals in all of sports and the entire mountain resort industry owes so much to Jake and to @burtonsnowboard. An incredible legacy for all of us to live up to. #RideonJake"
Matt Carlson, President & CEO, NSGA – "We are very saddened about the passing of Jake Burton Carpenter and we extend our sincerest condolences to his family and everyone at Burton Snowboards. Jake exemplified the entrepreneurial spirit of our industry and worked so hard to grow and promote the sport of snowboarding."