By Eugene Buchanan
With 2020/21 marking one of the deadliest avalanche seasons on record — 10 people have died in Colorado avalanches so far, nearing the record of 11 set in 2012/13; and 24 have died across the country, one more than all of last season — avalanche gear sales are booming. Joining transceivers, probes and shovel sales are those of airbags, a pack that houses an airbag that users can deploy to keep them near the surface.
Think of it as the "Brazil nut theory"— shake a jar of mixed nuts, and smaller ones fall to the bottom while the bigger nuts stay on top. That's the premise behind the burgeoning backcountry airbag market — balloon-deploying backpacks help keep consumers afloat with the pull of a chest handle. In a deadly avalanche in the San Juan Mountains of Colorado in early February, three out of the four people caught in it died. The sole survivor was wearing an airbag which helped keep him near the surface where rescuers could find him.
There are two main types of airbags: compressed-air and fan-based systems, the latter powered either by lithium-ion batteries or the E1 system developed by Switzerland's Alpride and consisting of a supercapacitor (similar to a rechargeable battery, but storing energy through static charge rather than an electrochemical reaction). Both systems have their attributes, from multi-deployment options and airline flight compatibility in the fan-based systems to cold-temperature benefits in compressed-air systems.
According to NPD market share data, the compressed-air systems are still the industry's bread-and-butter, but "the electronic fan-based systems are showing some promise," said Bruce Edgerly, vice-president and co-founder of Boulder, CO Backcountry Access. "However, since not many people are traveling by air to ski destinations this season, the electronic systems are less attractive, considering the extra weight and cost. But, I expect, they will gain momentum during the travel season."
Airbags across the board are gaining momentum this season. According to the latest report detailing sales of technical packs over $150 from NPD data, the top brands were booming through December versus the same period last year. Backcountry Access (BCA) leads the category, up 154 percent to 3,660 units, followed by Osprey up 103 percent at 2,632 units and Black Diamond up 84 percent at 1,505 units. As for top models, BCA leads the tech backpack category with its Float 32 and 22, followed by Black Diamond's JetForce 25L and Tour.
The following is a roundup of airbags retailers are selling this season, in order of sales volume by brand.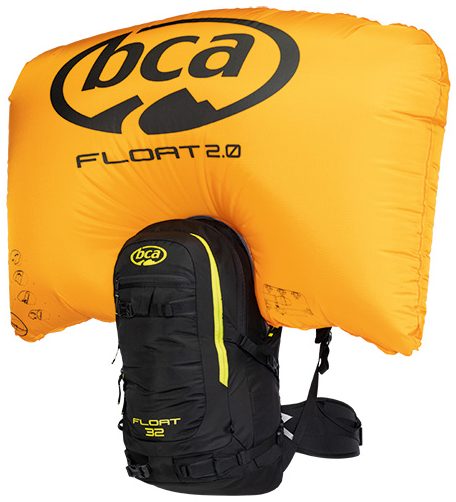 Backcountry Access
Backcountry Access is blowing up at retail with its new 2.0 compressed-air system, which is half the size of other systems and fits inside the actual airbag compartment, reducing weight and freeing up storage space. All come with beefy YKK zippers and are made from 330-denier, mini-ripstop nylon with a polyurethane coating in the main area and 420-denier oxford nylon the same coating in high wear areas. Its new Float 12 (6 lbs.) is its low-volume, low-profile airbag for heli/cat/out-of-bounds riding and snowmobiling optimized for small-to-medium torso lengths. The Float 22 (6.1 lbs.; 3.4 lbs. pack only) is a medium-sized float pack for close-in backcountry riding; the Float 32 (6.4 lbs., 3.8 lbs. pack only), shown right, is its full-featured pack for dedicated backcountry riders carrying all the essentials with 32 liters of storage capacity; and the new Float 42 (7.1 lbs., 4.4 pack only) is for pros, ski patrollers, guides, and those prepared for long days or overnights, sporting 42 liters of storage. Also new is its Float 15 Turbo (6 lbs.), a technical, low-volume (15-liter) airbag pack, and its Float 25 Turbo (6.4 lbs.) designed for mountain sledding.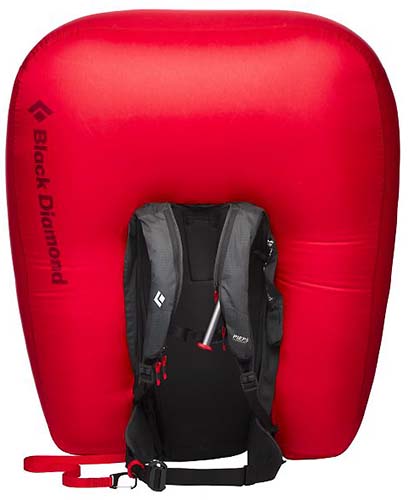 Black Diamond/Pieps
Black Diamond offers three fan-based JetForce avalanche airbags: the Pro (6lb, 5oz), shown right, Tour (5lbs, 13oz) and UL (4lbs, 3oz). "We're the only brand offering three types of technology—lithium-ion battery-powered fan, supercapacitor fan powered by AA alkaline technology and compressed canister," said spokesman John Dicuollo. The Pro represents its newest JetForce evolution, coming in smaller and lighter and featuring Bluetooth capabilities for software updates with a smartphone. The modular system lets consumers attach a 10-liter, 25-liter, 35-liter, or 25-liter splitboard booster pack. The JetForce technology is rechargeable, travel-friendly—the fan-based system is powered by a lithium-ion battery. It comes with one booster pack with others available as add-ons. The Tour 26L replaces the lithium-ion battery with Alpride's E1 supercapacitor-powered fan, delivering the energy faster while being less affected by cold temperatures. It charges via a micro USB port or AA batteries (offers multiple deployments with AAs). Other features include a large snow safety tools pocket and diagonal ski carry.
Osprey
Equipped with Alpride E1 electronic, fan-based technology, Osprey's Soelden Pro 32 (6.3 lbs.), like other fan-based systems, is easy to use, recharges quickly and is travel-ready out of the box. Integrating ultra-high-molecular-weight polyethylene (UHMWPE), its NanoFly fabric keeps it durable and lightweight with high abrasion resistance. Other features include a large front panel J-zip access to avalanche safety kit pocket with shovel handle and probe sleeves, U-zip access to the main compartment, GPS/radio internal carry with mic harness attachment, A-frame or diagonal ski carry, or front panel snowboard carry, accessories pocket, single-zippered hip belt pocket, and dual-position helmet carry.
Scott
Scott's Backcountry Patrol AP 30 (5.8 lbs.) carries 30 liters of storage and comes with Alpride's E1 supercapacitor-powered fan, making it travel-capable. As with Black Diamond's E1 offerings, the unit can be charged via USB port or in the field with two AA batteries, with a full charge reportedly lasting three months. A self-check performs when the unit is turned on, displayed via three LED lights. The airbag component is removable and weighs 2.8 lbs., making the whole system lighter than other fan-powered offerings. A compact inflation mechanism saves room for storage, while a molded foam back panel conforms to the body. A clamshell zipper accesses the main compartment, which also harbors a zippered pocket and internal safety-tool sleeve. It also comes with a goggle storage pocket, compression and diagonal straps for ski carry and webbing for ice tools.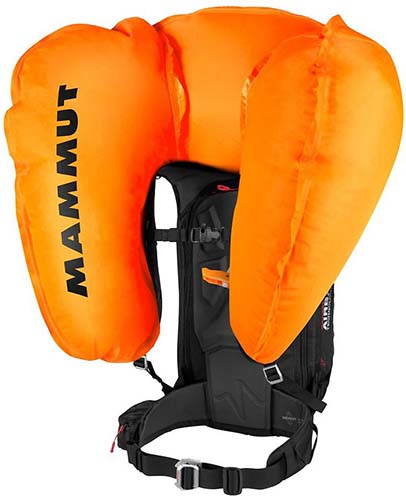 Mammut/SnowPulse
Mammut offers the Pro Protection 3.0 Airbag System (6.3 lbs.), a 33-liter airbag pack, whose beefy balloon borrows technology from the automotive industry. With an aluminum frame for load transfer and thermoformed back for comfort, it's powered by compressed air, available in three cylinders: carbon and steel for the European market and aluminum in the U.S. (Carbon/steel canisters need to be replaced by a Mammut retailer after deployment. Customers can rent cartridges near their final destination when flying). The pack is accessed via a rear zipper and comes with a detachable, padded hip belt, front pocket, ski/snowboard carrier, helmet carrier, and hydration system compatibility. Relying on the same technology, Mammut also offers a removable option with its Flip 22-liter Flip Removable Airbag 3.0, small in weight but big in functionality. The under two-pound light-weight flip provides a light airbag system 3.0, a front pocket for avalanche safety equipment and a separate radio pocket that holds a communication device. The main compartment is accessible from above and through a zipper on the back. Ski, snowboard and splitboard mountings are offered on the flip, a daisy chain for extra material, poles or ice axes, and compression straps for comfort. The backpack is also compatible with drinking systems. The brand also offers a 20-liter Ultralight Removable airbag.
Photos courtesy BCA, Black Diamond, Mammut