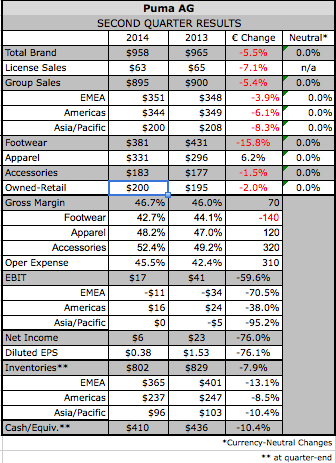 Puma said sales of World Cup soccer boots and national team shirts as well as new Arsenal jerseys beat its internal targets. Other positive developments included a mid-single digit gain in the Americas region and a double-digit gain in apparel globally. Overall earnings, however, fell sharply on flat sales as Puma said it continued to make steady progress with its turnaround efforts to reestablish its roots as a sports brand and become quicker to market. With results in line with expectations, Puma reiterated a 2014 forecast for flat currency-adjusted sales and for EBIT and net earnings to rise by 5 percent and 3 percent respectively.
"As I have said all along: We know that the repositioning of Puma and the turnaround of the business will take time," said Bjørn Gulden, Chief Executive Officer of Puma SE, on a conference call with analysts. "However, I feel we are making progress on all our key strategic priorities and we have initiated the right projects to make 2014 the start of the turnaround."
In the quarter, earnings before interest and tax (EBIT) fell 59.7 percent to €12.6 million ($17 mm), while net profit was down 76.2 percent to €4.2 million ($6 mm). Both were above average analyst forecasts for €10.4 million and €3.6 million, respectively.
Puma's sales slipped 0.6 percent on a currency-neutral (C-N) basis to €652 million ($895 mm), reaching the low end of consensus forecasts. Group quarterly sales fell 5.8 percent due to continued currency weakness in Turkey, Russia, South Africa, India, Japan and the Americas.
AMERICAS SEES MID-SINGLE DIGIT TOP-LINE GAIN
In the Americas region, sales were up 4.6 percent on a C-N basis to €250.6 million ($344 mm). Key account initiatives like the Puma Labs at Foot Locker contributed to support gains in North America. Latin America benefited from increased Teamsport sales, particularly in Chile and Mexico. Net sales on a recorded basis were down 6.2 percent. EBIT in the Americas region was down 38.0 percent to €11.4 million ($16 mm).
In the EMEA region, sales declined by 1.4 percent on a C-N basis to €255.7 million ($351 mm). Strong performances in the United Kingdom and Switzerland could not entirely offset a decline in French and Scandinavian wholesale revenues. In euros, sales were down 4.0 percent. On an EBIT basis, the EMEA region showed a loss of €7.7 million ($11 mm), an improvement over the deficit of €26.1 million a year ago.
In the Asia-Pacific region, sales were down 2.3 percent on a C-N basis to €145.9 million ($200 mm). A sales tax increase led to declines across categories in Japan. Solid growth was seen in Korea and India. On an EBIT basis, the region narrowed its loss to €200,000 ($270,000) from a loss of €4.2 million a year ago.
DOUBLE-DIGIT APPAREL GAINS CAN'T OFFSET FOOTWEAR DECLINES

By product segments, sales of Footwear were down 9.1 percent on C-N basis to €277.6 million ($381 mm) despite improved Teamsport sales. In euro terms, sales were down 15.8 percent.
Apparel sales, however, improved 12.8 percent on a C-N basis to €241 million ($331 mm) as the World Cup supported strong performances in replica jerseys as well as training and fan wear, particularly for the Italian, Chilean and African teams. In euro terms, sales were up 6.2 percent.
Accessories sales also improved 3.4 percent on a C-N basis to €134 million ($183 mm) due to continued demand for Puma's socks and bodywear. However, golf equipment sales declined during the quarter due to the weaker golfing environment. In euro terms, sales were down 1.5 percent.
Puma's gross profit margin increased to 46.7 percent from 46.0 percent as promotional activities declined versus the same period last year. Footwear gross profit margin decreased from 44.1 percent to 42.7 percent due to the product and category mix. Apparel margins rose from 47.0 percent to 48.2 percent and the margin for Accessories increased from 49.2 percent to 52.4 percent.
Operating expenditures were largely unchanged for the quarter at €296.8 million ($407 mm), despite increased marketing expenditures associated with the World Cup in Brazil.
Providing a company update, Gulden said Puma "continued to progress well on all our key strategic priorities that are crucial to ensuring that 2014 marks the start of the turnaround."
The strategy encompasses "the repositioning of Puma as the World's Fastest Sports Brand" with improvements in product development, the distribution channel quality, and increasing the overall speed within its organization and infrastructure.

WORLD CUP/ARSENAL SPONSORSHIP BIG MARKETING WINS

On the marketing front, Gulden noted that Puma's eight partnered teams at the 2014 FIFA World Cup "secured a strong on-pitch visibility," participating in almost half of all games in the tournament. Both its national team jerseys featuring Puma's PWR ACTV technology as well as Puma's prominent pink and blue interpretation of its evoPOWER and evoSPEED football boots 'Tricks', which could be seen in three quarters of all games, "were eye-catchers, creating lots of positive headlines," he said.
Aided by high engagement rates on social media channels, Puma achieved its best ever sell-through of football boots, with Tricks now widely sold out.
He said, "The sell-through of these products has been excellent and actually exceeded our expectations."
On July 1, Puma launched its first home, away and cup kits as part of its new sponsorship of Arsenal FC of the English Premier league. Said Gulden, "The jerseys were revealed through a spectacular twenty meter high water projection on London's River Thames viewed from the North Bank, transforming the EDF Energy London Eye into the iconic Clock End. The jerseys generated impressive sell-through in its first week on sale."
Its Motorsports sponsorships are also finding success on the track with Mercedes AMG Petronas winning nine of its first 11 races and Puma-partnered Ferrari driver Fernando Alonso currently ranking fourth in Formula One standings.

Building on these successes, Puma in August will launch "Forever Faster," the biggest marketing campaign in Puma's history. Gulden said Puma is "now ready to communicate the repositioning of Puma as a true Sports Brand to our consumers and retail partners."
The campaign, featuring Usain Bolt, Mario Balotelli, Rickie Fowler, Marta, Lexi Thompson and Ferrari, will be kicked-off on Aug. 7 in North America, Latin America and Asia-Pacific and will be rolled out to Europe and EEMEA shortly afterwards. The launch of this campaign "marks the start of a long-term marketing strategy, with continuous investment up to the Rio de Janeiro Olympic Games in 2016 and beyond," said Gulden.
To improve its product engine, Puma initiated key projects to improve product designs, develop more innovative technologies, and increase the commerciality of its product range. Said Gulden, "The first results have already been implemented for the coming Spring/Summer 2015 season, and the feedback from our retail partners, as well as our initial indications for H1/2015, make us very confident that we are heading in the right direction."
PUMA LAB AT FOOT LOCKER EXPANDS TO 126 DOORS

Around channels, Gulden said Puma is partnering more with key retail partners to "showcase our brand in the right retail environment and push sell-through with our partners." The Puma Lab at Foot Locker, launched in February, "has developed very positively" and is now across 126 doors in the U.S. Said Gulden, "The success of the Puma Lab has not only improved our business with Foot Locker but also generated a positive spill-over effect on to other key retailers in the US marketplace – both with performance and lifestyle accounts. In 2015, we will continue to foster our collaborations and will launch further product and marketing programs with our most important key accounts in every region."
Regarding organizational efficiencies, its Puma Village development center in Vietnam was closed on May 2. On May 31, Puma finalized the relocation of its Lifestyle Business Unit from London to its headquarters in Herzogenaurach and closed the London office accordingly. The relocation of its global and European retail organization from Oensingen, Switzerland, to its headquarters in Herzogenaurach is progressing well and will be finalized as planned by the end of September.
Puma also said it appointed Lars Radoor Soerensen, who previously worked at fashion firms Bestseller and Esprit as well as Adidas and Lego, as its new chief operating officer. He had joined Puma in November 2013 and led the areas of business processes and intelligence as well as information technology. Soerensen replaces Andy Koehler, who only joined Puma a year ago along with Gulden but is stepping down for personal reasons.
For the full year, Puma continues to expect flat currency adjusted net sales and a slight increase in the gross profit margin, as it replaces lower tier distribution with higher tier distribution channels. Operating expenses are still expected to increase significantly based on increased marketing investments, particularly in the second half of the year. Puma's full year guidance for EBIT and net earnings are still expected to climb approximately 5 percent and 3 percent this year, respectively.