American Outdoor Brands, the parent of  Smith & Wesson, reported earnings in the third quarter ended January 31 before charges exceeded guidance as sales grew 2.9 percent year-over-year. But an impairment charge was taken to merge its Electro-Optics division with its Outdoor Products & Accessories division.
The Electro-Optics division includes Crimson Trace Corp, acquired in 2016, and LaserLyte, a provider of laser training and sighting products for the consumer market, acquired in January 2019.
Third Quarter Fiscal 2019 Financial Highlights
Quarterly net sales were $162.0 million compared with $157.4 million for the third quarter last year, an increase of 2.9 percent. The company had guided sales to come in between $155 million to $165 million.
Gross margin for the quarter was 33.4 percent compared with 29.8 percent for the third quarter last year.
Based upon long-term sales forecasts for its Electro-Optics operating unit, the company has decided to restructure and combine that business with its Outdoor Products & Accessories operating unit in order to drive efficiencies and increase operating performance. As a result of those forecasts, the company conducted an evaluation to assess the fair value of the Electro-Optics operating unit and, as a result, recorded a $10.4 million partial impairment of the goodwill in that operating unit during the third quarter.
Including that impairment, the company recorded a quarterly GAAP net loss of $5.7 million, or 10 cents per diluted share, compared with earnings of $11.4 million, or 21 cents per diluted share, for the comparable quarter last year. Prior year GAAP results included a one-time, tax reform benefit of 17 cents a share. Excluding the impairment, quarterly GAAP net income in the current third quarter would have been $4.7 million, or $0.09 per diluted share.
Quarterly Non-GAAP net income was $8.9 million, or 16 per diluted share, compared with $4.7 million, or 9 cents per share, for the comparable quarter last year. Guidance had called for non-GAAP earnings in the range of 9 cents to 13 cents.
GAAP to non-GAAP adjustments to net income exclude a number of acquisition-related costs, including amortization, one-time transaction costs, fair value inventory step-up expense, one-time tax reform benefits, and the goodwill impairment from the Electro-Optics division.
Quarterly non-GAAP Adjusted EBITDAS improved to $24.4 million, or 15.0 percent of net sales, compared with $20.0 million, or 12.7 percent of net sales, for the comparable quarter last year.
James Debney, American Outdoor Brands Corporation president and chief executive officer, said, "Our third quarter results reflect year-over-year increases in revenue and operating profit, as well as important progress on our new Logistics & Customer Services facility in Missouri. In our Outdoor Products & Accessories segment, sales growth in our Hunting & Shooting product categories, as well as our Cutlery & Tool product categories, came from a variety of retailers, particularly our online retailers. That growth, however, was more than offset by lower sales in our Electro-Optics division, driven by ongoing weakness in the firearms market. In order to address that situation, we are restructuring the Outdoor Products & Accessories segment by combining our Electro-Optics division with our Outdoor Products & Accessories division, which will allow us to focus on improving operating efficiencies via our existing supply chain, while continuing to deliver the innovation and quality that our industry-leading Crimson Trace brand has earned under the leadership of Lane Tobiassen. In connection with this restructuring, I am pleased to announce that Lane has been promoted to President of our Firearms Division, a role that I have occupied on an interim basis. With 14 years of leadership experience in the firearms industry, Lane has earned tremendous respect within our company and throughout the industry, and I am excited to add his leadership, energy, and innovative spirit to our firearms team. Within the Firearms segment, revenue growth reflected ongoing consumer preference for several of our M&P branded firearms, combined with the success of our 'bundle' promotions, which were booked earlier in the year and continued to ship in the third quarter. We attended SHOT Show 2019 in January and introduced more than 250 new products from across all of our divisions. Product innovation remains an important component in our long-term strategy."
"The ramp up of initial operations at our new Logistics & Customer Services facility in Missouri is well underway and on track. This 633,000 square foot, state-of-the-art facility will serve as our centralized logistics, warehousing, and distribution operation for all of our products, facilitating our growth, enhancing our efficiencies, and allowing us to better serve customers across our entire organization. This is an important strategic initiative supporting our objective to be the leading provider of quality products for the shooting, hunting, and rugged outdoor enthusiast."
Jeff Buchanan, executive vice president, chief financial officer, and chief administrative officer, commented, "For the nine months ending January 2019, we had positive operating cash flow of $20.7 million, as compared with cash outflow of $4.5 million for the nine months ending January 2018. During the quarter, we had $25.0 million outstanding on our $350 million line of credit, which is expandable to $500 million. Our balance sheet remains strong with approximately $37.5 million of cash and approximately $146.0 million of total net borrowings, as compared with approximately $200.0 million of net borrowings at the end of the comparable quarter last year."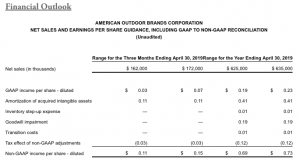 The company reports two segments: Firearms and Outdoor Products & Accessories. Firearms manufactures handgun, long gun, and suppressor products sold under the Smith & Wesson, M&P, Thompson/Center Arms, and Gemtech brands, as well as provides forging, machining, and precision plastic injection molding services. AOB Outdoor Products & Accessories is the industry leading provider of shooting, reloading, gunsmithing, gun cleaning supplies, specialty tools and cutlery, and electro-optics products and technology for firearms. Brands under the Outdoor Products & Accessories segment include Caldwell; Wheeler; Tipton; Frankford Arsenal; Lockdown; BOG; Hooyman; Smith & Wesson Accessories; M&P Accessories; Thompson/Center Arms Accessories; Schrade; Old Timer; Uncle Henry; Imperial; BUBBA; UST; Lasergrips, Laserguard, LiNQ, Lightguard, Defender Series, Rail Master, and LaserLyte.
Image courtesy  Crimson Trace