Adidas raised its 2021 sales outlook as the company expects strong demand for its products and direct-to-consumer (DTC) growth momentum to overcome several challenges, including continued lockdowns in Europe, supply chain hurdles and political tensions in China.
Adidas now expects sales to grow at a high-teens percentage rate in 2021, with a jump of around 50 percent expected in the second quarter. In March, Adidas said it expected currency-neutral sales to increase at a mid- to high-teens rate in 2021.
"We are fast out of the gate in the first year of our new strategic cycle, with excellent revenue growth, DTC-led sales increases in all market segments and strong profitability improvements," said Adidas CEO Kasper Rorsted.
In the quarter ended March 31, sales grew 20.2 percent in the first quarter to €5.268 billion ($6.4 bn), ahead of plan. Currency-neutral revenues grew 27 percent. Excluding the prolonged lockdowns in Europe and industry-wide supply chain challenges, currency-neutral growth would have been in the mid-30s. Sales also recovered enough to exceed 2019 levels.
From a channel perspective, its top-line increase was led by a 31 percent improvement in DTC revenue, which accounted for more than one-third of its total sales in the quarter. Adidas said the development directly results from strong sell-through trends, as the brand's products resonate well with consumers globally. The DTC gain was again led by e-commerce, with sales ahead 43 percent on top of 35 percent growth in the prior-year quarter, thereby almost doubling over the two-year period.
Adidas added more than 30 million members to its rewards program while rolling out the program to Latin America. Adidas' Confirmed app, which provides exclusive product drops, was launched in Europe.
From a category perspective, revenue growth was strongest in footwear with a 31 percent increase and driven by double-digit gains in training, running, outdoor and lifestyle categories. Running was boosted by the introduction of the next generation of Ultra Boost franchise. The outdoor business was up close to 60 percent with "exceptional growth" across all markets. The outdoor gains were driven by the Adidas Terrex Fastest Known Time and Fastest Own Time footwear and apparel collection launch and successful product drops, including the Terrex Speed Ultra. Training was up more than 30 percent on the strength of its new women's campaign.
By region, increases were seen in all market segments. Across the company's three strategic markets, currency-neutral sales jumped 156 percent in Greater China with the aid of successful Chinese New Year's collections. Currency-neutral sales grew 8 percent in both North America and EMEA.
In North America, the growth was led by double-digit increases in DTC due to momentum seen in products and campaigns. Strong growth was also seen with key wholesale partners which include Dick's Sporting Goods, Finish Line, JD Sports, and Kohl's. Wholesale would have been up strong double-digits, excluding the impact from port congestion.
EMEA reflected DTC growth of more than 20 percent, driven by 65 percent growth in e-commerce and strong full-price momentum. Those gains helped compensate for the prolonged lockdowns in many parts of the region. Excluding the impact from these lockdowns, growth in EMEA would also have been up in the strong double-digits.
Revenues were up 18 percent in Latin America, driven by 45 percent DTC growth. The Asia-Pacific region increased 4 percent as e-commerce growth of 46 percent was offset by continued restrictions in several countries and limited travel to destinations that usually depend on tourism.
Profitability and margins recovered across all markets. Profitability in North America and Latin America ran in the high teens, which was high even by historical standards.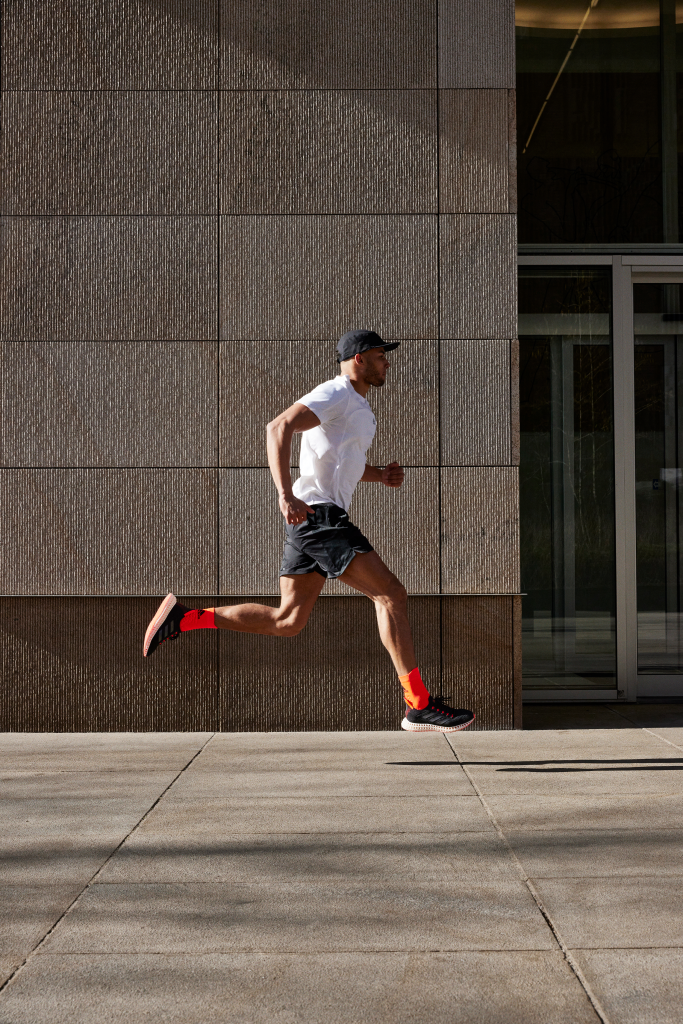 Gross Margin increased 210 basis points to 51.8 percent. The expansion was mainly driven by lower sourcing costs, as costs related to last year's cancellations of purchase orders with suppliers that did not reoccur. A better channel and market mix also supported the gross margin improvement. The favorable mix impact mainly reflects the strong growth in both e-commerce and China. The positive development was partially offset by significantly unfavorable currency developments and to a lesser extent, a less favorable pricing mix. While promotional activity continued to improve materially versus previous quarters, it was still up year-on-year, as the prior-year quarter had not been impacted by a significant hike in pandemic-related discounting.
Operating expenses were down 5 percent to €2.047 billion and reduced as a percent of sales by 10.1 basis points to 38.9 percent.
Marketing and point-of-sale expenses decreased 17 percent to €541 million as physical marketing activities remain restrained in many parts of the world. The improvement came despite Adidas significantly increasing digital marketing investments to support its DTC storytelling and e-commerce business. As a percent of sales, marketing and point-of-sale expenses were down 450 basis points to 10.3 percent.
Operating overhead expenses were up 1 percent to €1.506 billion, mainly due to increased logistics costs amid robust e-commerce growth. In addition, temporary stranded costs, as expected, were incurred related to the intended divestiture of Reebok in the amount of around €60 million. As a percent of sales, operating overhead expenses decreased 560 basis points to 28.6 percent.
As a result, operating profit surged to €704 million from €48 million a year ago. Operating margins increased to 13.4 percent, almost fully recovering to pre-pandemic levels, from 1.1 percent a year ago. Net income from continuing operations increased to €502 million from €26 million a year ago.
Inventories decreased 9 percent year-on-year. The decline largely reflected the deconsolidation of Reebok, although inventories were still down year-on-year on a like-for-like basis. In currency-neutral terms, inventories declined 8 percent year-over-year.
Adjusted net borrowings at March 31 amounted to €3.290 billion, down from net borrowings on an adjusted basis of €4.816 billion. This development was mainly driven by the strong increase in cash generated from operating activities, partly offset by the utilization of cash for the purchase of fixed assets and repayments of lease liabilities.
Looking ahead, Adidas upgraded its guidance to expected growth in the high-teens due to the healthy brand momentum and stronger than expected demand for the brand's products.
Adidas stuck to its forecast for 2021 net income from continuing operations to rise to between €1.25 billion and €1.45 billion euros, up from €461 million last year.
Full-year gross margin is expected to be around 52.0 percent, which compares to 50.0 percent in 2020. Operating margin is still expected to increase to a level of between 9 percent and 10 percent, up from 4.0 percent.
The company's profitability outlook continues to include temporary stranded costs related to the intended divestiture of Reebok, first announced in February. In 2021, these costs are expected to amount to around €250 million on the operating profit level and to impact net income from continuing operations by approximately €200 million. These costs do not impact the medium-term growth outlook as Adidas anticipates that only around 30 percent of the €250 million will reoccur in 2022 and that by 2023 the stranded costs will be fully eliminated.
Regarding Reebok, Harm Ohlmeyer, Adidas' CFO, said, "I'm pleased to share that the brand experienced a sustainable business recovery in Q1 with net sales up double digits backed by a strong order book going into 21. The overall sales process is well on track and we are confident about the successful future of the brand and the team behind it."
Ohlmeyer said Adidas "recorded strong interest during the completed phases of the sale process" with a promise to provide further details as the sales process progresses. A report from Reuters from May 5 indicated that Adidas had launched the auction to sell Reebok with the first round of bids to be submitted next week.
Addressing potential challenges to Adidas' expected high-teens growth for the year, Rorsted said store openings have seen an upward trend since the second quarter as vaccination campaigns gain speed. In Europe, opening rates have improved from 50 percent at the end the quarter to almost 80 percent currently. Globally, the opening rate is now 91 percent, up from 89 percent at the end of the first quarter, and the rate is expected to reach 94 percent next week.
Rorsted said the supply chain hurdles reflect higher freight costs; constrained capacities, especially regarding the availability of containers; and port congestion that has led to delays, particularly in the U.S.
"Those are the results of a long-lasting pandemic and have recently been intensified by the issue in the Suez Canal," said Rorsted. "We've been able to mitigate a significant amount of additional logistics costs, and all products that were stuck at the canal have been passed or diverted with an average delay of approximately two weeks. However, as a result of this disruption, there is still an overall shortage of container capacity, which could lead to further delays and or higher freight costs in the months to come, especially if we decide to make exceptional use of air freight. After all, we want to ensure available availability of the products that consumers desire, even if that comes at somewhat higher logistics cost."
Adidas also addressed tensions in China as Nike, H&M, Adidas and other western brands have faced boycott calls from mainland Chinese consumers for taking stands against the treatment of Muslim Uyghurs in the Xinjiang region.
Rorsted said on China, "Let me first point out that our first focus is to show consumers appreciation and respect. This applies to China and every other market in which we operate. After a significant drop in traffic across physical and digital channels in China at the end of March, we've experienced a slow but steady recovery throughout the past couple of weeks and expect this trend to continue. In the second half of April, we've started to tell our brand stories again on our digital channels. In addition, we have started to revitalize physical retail and participated like events like Double-Five Shopping Festival in Shanghai. So while the trend is positive, it is still too early to tell what Q2 in China will look like in detail. Accordingly, we have built several scenarios for that. These scenarios are reflected in the Q2 guidance for around 50 percent global growth, and in our upgraded full-year top-line guidance. And all of these scenarios are also fully reflected in our unchanged bottom-line outlook for the year. And regardless of these scenarios, we continue to expect strong growth in China for 2021. And looking further ahead, there's no question that China will remain a fast-growing market and one of our long-term growth drivers."
The acceleration to 50 percent growth in the second quarter is expected to be fueled by a number of product releases, including the first-ever circular Ultraboost that is made-to-be-remade, the arrival of Futurecraft 4D in performance running with the 4D FWD, and the further scaling of newly introduced as well as established lifestyle franchises such as Forum and ZX. In addition, growth is expected to be helped by the return of major sports events, including the UEFA Euro and the Copa America.
Rorsted said Adidas looks forward to welcoming fans back to major sports events and consumers back to stores and vaccination rates continued to climb.
"We're prepared to present the best the brand has to offer: the best experience, the best products, the best artists, collaborations, and location-based surprises and exclusive treats for members. And whenever our stores open and we're able to work with our consumers back, we can clearly see the desire to consume is strong. We are excited about the consumers returning to our stores and we can see their excitement about our brand firsthand. The demand for our products have been stronger than expected across channels, which speaks to the healthy brand momentum."
Photos courtesy Adidas