At the Evercore ISI Consumer & Retail Summit, Academy Sports + Outdoors' top executives discussed not only the healthier prospects for sales coming out of the pandemic but margins as well.
The margin discussion comes as gross margins in the retailer's first-quarter catapulted 950 basis points year-over-year to 35.7 percent, driven by a more favorable merchandise mix, better pricing management, fewer promotions, and fewer clearance sales.
Asked how much of its margin improvement is "foundational" or likely to last beyond the pandemic, Michael Mullican, CFO, inferred that the 36 percent gross margin is expected to come down in a more normalized climate, but it continues to see the rate improving significantly over 2019 levels.
A major long-term factor expected to support margin improvement in the future are investments in planning and allocation systems that have improved the efficiency around buys.
"We were 'pile it high and let it fly' and, unfortunately, we didn't use the information we had, and we spent a lot of money on markdowns," said Ken Hicks, chairman, president and CEO. He said many items didn't need to be marked down. For example, soccer balls seasonally faced markdowns as the new order of soccer balls was set to arrive at stores.
"We just didn't have space for them," said Hicks. "We had to get rid of them. A soccer ball doesn't go bad, but we just had too many, and we had more coming in. With our new planning and allocation systems, we got much smarter about how to flow merchandise, when to take markdowns to get out of it for a season and what we should carry over."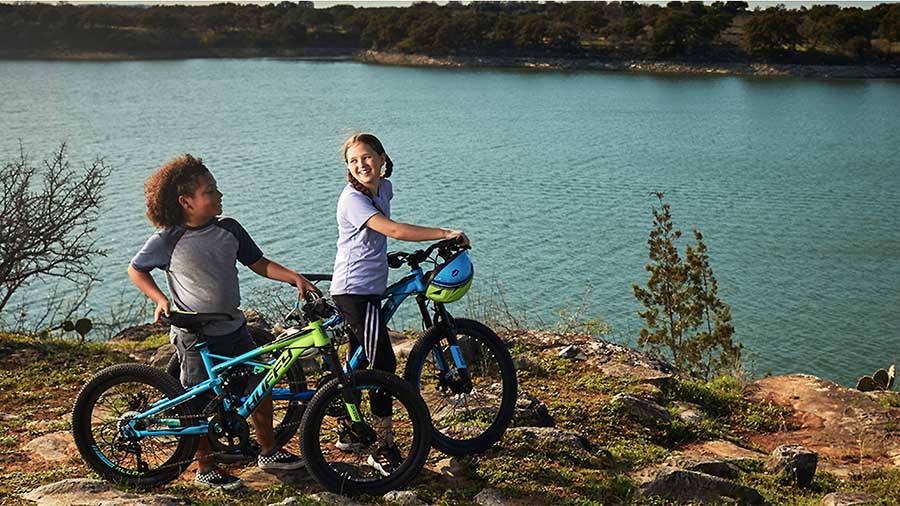 The planning and allocation systems were put in place in 2019, and machine-learning elements in the technology drive continuous improvement. Hicks said, "As they learn, they get smarter, and we get better. And that's why we should have fewer markdowns, as we go along because we're buying smarter in all of our categories."
Mullican said the systems would also reduce the need for clearance in the future. Said Mullican, "We feel like we've got a much better handle on that, not only for this year but for the long term."
In the near term, lean inventory levels across the marketplace have lead competitors to run fewer promotions than in the past, and Academy hasn't had to respond competitively. But, said Mullican, we see a lot less of it than we planned as we went into the year, and that could be a tailwind for us in the back half."
Another long-term factor expected to improve margins includes Academy moving up AURs (average unit retail prices) over the past several years.
The price increases are helping the retailer offset inflationary pressures but were planned before the pandemic as its new management team recognized some categories were priced too low.
As an example, Mullican noted that bikes were priced lower than Walmart. Mullican said, "If you think about it, we have a better product, we give you service in the store and we assemble it. So we give you better value, and we found a customer will pay for that."
Another category is water, where Hicks said Academy had it priced below even Costco.
Mullican noted that water is typically an add-on item rather than a "destination" item or a core reason to come to a store. He added, "We were the lowest price in town on bottled water, and that doesn't make any sense."
Overall, the increases in AURs across several categories should continue to support margin growth in the coming years.
Other projects underway, including supply chain investments to speed turnaround times, are likewise counted on as margin enhancers for the future.
Other near-term tailwinds to margins in the back half are expected to be a return to a more normalized merchandise mix. Currently, the mix skews heavily into hard goods, which carry lower margins versus categories such as apparel and footwear.
Headwinds to margins include expectations that a more normalized promotional cadence will arrive in the back half of the year. Mullican said, "That's something we're working hard to offset. Higher freight costs due to supply chain challenges caused a 100 basis point drag on gross margins in the first quarter and may continue to drive margin pressures. The CFO said, "We were able to do that effectively in Q1, but that's still something we're watching closely to be determined how that shakes out."
From a growth perspective, a primary headwind is also the supply chain because of lean inventories in a few categories. Hicks said the sports industry's strong demand is creating unique challenges versus other industries facing similar supply chain issues.
"What actually happened is we've reached a new plateau," said Hicks. "So it wasn't like it was a mountain where it went up and now it's coming down. What we're seeing is it's gone up and now it's a new level and we're growing from that new level. The supply chain is just having difficulty keeping up with it and that's making some categories more challenged than others."
Overall, Hicks graded his company's inventory positioning at a "D" or "F" level twelve months ago as the pandemic arrived and categories such as bikes and dumbbells couldn't be found on the shelves. The inventory positioning has improved to the "C" level currently, he estimated, but remains below the "A-minus" level the retailer aims for.
Said Hicks, "We don't have any businesses where we're completely out of, but we do have some businesses that are tougher than we would like. Overall, I'd say 'reasonable shape" is the word I'd use."
Mullican said Academy has its vendor partners have done an admirable job restocking inventory to support the chain's streak of oversized gains, including 27 percent in the 2020 second quarter, 16 percent in both the third and fourth quarter of last year, and a nearly 40 percent hike in the latest first quarter. Said Mullican, "The supply chain for the most part has done everything to support that. We're driving incredible sales. There's just some categories where the demand is still so incredible that it's going to take us some time."
Hicks said upgraded planning and allocation systems have been particularly beneficial in improving the flow of inventory to capitalize on the demand and support the in-store and online gains.
"It also provides opportunity because we're able to turn the inventory faster," said Hicks. "Now, we turned it last year over four times, that's a little too fast. But we can turn it much faster than the 2.7, 2.8 times that we did prior to the pandemic. And we've got the systems to do that. Our next step is to work on the supply chain to speed it up even more. And that allows us to merchandise more categories, to add new things to our assortment and to tailor that by store and by geography, so that we can serve the customer better."
Hicks cited a number of some pandemic-driven growth drivers expected to support growth going forward, including people picking up new habits and hobbies such as camping, fishing and building out their home gyms. The new hobbyists are showing a propensity to come back a second and third time with greater velocity than the past.
Academy also picked up 5 million new customers last year and new customers arrived at a similar pace in the first quarter. The CEO said, "That gives us optimism about the future because we really are on trend with what people want in terms of having more fun, more experience and being healthier."
Mullican also noted that a number of categories hurt last year by the pandemic, including team sports and licensed apparel, will benefit from the reopening of the economy. A more normalized back-to-school season is further expected to provide a boost.
Newly-adopted sophisticated targeted marketing tools are helping convert new customers into more regular customers. In 2019, only 3 percent of Academy's marketing was targeted to a customer or a group. Now, for example, Academy is able to target a buyer of a dumbbell based on what their likely next purchase will be. Hicks said the targeted marketing is driving conversion rates on promotions "many times greater" than the retailer's past broader campaigns.
Hicks said, "The ability to learn and understand what those people purchase next, and then communicate that to the larger audience has been a really plus for us."
Sales are also benefiting from bigger efforts to localize assortments, including ensuring the bait sold in the store fits with the fishing locales in the region. In work boots, Academy has found slip-ons are more popular in Texas, lace-ups and larger sizes sell better in the north, and smaller sized boots over-index in border locations. A particular success has been the recently-introduced "State Pride" program that includes items in its South Carolina stores bearing the blue field with a white palmetto tree on the state's flag.
Academy is also taking advantage of its diverse assortment versus many competitors to encourage consumers to cross-shop categories.
Asked about competitive pressures, Hicks said Walmart and then Amazon are the chain's two biggest competitors, with sports specialists such as Dick's Sporting Goods and Bass Pro further down. However, Hicks feels Academy is able to differentiate against all of them.
"We have a great assortment, the breadth of the store across categories and the depth within those categories you can't get at a discounter," said Hicks. "So we have that over Walmart."
Academy also stocks many of the premier sports brands unavailable in a discounter in addition to offering services, including bike or grill assembly, and experts across fishing, camping, fitness and other areas.
Against its more direct competitors in the sporting goods space, a primary point of differentiation is its value positioning that includes its private-label offerings. Academy also offers broader assortments than many direct competitors. Said Hicks, "The father may want to go to an outdoor store. But the wife or the kids may not. We have something for all of them and that's one of the reasons why we're so strong with the family."
Finally, against dot.com pure-plays such as Amazon, Academy can stand out because people often still want to touch and feel product, whether a baseball bat or a grill. The introduction and acceptance on BOPIS (buy online, in-store pick-up) over the last year has also become a newer online differentiator. BOPIS now accounts for half of online sales with customer able to receive their item on the same day as purchasing and save significant amounts avoiding shipping costs on many items. Hicks said, "For some items, just the shipping costs more than the product does."
Photos courtesy Academy Sports + Outdoors, Huffy