Capitalizing on the year's COVID-19-fueled surge in bike sales, in January, Kitzuma Cycling Logistics debuted a new model for shipping bikes in the industry, whether B2B or B2C — a nationwide, ready-to-ride service that delivers bikes directly from the manufacturer to customers. 
Traditionally, manufacturers build the bike, break it down and box it, with a shipper delivering it to customers who then have to rebuild it. The service Kitzuma provides eliminates that step for the customer. The company's trucks pick up bikes ready-to-ride from the manufacturer's dock and deliver them across the country in three to six days at a cost similar to big-name shippers. 
SGB Executive caught up with COO Chris Cosgrove for the skinny on its step-saving cycling business model.
What's your business model? Do your revenues come from the manufacturer, retailer, consumer, or all three? We're working with manufacturers, retailers and IBDS, delivering new bikes to their customers. We're taking a hard look at working with consumers for events and holiday travel, and consumer-to-consumer shipping services.
How many manufacturers are you working with? We're currently working with four manufacturers and retailers, but we're conversing with several more across the country and will be onboarding new clients over the next several weeks.
Do you think it will be sustainable after the COVID-19 boom? Without question, and in fact, our numbers should increase because manufacturers and retailers may have inventory. We think we're solving a huge problem and making commerce easier in the bike industry. Besides shipping and transport for new and used bikes, there is room for growth in other services, including demos, trade shows, events, and more.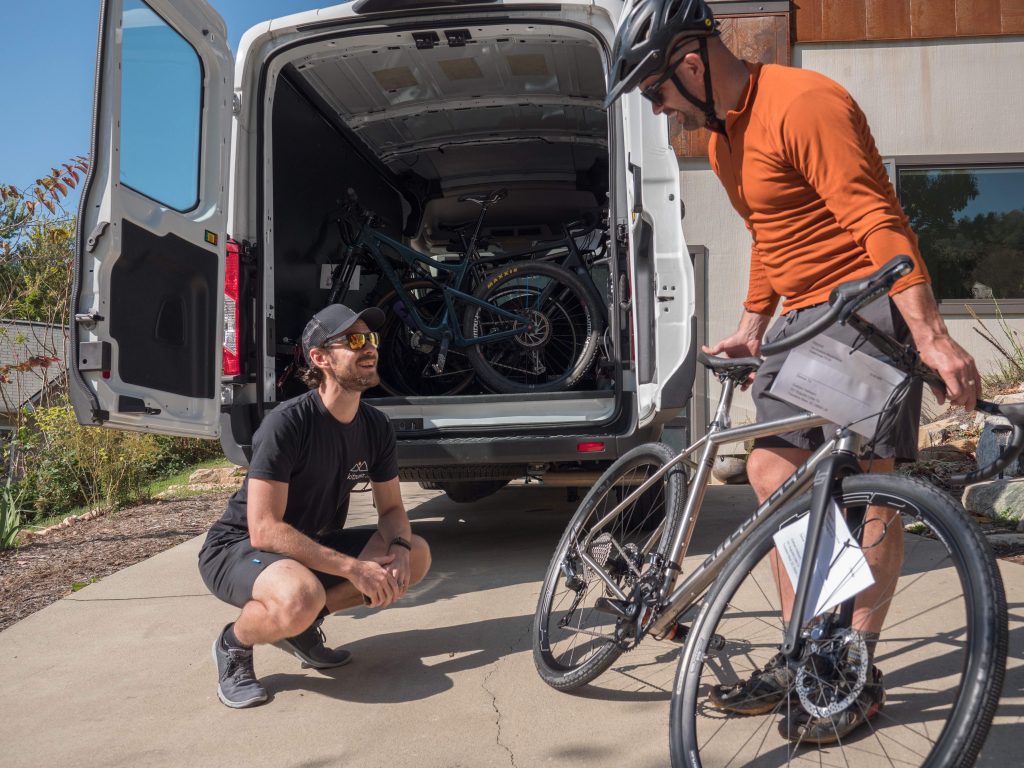 Kitzuma Cycling Logistics COO Chris Cosgrove, pictured left, helping with a bike delivery.
What are your business growth projections? As a new business, we've taken to an iterative approach for growth and expansion. We believe in developing new services step-by-step and launching them to the industry once thoroughly thought through and are operational. 
Transporting fully assembled bikes across a nationwide network and delivering them within a one-hour appointment window is a complex logistics challenge. Anyone can scan a package or assign a tracking number; what's most important is having the complete operational and technological infrastructure in place to make sure you're getting the right shipment, in the right condition, to the right place, at the right time, to the right customer, and at the right price. 
We've created an advanced AI-driven, purpose-built platform to ensure we meet every shipping requirement while providing an unparalleled customer experience and representing our client's brand in the best way possible. We've also implemented service-level objectives to accommodate working with customers on individual timeframes while ensuring we have accurate contact and delivery information to support our service and delivery requirements. When we think about growth projections, getting all of this right is the foundation for success.
How strong is the business delivering to retailers, or is it primarily for consumers?  Most retailers can handle the build in-house, but we're making some deliveries from the manufacturer directly to retailers. We've seen a greater demand for delivery from manufacturers and retailers straight to their customers, and that's been our primary focus. 
We'll soon be offering services to individual consumers for events, vacations, buy/sell, or other reasons someone would want to ship a bike. If an individual sells a bicycle online to another consumer, they can choose to ship with us. We'll pick it up, fully-built, no boxes or cases involved, and deliver it to the buyer ready-to-ride.
Did the idea for the business surface this year due to COVID-19, or had it been in the works earlier? We've known for a long time that we could improve transport and logistics solutions for the cycling industry. Those ideas have been percolating for a while. COVID-19 didn't start the process, but it was undoubtedly a catalyst for getting it moving. With consumers looking for bikes anywhere they can get them and brands selling more inventory than ever, we've been able to come into the logistics space and offer a new, proprietary service that most seem to agree is a better way.
Are manufacturers embracing the service? Is shipping a hassle for them? The brands we work with are thrilled with the service. They see us as a massive upgrade in the end-customer experience, as their bikes are being delivered ready-to-ride by a knowledgeable technician instead of dropping off a partially assembled bike in a cardboard box. 
We've delivered full-suspension mountain bikes to customers that have never ridden anything other than a beach cruiser— walking them through how to set up their fork, install their pedals and use a dropper post—and had them riding with confidence that day. 
Our model is minimally disruptive to our client's current shipping operations and saves time as work hours are not wasted on building a bike to tear it down and pack it meticulously into a box.
Do customers appreciate not having to assemble a bike? Initial feedback has been overwhelmingly positive; customers have loved that we show up with the bike ready to ride. 
Removing the hassle of assembling the bike is appreciated, but we've also gotten positive feedback regarding our technicians' interactions. Customers love to ask questions about bike setup and features with someone who is knowledgeable and, equally importantly, present with them when the bike arrives. We've also received great feedback on our customer communication and our appointment-based delivery system. We work with a text/SMS system that contacts customers and establishes one-hour delivery appointments.
Could your business model work for other product categories? Our current focus is providing solutions for the cycling industry, but we've discussed other categories where our service would be a good fit. We hope to explore those markets once we are firmly established.
Photos courtesy Kitzuma Cycling Logistics