By Eric Smith
OKLAHOMA CITY—Now that the sun has set on the second annual Paddlesports Retailer show, SGB is highlighting key takeaways from the event, including reaction to the new venue, the hottest trend in paddlesports and why the specialty channel remains a priority amid market changes.
About 150 brands descended on Oklahoma City's Cox Convention Center from August 27-30 to showcase their kayaks, canoes, SUPs and accessories for retail buyers who scoured booths for the best gear to bring back to their shops and their customers.
Paddlesports Retailer featured an on-the-water demo day—held Monday on the Oklahoma River and the nearby RiverSport OKC whitewater park—followed by three days of the trade show. The event also included educational seminars, panel discussions and Paddling Magazine's Product & Industry Awards.
Here are five takeaways from this reporter's notebook that bubbled up at the paddlesports industry's largest business gathering:
1. Oklahoma City garnered mostly good reviews in its debut as host city. 
Now in its second year, Paddlesports Retailer found comfortable digs in Oklahoma City, whose central location and more plentiful travel options proved a better destination—for most people, anyway—than Madison, WI, the site of last year's inaugural event.
While some lamented the long drive from their coastal locales, and others complained about the prairie winds that tore through the flatwater demo (see more on this below), many attendees praised the choice of Oklahoma City because it was within reach for most vendors and buyers, hotel rooms were affordable and the demo facilities were close to downtown.
Bill Kueper, vice president of Wenonah Canoe and chairman of Paddlesports Retailer's Industry Advisory Council, said Oklahoma City has changed drastically—for the better—in the 20 years since he had last visited. It's no longer the dusty, tumbleweed-strewn city where everyone clods around in cowboy boots.
Instead, the city has poured money into downtown development, including the water sports park and a new convention center hall now under construction. There are more non-show amenities to enjoy, such as new restaurants and a minor league baseball park, and there are more options by air to OKC than to Madison.
Not only that, but Kueper said this year's booths were elevated in terms of size and presentation, giving Paddlesports Retailer the boost it needs heading into year three.
"There was momentum coming out of Madison," Kueper said. "The hope is that it will continue. And I think people will come out of the show saying, 'If you weren't here, you missed something.'"
2. Whitewater companies thrilled with on-water demo conditions (flatwater brands, not so much)
"Rad." "Awesome." "Best demo day ever." "After 12 or 13 laps I was finally worn out." These were just a few of the quick and candid reviews of Oklahoma City's $45.2 million whitewater rafting and kayaking center, which allowed proper testing of kayaks, rafts, tubes or SUPs in Class I, II and III rapids.
Peter Hall, founder and CEO of Hala Gear, a Steamboat Springs, CO-based SUP company whose boards spent as much time surfing the whitewater park as they did floating the Oklahoma River, said the park was "more action than many testers might have expected, but it's good to have a place where instead of saying how it performs, you can put it in that whitewater and see how it performs."
James McBeath, director of marketing at Jackson Kayak—who called Paddlesports Retailer the "most important business show for the industry"—said RiverSport OKC "changed the game" for the show with its ability to showcase whitewater kayaks.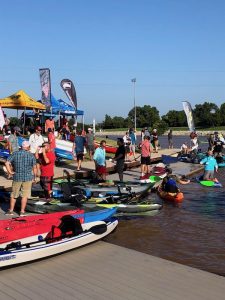 But while the live music, local beer on tap and rapids strong enough to overturn expert paddlers might have thrilled many of the demo day's attendees, the flatwater area a few hundred yards away on the Oklahoma River had different reactions. Strong winds prevented or shortened demos on the water because tracking some of the kayaks, canoes and SUPs proved to be too difficult for many testers.
Others, however, viewed the weather as giving their wide range of boats a chance to shine. "Having access to both water types—flatwater and whitewater—gave us a lot of variety for our products to perform," said Scott Byers, brand/product manager for Confluence Outdoor.
And the whipping winds also provided paddlers with some of the conditions they're bound to encounter on their backcountry adventures, said Jacques Chasse, owner of Esquif International, a 21-year-old Quebec, Canada-based canoe manufacturer. "The wind was a factor," he said, "but that just made it like a typical river trip."
3. Fishing category grows with more boat, accessory options
Fishing kayaks and category-specific accessories dominated the show floor, with numerous vendors showcasing their latest innovations for helping paddling fishermen get to the water more quickly, comfortably fish all day and bring all the conveniences of a powerboat onto their much smaller and lighter craft.
"Kayak fishing takes fishermen back to something that's simple," said Steve Jordan, president, Hurricane Aquasports, whose brands include Hurricane, Liquidlogic and Native Watercraft. "They're on the water in minutes, and kayaking gives them the ability to access shallow water while fishing. And these anglers are passionate—just like whitewater paddlers."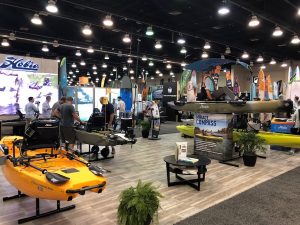 The fishing boats on display at the show were rigged with all kinds of hooks, latches, holders and loops to mount the latest electronics, such as GPS devices and fish finders, or old-school mainstays, such as a cooler or lunchbox. That's in addition to space for the lures, bait and gear they need to haul in a keeper. In other words, Jordan said, paddling fishermen are now looking at these kayaks as a "floating tackle box."
While most fishing kayaks at the show featured pedals for easy navigating while holding a rod, Bonafide LLC, which launched last fall, has brought a traditional kayak to the fishing category—one that requires a fisherman to actually paddle. As Justin Floyd, who handles sales and marketing for the company, noted, "Fishing kayaks were getting away from being kayaks."
The ability to accessorize has been a driver for fishing kayak sales, said Aris Tsamis, president, Mariner-Direct, who said, "Customers are putting more stuff on their boats, and they're putting bigger stuff on their boats." A $500 boat, for example, could have $1,500 worth of accessories. And that means lighter, longer-lasting electronics are increasing in demand.
Accessories at the show were indeed geared toward kayak fishing. Watershed, a drybag maker out of Asheville, NC, has seen demand grow for its fly fishing-specific bags, said Ben Bloemsma. Kayak fishermen aren't merely looking to buy kayak gear and adapt it to fly fishing but want accessories specifically suited for their sport.
"They need the same reliable gear that everybody else does," he said.
4. Trade war top of mind even for brands not yet impacted
The ongoing global trade war has everyone's attention, and the paddlesports industry is feeling the effects of U.S. tariffs on products made in China, Chinese tariffs on products made in the U.S. and retaliatory Canadian and European Union tariffs on products made in the U.S.
Todd King, vice president of marketing for Confluence Outdoor, lamented the retaliatory 25 percent tariff on boats shipped to Europe and the 10 percent tariff for boats shipped to Canada. "That's impacting a significant portion of our global business," he said. "We're working on creative ways to offset, but 25 percent is a lot. As we go into 2019 we're looking at how we moderate that."
Hala Gear's Hall said one of the factories the company works with in China has opened a plant in Vietnam to avoid potential trade war landmines when it comes to making product in Asia. But even still, the retaliatory tariffs are bound to touch everyone in the industry. "I imagine we're going to be drawn into it," he said.
For some companies, like Pyranha Kayaks, whose boats are made in the UK, the feeling is a little relaxed right now, according to Mike Patterson, director of operations. "Knock on wood we're in as good a position as we can be," he said.
And some brands even spoke of highlighting how these tariffs are really a tax for consumers. They mentioned listing their MSRP prices as they would be without the tariffs and then listing a line item of the applicable tariff and labeling it a "Trump tax."
For all the geopolitical issues surrounding the industry, most vendors said they look forward to the day when they think less about the trade war and more about their core business mission: "We just want to sell kayaks," said Evan Lyendecker, marketing director for Confluence Outdoor. "We just want to get people on the water."
5. Paddlesports specialty stores still preferred channel for industry (big-box stores lack product expertise).
This show, not surprisingly, was all about celebrating the paddlesports specialty retailers who offer customers a different perspective than an entry-level, big-box sports department employee.
Ryan Ford, head of the U.S. operation for New Zealand-based Viking Kayaks, a company that was—like the trade show's tagline—"built by paddlers, for paddlers," said independent retailers remain the bread-and-butter channel for the company the because of what they offer that big-box stores cannot.
"Since these are a paddler's kayak, we want people to understand what makes them unique," Ford said. "It's more than just price point. Customers have a better experience with the paddlesports specialty retailer because they know more about the product. They have used them and do use them."
Specialty remains the channel of choice for most paddlesports brands, said Wenonah's Kueper. "They better represent us to customers," Kueper said. "They're better educated, and our gear isn't an afterthought at specialty retailers."
Wes Mooney, vice president sales, marketing & product development at Hemisphere Design Works, which was showing off its Evoke and SunDolphin brands at the show, added that "Being in the paddlesports channel gives your brand some street cred."
Other trends
Kayaks and canoes designed for the urban dwellers are growing in popularity. Vendors are delivering more products for paddlers who need a foldable watercraft that can fit on an elevator or in the corner of an apartment. Larry Sizemore of Uncharted Watercraft and Jay Lee of MyCanoe both said their companies' products, which fold down to a fraction of their floating size, are growing as buyers look to own without having to give up huge sections of their living space.
Paddlesports Retailer is much smaller than Outdoor Retailer, of course, but more than a few vendors and buyers said this event is much more conducive to understanding what's happening in the business. Some paddlesports brands said they probably wouldn't return to OR because their buyers just weren't there. Paddlesports Retailer has the right dates and the right vibe for the industry.
Look for more color from the event coming soon, including a conversation with Paddlesports Retailer organizers Sutton Bacon and Darren Bush.