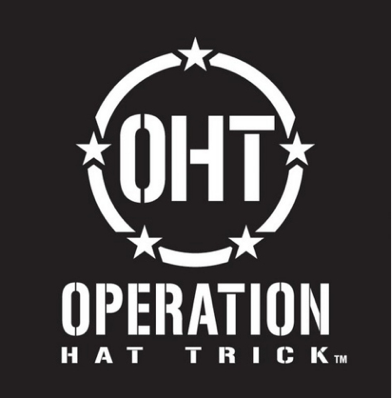 47 Brand, a the maker of fan apparel and headwear, said it will continue to support Operation Hat Trick (OHT), a program that generates awareness, support, and funding for the recovery of Americas wounded warriors through donations to participating organizations around the country, as the official headwear and apparel provider of the program. With the exclusive licensing partnership, 47 Brand and OHT provide continuous support to both active service members and veterans.
Conceived in 2007 and taken to the national level in 2012, Dot Sheehan, the Senior Associate Athletics Director for External Relations at the University of New Hampshire (UNH) and President of OHT, developed the program after hearing that the number one thing wanted by wounded service members returning from Iraq and Afghanistan was a baseball hat that would cover swelling, bandages, and treatment. Operation Hat Trick originated from the game of hockey (when a player scores three goals in a single game), where it is a nationally recognized program at UNH.
Since its inception, OHT has evolved to include a wide variety of apparel and non-apparel items. Additionally, the program is now affiliated with several professional sports franchises and over 230 colleges and universities including, Notre Dame, Alabama, South Carolina and New Mexico-all of which have adopted the program by selling exclusive, branded, top-quality merchandise by 47 Brand. Hundreds of other organizations, corporations and minor league sports teams as well as high schools throughout the country have embraced the program.
OHT is the only caused-based brand born and fostered on college campuses through the unified efforts of more than 200 collegiate institutions, said Brian White, an Operation Hat Trick Board Member. Through the program, colleges and universities demonstrate an inspiring level of solidarity in supporting our service men, women, veterans and their families, he added.
Funds for the program are generated on a percentage of sales and proceeds are divided among organizations that support service member and veteran recovery. Some of the organizations that have benefited from OHT funding includes: The Yellow Ribbon Fund, Project Sanctuary, Special Ops Warrior Fund, Ironstone Farm, Navy SEAL Foundation, the Mission Continues, Walter Reed National Medical Military Center, and the Warrior Bonfire Project, among others.
When we first started the program many were somewhat hesitant to get on-board, yet the team at 47 Brand immediately asked how they could help show their support, says Dot Sheehan, Founder of Operation Hat Trick. It is because of their deep commitment, true dedication and loyalty that weve been able to address the visible and invisible wounds of war among service members and veterans.
47 Brand is the proud exclusive provider of the Operation Hat Trick program since 2011, said Steven DAngelo, co-owner of 47 Brand. We believed in the cause nearly four years ago, and watching the program expand throughout the country with now major and minor leagues is remarkable. Were honored to support Americas bravest for their patriotism, sacrifice and valor with a cause like OHT, explains DAngelo.
Operation Hat Trick is dedicated to Nate Hardy and Mike Koch, Navy SEALs and friends who were killed in Iraq in February 2008, not long after the program launched. Hardy was part of the UNH family; his father, Steve, a kinesiology professor and his mother, Donna, an administrative assistant. Hardy and Koch are buried side by side at Arlington National Cemetery. Each hat bears a hangtag with their photo and a note about their story.
Today, OHT gear is available at colleges and universities in the U.S. and via online partner retail channels, such as Fanatics and online here. To learn more about Operation Hat Trick, please visit: www.operationhattrick.com and www.youtube.com/watch?v=9nZaaD8LYco. The exclusive partnership with 47 Brand will run from October 2014-October 2018.