Will 3D printing replace the slow boat from China for footwear production? The short answer is 'maybe.' But due to costs, speed and other factors, it's going to take some time to find out.
By Thomas J. Ryan
While making a sneaker in the comfort of your home with the assistance of a 3D printer likely remains in the far-off distance, brands are utilizing the technology to make limited product runs. 3D printing has the potential to deliver the ultimate customization in footwear for consumers.
For footwear design teams, brands told SGB that a big advantage of 3D printing is being able to make and tweak prototypes in hours, instead of months, to speed innovation. And because machines are doing most of the work, it could level labor costs to keep manufacturing stateside.
In March, Under Armour launched its first 3D-printed shoe, called the UA Architech, conceptualized during a two-year research and development process involving the study of geometric shapes and structures to come up with the midsole design.
"3D printing is a new, innovative way of developing product and it's revolutionizing the way in which we can manufacture footwear," Under Armour Vice President of Training and Outdoor Footwear Chris Lindgren told SGB. "It's streamlining the manufacturing process and allows our brand to be nimble as we innovate. Additionally, it provides the potential for fully customizable footwear options for our athletes and consumers."
Printed at Under Armour's Innovation Lab in Baltimore, MD, the UA Architech uses Autodesk Within Software to employ generative design instead of a computer algorithm to create the lattice midsole, which provides a stable heel structure and the cushioning elements needed for strength training. The midsole is matched with a flow-molded 3D ClutchFit auxetic upper, which offers a supportive feel that flexes and moves with the foot. Charged Cushioning is added for responsiveness and comfort.
Under Armour sold 96 pairs of the shoes — a nod to the year Under Armour was founded, 1996 — for $300 each on ua.com and at its Baltimore Brand House location.
Lindgren said 3D-printed footwear manufacturing is pushing the industry's envelope on innovation and rethinking the potential of customization. He added, "As the industry continues to innovate and the manufacturing technology grows, the ability to tune this technology across all platforms is endless, and we are really looking forward to driving the thought-leadership around 3D printed footwear and how we can bring this technology to more and more of our consumers."
Taking a similar route, New Balance in April sold 44 pairs of the Zante Generate, which it claimed is the first 3D-printed running shoe. The number 44 referenced New Balance owner and chairman, Jim Davis, who purchased the company 44 years ago on Patriot's Day in 1972. The shoes were sold for $400 each.
The Zante Generate is a result of collaboration with 3-D Systems. The shoes have a 3D printed midsole crafted from Elastomeric powder that is tough while remaining flexible. The porous honeycomb midsole with hundreds of small, open cells promise to mold to the wearer's feet over time, resulting in a better workout.
"To deliver this level of performance with a 3D printed component, we paired experts in running and biomechanics with leaders in plastics engineering, material development and generative design," said Sean Murphy, New Balance's senior manager of innovation and reengineering, at the product's introduction. "These are the types of collaborations that will drive footwear design and manufacturing in the future."
New Balance's history with the technology goes back to 2013 when it outfitted miler Jack Bolas with data-customized spike plates to match his mechanics on the track. Many of the brand's other sponsored athletes now receive customized spikes and cleats.
In October of last year, Adidas unveiled its Futurecraft 3D concept, a 3D-printed running shoe midsole that can be tailored to the wearer's foot. Created through an open-source partnership with Materialise, a pioneer in 3D printing, Futurecraft 3D imagines a future where a customer can walk into a store, run for a few minutes on a treadmill to analyze their running mechanics, and then have a custom shoe 3D printed for them while they wait.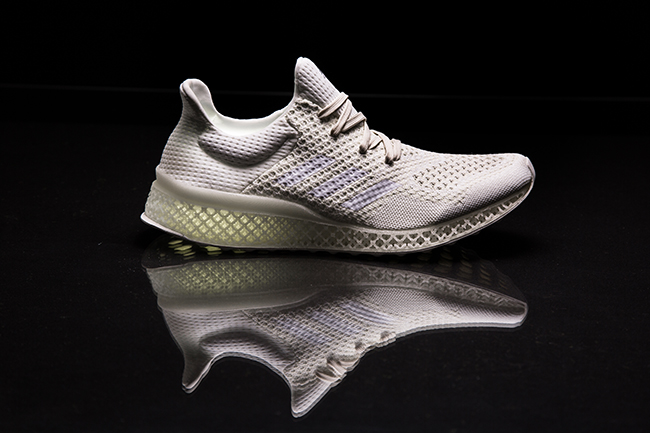 While many 3D printing technologies focus on enhancing the aesthetic approach of shoes, Futurecraft 3D stood out for its focus on performance.
"There are so many amazing benefits of 3D printing in footwear beyond its visual and functional newness," Adidas Global VP of Strategy Creation James Carnes told SGB. "First, Futurecraft 3D takes personalization to a totally new dimension, creating the possibility for consumers to customize their midsoles so they match the contour and pressure points of their own feet. Second, a central objective of our Futurecraft design approach is finding better techniques to create our products, including using the most sustainable materials and processes. 3D printing allows us to significantly reduce waste while maintaining exceptional quality."
Adidas later in the year unveiled a partnership with environmental group Parley for the Oceans to create a 3D-printed sneaker made partially of plastic waste from the ocean.
For its part, Nike in March introduced a custom track spike for sprinter Allyson Felix made possible through 3D-print prototyping. In May, it accelerated its 3D-printing push with an alliance with HP Inc. (formerly Hewlett-Packard) for an even swifter prototyping pace.
"We've been using 3D printing to create new performance innovations for footwear for the past several years," said Tom Clarke, president of Nike Innovation. "Now we are excited to partner with HP to accelerate and scale our existing capabilities as we continue to explore new ways to manufacture performance products to help athletes reach their full potential."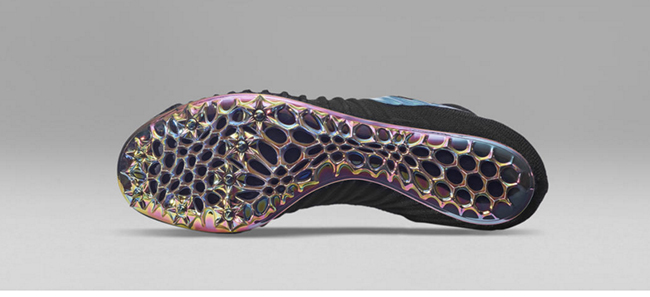 Casting some doubt on the hype was a report that came out earlier this year from Ovum, the technology research and advisory firm, which predicted that 3D printing will have only a limited impact in the retail space, at least over the next 10 years or so. Ovum wrote that the near-term opportunity appears to be focused only on highly-personalized and novelty items and said the technology would be challenged competing with mass production in the long term.
"3D printing will grow but only if it can provide genuine benefits, quality outputs and speed at a reasonable cost," wrote Ovum in the report.
Carnes at Adidas said the time it takes to print a single part is a major inhibitor to 3D printing becoming a mainstay in production.
"While it's incredibly precise, it's still not that fast," said Carnes. "Another [hurdle] is that the materials are specialized for the printing process, but not always for the unique function of the product. In some cases they are too soft, in others they are too rigid." He finally said there just aren't a lot of factories ready to scale up, "so it's more of an innovation and prototyping tool still than it is a production method."
Under Armour's Lindgren agreed that scale is a major hurdle, but he remains upbeat about 3D-printing's future for footwear. Said Lindgren, "Once the supply chain has more access to this technology and factories are willing to make the investment in the equipment, the opportunity to bring 3D printed product to consumers in larger quantities will be a more practical reality."
Lead photo Team New Balance Athlete Brenda Martinez with the New Balance 3D Printed Zante Generate. Photo courtesy New Balance