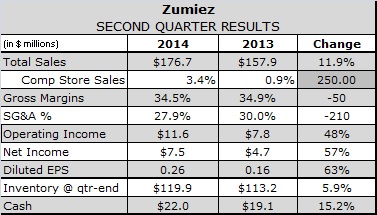 Zumiez Inc. CEO Rick Brooks credited the teen retailer's better-than-expected second quarter results to its increasing ability to use omni-channel marketing to drive price conscious teens to its stores and pay full price.
"Our ability to better connect with consumers in a meaningful way is driving top-line momentum," Brooks said in ZUMZ's earnings call last week. "As a result, we are more efficient with our inventory management in the second quarter, and moved into one of our busiest selling seasons, with clean inventory levels. As we continue to expand our omni-channel capabilities and bring our highly differentiated and life-style-relevant product and perspective to the marketplace, we believe that we can maintain strong merchandise margins through full-price selling."
The bullish outlook contrasted with that of some competitors, which have been predicting sluggish teen spending, a very promotional mall environment and heavy discounting of denim will continue pressuring margins for the rest of the year.
ZUMZ reported total net sales increased 11.9 percent to $176.7 million in the second quarter ended Aug. 2, 2014, compared with $157.9 million in the comparable 13-week period ended Aug. 3, 2013. Comparable sales, including e-commerce, increased 3.4 percent on top of a comparable sales increase of 0.9 percent for the 13 weeks ended Aug. 3, 2013. Dollars per transaction and units per transaction both increased, as did sales of accessories, hard goods and men's and junior's. Boys comped negative, due in part to the continued trend toward athletic shoes.
Sales in North America increased 10.1 percent while sales in Europe, where ZUMZ owns the Austrian retailer Blue Tomato, increased 57.6 percent to $9.5 million. Blue Tomato, which was primarily an online retailer when ZUMZ acquired it in 2012, is on track to open its 18th store this year.
Gross margin declined 40 basis points (bps) to 34.5 percent primarily due to lower product margin. SG&A expenses were 27.9 percent of net sales, down 200 bps from the second quarter of 2013. Operating profit was $11.6 million in the second quarter, or 6.6 percent of net sales, up 160 bps from the second quarter of last year.
Net income increased 57.3 percent to $7.5 million, or 26 cents per diluted share, compared to net income of $4.7 million, or 16 cents per diluted share, in the second quarter of the prior fiscal year. The fiscal 2014 results include costs of approximately $600,000, or a penny per diluted share, for charges associated with the acquisition of Blue Tomato, compared with approximately $1.7 million, or 4 cents per diluted share, of Blue Tomato acquisition related costs in the year earlier quarter.
ZUMZ ended the quarter with cash and current marketable securities of $113.4 million, up from $95.0 million a year earlier. Inventory increased just 5.9 percent, or half the rate of sales, putting the company in a good position to sell at full price in the back half of the year.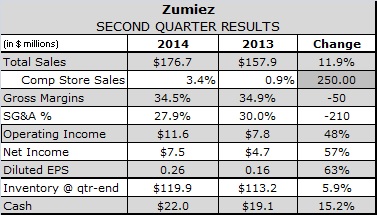 An increase in dollars per transaction was slightly offset by a decrease in comparable transactions during the month. The increase in dollars per transaction was driven by units per transaction and an increase in average unit retail. Juniors, men's, hard goods, and accessories posted positive comps, while footwear and boys comped negatively as the trend toward basketball and more athletic shoes continued to work against ZUMZ. Total net sales for the four weeks increased 9.4 percent to $94.0 million, compared to August, 2013.
Year-to-date 2014 comparable sales increased 2.5 percent.
ZUMZ issued guidance for the third quarter calling for net sales in the range $207-$211 million and net income per diluted share of 47-50 cents, including 2 cents per share for charges associated with the acquisition of Blue Tomato. The guidance anticipates comparable sales increase in the low-single-digit range and a 50 bps decline in gross margin due to lower product margins and deleveraging of costs. Brooks said he expects margin pressure in the third quarter from a shift in product mix and difficult comps with last year's record third-quarter margins. The company intends to open 56 new stores in fiscal 2014, including 7 stores in Canada and 6 stores in Europe.