Yue Yuen Industrial Ltd., the China manufacturing giant that makes footwear for many key athletic brands, reported net income declined 2.05% to $108.5 million in the second fiscal quarter, compared to $110.7 million a year ago. For the period ended March 31, athletic footwear sales, which make up 54.4% of the business, fell 3.4% to $645.5 million. In an unusual showing, Sport Sandals, which only makes up 2.4% of sales, jumped 66.9% to $28.2 million.


Also seeing strong growth was YY's Casual & O/D and retail categories, which rose 13.2% and 16.4%, respectively. Retail's increased sales numbers pushed it from making up 17.7% of the total business last year to 20.3% this year.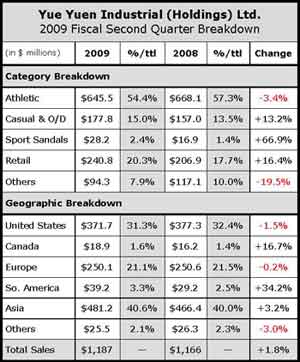 By region, sales to the U.S. slipped 1.5% to $371.7 million and sales to Europe dipped 0.2% to $250.1 million. South America saw the most dramatic jump in growth, up 34.2% from $29.2 million last year to $39.2 million this year. Asia, which accounted for 40.6% of total sales, rose 3.2% to $481.2 million. Additionally, sales grew 16.7% to $18.9 million in Canada and fell 3.0% to $25.5 million in all other regions.

Net profits slipped 2.0% to $108.5 million from $110.7 million. Gross margins improved to 29.5% from 25.0%.

In the six months, the total volume of shoes produced rose by 1.7% year-on-year to 129.9 million pairs. The total number of production lines remained at 440 by the end of March 2009.