Xero Shoes, the minimal shoe company that first gained famed in 2013 with an appearance on Shark Tank, has come up with a new crowdsourced fundraising model.
Writer: Thomas J. Ryan
Marking a new fundraising model, Xero Shoes has launched an equity crowdfunding campaign to raise up to $3 million. According to a filing with the Securities & Exchange Commission, the minimal shoe maker is looking to sell 750,000 shares of its stock at $4 a share.
Xero Shoes owner and co-founder, Lena Phoenix stated, "The democratic idea behind crowdfunding made immediate sense to me. Rather than limiting investors to the wealthy, we want to open this opportunity to anyone, especially our customers. They helped put us where we are now, so they should have the opportunity to step intothe future with us."
Phoenix and her husband, CEO, Steven Sashen, began selling DIY huarache-sandal making kits from a corner of a spare bedroom seven years ago and originally thought Xero Shoes would just be a small hobby/business. With Vibram FiveFingers, the more-established Nike Free and others creating a loud conversation around barefoot and minimal running, Xero Shoes' business gained traction and was particularly helped by a 2013 appearance on Shark Tank.
Even though the couple didn't wind up taking any of the 'Shark's'' offers, the airing of the show gave them 3,000 new orders and continued re-runs has continued to stoke demand. The couple also initially geared the product toward runners, but found a bigger audience for those looking for a more-minimal sandal and even closed-toe shoes overall.
According to the SEC filing, Xero Shoes remains a small but it's growing rapidly and profitable:
Revenues in 2015 reached $1.4 million, almost double $772,000 in 2014 as demand outstripped inventory. Revenues in 2016 grew to $2.73 million. Since launching in late 2009, over $6.6 million worth of shoes, sandals and sandal kits have been sold.
In 2016, 68 percent of sales were directly through the Xero Shoes website, with 32 percent of sales coming from Amazon, eBay, retail stores, international distributors and other third-party sellers. Gross sales on Amazon's Fulfillment by Amazon (FBA) program accounted for 16 percent of Xero Shoes total sales in 2016.
Excluding non-cash compensation, EBITDA margin has increased from a negative -17.1 percent in 2014 to 9.3 percent in 2015. For full year 2016, Xero Shoes is estimating an EBITDA margin, excluding non-cash compensation, of 10 percent.
As of January 1, 2017, Xero Shoes had a cumulative customer base of over 75,000 in 94 countries.
The company noted that despite a "very limited sales staff" in 2016, the company's wholesale channel sold product in 61 retail accounts (doors), with average sales of $5,280 per door.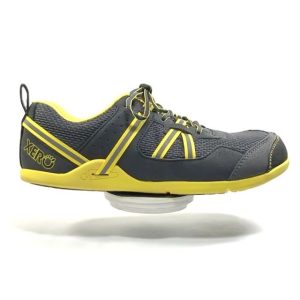 In late October, Xero Shoes introduced its first enclosed, casual shoe line; and the SEC filing notes that plans call for the introduction of lightweight boots and additional casual shoes for fall/winter 2017; followed by a hybrid sandal, casual shoes and casual sandals for spring/summer 2018. Expanding the product line from sandals only is expected to double annual per door sales to $10,560. Along with a bigger inside sales staff, Xero Shoes has a target of expanding to 200 wholesale accounts this year.
Making the decision to utilize the Regulation A+ exemption of the JOBS Act of 2012 required a lot of advocacy on Phoenix's part. Many on Xero Shoes' team, including their legal counsel, tried to talk Phoenix out of it. "Fortunately, I've gotten good at arguing my point in the last few years," says Phoenix, "and was able to help people understand the value of equity crowdfunding for both the financial and marketing sides of the business."
Preparing for equity crowdfunding also proved more challenging that Phoenix imagined. It took more than eight months for the company prepare its offering and become qualified by the SEC under the Regulation A+.
"It was a mountain of work, and required navigating through laws that were constantly changing," she says, "but one of marks of an entrepreneur is walking into the unknown every day and solving the problems that present themselves."
The SEC filing also notes that one of the risks of the offering is a possible lawsuit. The filing states, "Equity crowdfunding regulations have only been in place since 2015. The regulations are still subject to interpretation and aspects have been untested by the courts. Allowing large numbers of people to invest means there is more risk of an unhappy person filing a questionable lawsuit against us. We are striving to comply with Federal crowdfunding laws and all other applicable regulations as accurately as we can, but there is always a risk we will unintentionally overlook, omit or misstate something that someone might get upset about."
But the Colorado-based couple, who have likened themselves as aging athletic hippies, believe giving its loyal customers a chance to invest in the brand made sense for the ethos of the company. Says Sashen, "Imagine having an army of customers who are literally invested in the success of your brand. That's what crowdfunding can give a company."
Xero Shoes' crowdfunding campaign is at invest.xeroshoes.com.
Photos courtesy Xero Shoes