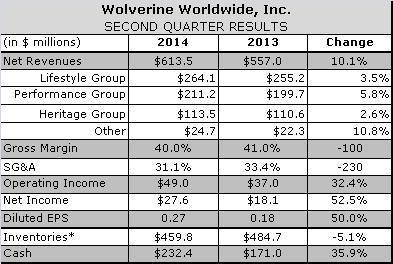 Wolverine Worldwide Inc. will abandon its Patagonia footwear license and close 140 retail locations in the next 18 months so it can reinvest the savings into realigning its direct-to-consumer businesses to reflect consumer's omni-channel shopping habits, the company said Tuesday.
WWW CEO Blake Kreuger disclosed the changes while discussing the company's record results for the fiscal second quarter ended June 14. WWW reported revenues rose 4.4 percent to a record $613.5 million in the quarter, thanks to double digit-growth in EMEA, Latin America and the Asia-Pacific and low, single-digit growth in North America. Overseas growth was fueled by expanding distribution of the Sperry Top-Sider, Saucony and Keds brands, which WWW acquired along with Stride-Rite in 2012. WWW has negotiated 58 new distribution agreements in 85 countries for those brands.
"The consumer malaise in the US retail market persisted into the second quarter," said Krueger. "There are a number of factors impacting the tepid consumer mindset in the US. Unusual weather was certainly a factor last fall and this spring, but the U.S. consumer, at least mid-market on down, continues to be stressed. These factors have also negatively impacted U.S. brick-and-mortar traffic in general and resulted in a highly promotional retail environment that has taken its toll on many retailers."
Saucony, Chaco lead Performance Group
WWW's top line growth was again led by the Performance Group, where sales increased 5.8 percent on the strength of Saucony and Chaco, which both posted strong, double-digit growth. Saucony grew market share in run specialty with its Ride 7, which SVP and CFO Don Grimes said was the second best-selling shoe in the channel. Much of Saucony's growth came in EMEA, which now accounts for 20 percent of the brand's sales.
Chaco enjoyed unprecedented demand for its classic Z sandal, which has become very popular with youth. Sales via the MyChaco custom sandal program are running 50 percent ahead of a year ago.
After excluding sales of children's shoes, which were transferred to Stride Rite, Merrell's sales increased in the lower single digits. Again, strong overseas sales offset slow growth in North America, where cool weather dampened demand for Spring footwear and the brand was facing tough comps after the Spring 2013 launch of the M-Connect collection. The All Out Blaze and Moab performed especially well..
Grimes said WWW will discontinue shipping Patagonia footwear after this fall. The company began making the footwear under license in 2005, but only generated a small amount of revenue and profit. "We anticipate no impact on results and look forward to focusing on other opportunities," he said. Patagonia has no plans to license its brand for footwear in the near future, according to a spokesperson reached Tuesday.
Keds Turnaround continues
Sales at the Lifestyle Group increased 3.5 percent as strong, double-digit growth at Keds and mid-single digit growth from Stride Rite's Children's Group more than offset a high, single-digit decline at Hush Puppies. Grimes attributed exceptionally strong results at Keds to its successful collaboration with Taylor Swift, including sponsorship of her Asian tour. Keds Champion collection performed well in the United States.
"The momentum at Keds continues to be a great growth story," Grimes said.
Sales fell less than 1 percent at Sperry Top-Sider compared with the prior year, when they spiked 24 percent. Growth in men's nearly offset a decline in women's sales, where boat shoes have fallen out of favor. Grimes said sales of Sperry Top-Siders sandals, flats and espadrilles are growing, but could not offset the decline in women's boat shoes. A decision to drop one retailer in the family channel cost Sperry Top-Sider about $5 million in sales, or 400 basis points of growth, in the quarter.
Hush Puppies lagged due to weak traffic at the malls, including particularly weak demand for casual footwear at department stores.
Retail realignment
Despite higher overall sales, WWW reported increased promotional activity designed to combat sluggish traffic at the company's consumer-direct business in the United States and higher product costs drove down gross margin by 90 basis points to 40.1 percent. Inventory at the end of the quarter was down 5.1 percent compared to the prior year.
To accelerate growth and improve overall profitability, WWW disclosed Tuesday that it will close 140 retail locations over the next 18 months and reinvest much of the savings building out its omni-channel retailing capabilities to adapt to consumer's rapidly changing behavior. About 75 percent of the closings will be Stride Rite stores, but WWW will also close other stores, including a few Track and Trail stores. The company expects to close 60 stores by the end o the fiscal year and the remainder by the end of 2015.
WWW will also consolidate certain functions, including store operations and field support teams. WWW expects the plan to yield pretax savings of approximately $11 million annually when completed. It will reinvest "a meaningful portion of these benefits" to build out consumer-direct omni-channel capabilities and accelerate growth in its wholesale operations.
WWW estimates pretax charges related to the Plan in the range of $30 million to $37 million, which it expects to take between now and the end of fiscal 2015. That includes $13 million to $15 million in non-cash charges, primarily asset write-offs related to closed retail locations and restructuring charges related to the remaining retail store fleet and international operations. The company took $3.4 million of those non-cash charges in the second fiscal quarter.
Top-line guidance tweaked
WWW said it now expects full-year consolidated revenue to approximate $2.78 billion, representing growth of approximately 3 percent compared to prior year revenue of $2.69 billion. It still expects adjusted earnings per share to reach $1.57 to $1.63 per share, up 10 percent to 14 percent compared to prior year. Adjusted EPS excludes costs associated with acquisitions and it retail alignment.
"As we turn to the back half of the year, we have taken a somewhat more conservative approach to our revenue outlook, reflective of a continued soft retail environment in the U.S.," said Grimes.