<span style="color: #a8a8a8;">Winnebago Industries, one of the leading manufacturers of recreational vehicles (RVs), said backlogs at the close of the third quarter ended May 30 vaulted 86.7 percent in units in Towables and 99.2 percent in Motorhomes. The gains reflect a strong rebound in dealer demand in May as April was the month most impacted by COVID-19 coupled with a yearning by consumers to be outdoors.
"All recent and current indicators signal a very strong recovery for outdoor recreation and product demand is in process this summer," said Michael Happe, CEO, on a conference call with analysts. "From camping in RVs to fishing in boats, consumer interest in the outdoors, and investments in these discretionary durable goods products have been robust."
He said during the month of May, RV retail sales results turned positive year-over-year for Winnebago and that momentum has only continued to sequentially increase into June.
"Americans are voting with their wallet and time that the outdoors is the place to be," said Happe. "These are positive developments for our industries in the short term and, as importantly, set the stage for possible continued healthy market conditions for our products in 2021 as well. Today's customers are tomorrow's advocates."
Among segments, travel trailers in the Towables segment and Class Bs in the Motorhome segment have led the gains, but other product categories are similarly regaining traction. The company's luxury brands, Newmar motorhomes and Chris-Craft powerboats have seen some of their strongest retail and order weeks occur in recent times, according to Happe.
The gains are not only driven by first-time and value buyers but aspirational and step-up buying is occurring as well.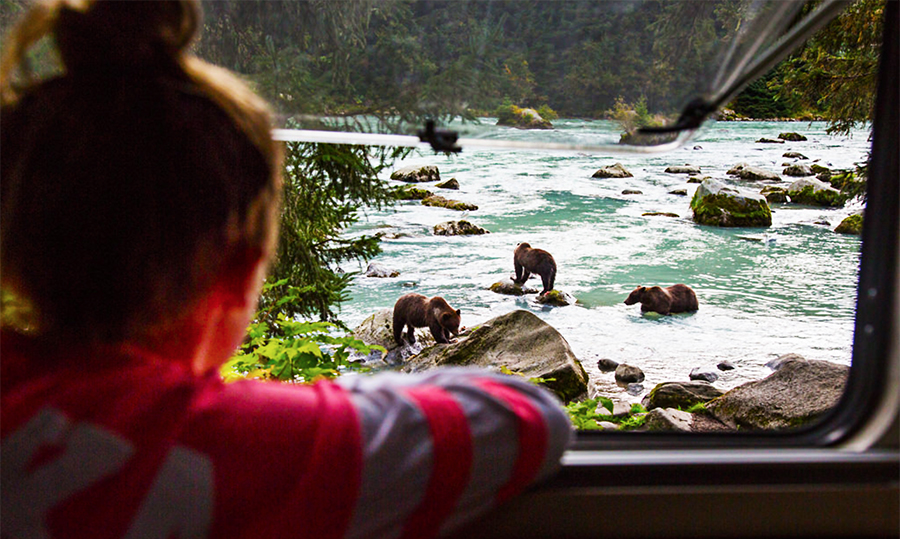 Happe cautioned that the outlook for the RV industry "certainly has been volatile these past several months." All Winnebago's businesses are "scrutinizing their robust backlogs," and it's uncertain where production rates are heading. The company is not seeing signs of dealers looking to abnormally increase their inventory levels above and beyond current retail trends.
"We anticipate that the industry should see collective positive retail trends for most of the remainder of the calendar year 2020 with wholesale shipments trending slightly above retail in the summer and the early fall period as dealers work to elevate inventories a bit," said Happe. "The weight of this trend will favor the Towable segment versus the broader Motorhome segment, but there should be winners in both categories."
He suspects Winnebago will collectively take market share, but he also pointed to challenges assessing the size of the share gains "given the volatility of the market." He further said bringing back profitability to aspired pre-COVID-19 levels "will take time, but it can, and it will, return to those levels when we see stable, healthy market conditions in the quarters ahead."
<span style="color: #a8a8a8;">On a trailing three-month basis through April, Winnebago's North American RV retail market share was 11.7 percent, up 1.7 share points including Newmar, and up 1.2 share points on an organic basis over the same period last year.
In the third quarter, revenues reached $402.5 million, a decrease of 23.9 percent. Excluding Newmar, which was acquired in November 2019, sales were $314.5 million, a tumble of 40.5 percent.
Gross margin decreased 840 basis points in the quarter primarily driven by deleveraging due to the significant revenue decline and an unfavorable mix as Towable's revenue, as a percent of total revenue, was lower compared to the same period a year ago. Operating income was an $8.2 million loss for the quarter compared to an operating income of $49 million in the third quarter of last year.
Net income was a loss of $12.4 million, or 37 cents a share, compared to net income of $36.2 million, or $1.14, in the same period last year. Excluding costs totaling $3.5 million, or 11 cents per share, driven by the non-cash portion of interest expense and restructuring charges, the per-share loss in the latest period was 26 cents.
Adjusted EBITDA was $4.1 million for the quarter compared to $55.9 million last year, a decrease of 92.7 percent.
In the quarter, revenues for the Towable segment were $188.9 million, down 45.5 percent from the prior year, primarily driven by the suspension of manufacturing and the disruption to consumer buying patterns due to COVID-19. The overall strength of the Towable product portfolio and increased consumer demand in the month of May, as stay-at-home orders were eased, has contributed to accelerated momentum, especially in the company's Grand Design RV business. Winnebago's unit share of the North American towable market on a trailing three-month basis through April, excluding folding and truck campers, was 10.7 percent, an increase of 2.0 share points over the same 2019 period. Segment Adjusted EBITDA in the quarter was $16.5 million, down 71.2 percent from the prior year.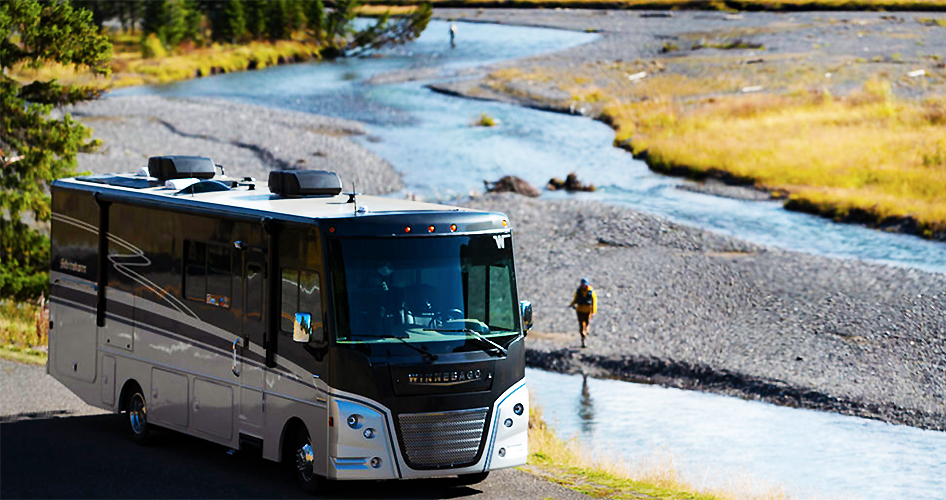 Revenues for the Motorhome segment increased 27.1 percent to $203.6 million, driven by the year-over-year impact of the Newmar acquisition partially offset by the suspension of manufacturing and the disruption to consumer buying patterns due to COVID-19. The underlying demand for the Class B product line-up, including the Revel, Travato, Boldt, and Solis models, remains strong despite the impact of the pandemic. Unit share of the North American Class B segment was 45.4 percent through April, an increase of 5.2 share points over the same 2019 period. Segment Adjusted EBITDA was a loss of $10.8 million, down $11.2 million from the prior year, primarily due to the revenue decline and cost impact driven by COVID-19 partially offset by favorable mix and the addition of Newmar. The addition of Newmar partly boosted its 99.2 percent backlog gain.
As of May 30, the company had a total outstanding debt of $465.0 million and working capital of $299.8 million. Cash flow from operations was $162.4 million for the first nine months of Fiscal 2020, an increase of $79.6 million from the same period in Fiscal 2019.
Happe concluded, "As states navigate the reopening of their communities, people are increasingly looking toward RVing and boating as ways to socially distance in a safe and memorable way. As indicated by our robust backlogs as compared to last year and our second fiscal quarter of 2020, Winnebago Industries RV, Marine, and Specialty Vehicles brands and businesses remain poised for strong growth and are solidly positioned to offer great value to our end consumers. Going forward, we are committed to prudently managing our business in a disciplined fashion to preserve liquidity and ensure that Winnebago Industries maintains the financial flexibility to continue to outpace the market and navigate the future."
Photos courtesy Winnebago Life