Under Armour Golf will drop the third signature shoe from Jordan Spieth on February 1.  In his own words Jordan dives into the design process in an essay he wrote, below, that includes the background on the collaborative process with Under Armour and his rigorous wear testing program to get the details right for next level play.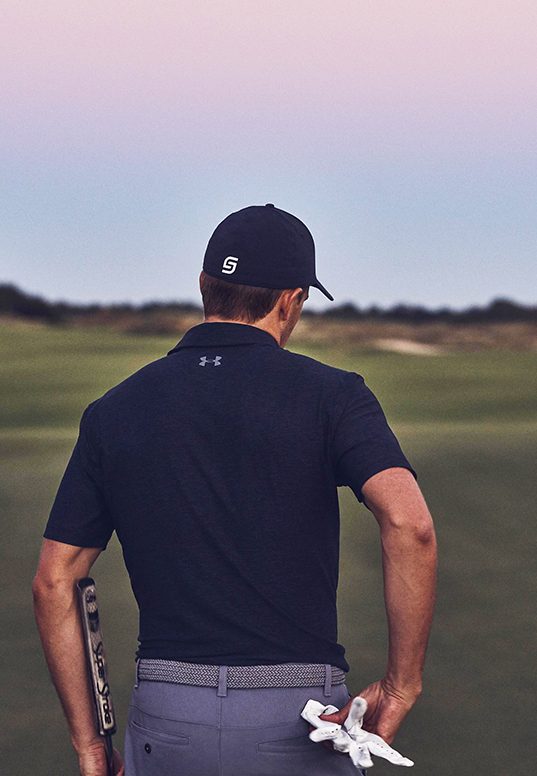 Confidant.
Dynamic duo.
Right-hand man.
The relationship between a golfer and caddie is unlike any other. It gets a lot of airtime in the golf world. Rightfully so, as they are literally by your side every tournament, with a front row seat to all the ups and downs from hole 1 to 18. It's imperative that you trust your caddie, and that you know without a doubt they're doing their best to support you.
But what may not always get mentioned is the rest of the people behind a golfer, and really any professional athlete. Ultimately, my success on and off the course is supported by my entire team. I value and foster each of these relationships – from my caddie to my management team, coach, personal trainer, partners and so on – because if I know one thing for certain, it's that behind me I have a team of people dedicated to a unified mission. To borrow a phrase from UA, they're all working to make you better.
The people around you can have a massive impact on your game and this wild experience of professional golf. I'm fortunate to have close ties to my family, my friends and of course my team, so that need for closeness extends to my work with Under Armour.
At the end of the day, relationships are built on trust and collaboration. That's why I'm excited to share the design process with my team at Under Armour around my new golf shoe. It's given me the confidence to feel connected to anyone choosing to wear this shoe bearing my name.
In designing a signature shoe, I was a bit uncomfortable at first with the idea of putting my own initials on a shoe. Was it too self-promotional? Had I achieved the required status or level within the sport? I realized that was the wrong way to approach this – besides, what exactly that level would be, I'm not sure. Five, ten major championship wins? Instead of attaining a subjective "right" to start designing footwear, I started looking at it from a different angle.
Under Armour has incredible technological advantages and the golf shoe has so much to tap into. This partnership provides experts in footwear at my fingertips. I found myself in a position to work on a shoe that I felt was above and beyond typical footwear, tailored for this game and better than anything else. That's what sparked the initial Spieth 1, and each version since has just gotten better and better.
The relationship between athlete and designer must be built on trust and it must be collaborative. With that foundation, the process enabled UA to deliver exactly what I need to play at my best; a golf shoe I'm not only proud of, but that also is available to golfers around the world to make them better.
Growing up, I didn't put as much thought into my golf shoe and what makes one better than the other. I hadn't considered it as a way to create an advantage from the groud up. Teaming up with Under Armour was an exciting opportunity. I decided that as someone who doesn't like any distraction on the course, I would give the project my all so that once the shoe became part of my equipment, I didn't have to give it a second thought.
The footwear team at Under Armour is made up of designers and engineers who understand my swing and footwork better than anyone. I've been working with Mike Forsey, principal designer and developer for golf at UA, for about three years. Over this time, he's taught me so much about the design and development process.
Each new style takes over a year to develop. To start, they bring me initial designs based on what we already know and have discussed, and I'm able to offer my feedback, both positive and negative, and incorporate new ideas. Three or four months later, we circle back so I can put the first prototype on my feet. This is a huge step to get a feel for the shoe and give more tangible feedback. From that conversation, the footwear team will continue to refine the style even more. About four months later, I finally get a few pairs to take home. I'll start wearing the almost-finalized shoe in at-home practice and give final notes to the design team. Sometimes I'll slide that version of the shoe into competition. You may have seen the Spieth 3 take a quick run at the Mayakoba Golf Classic in December. I really did not want to wait until the spring!
The collaboration has worked well and allows us to get creative. For example, the seed for the Spieth 3 was actually planted while finalizing the Spieth 2, although I didn't realized it at the time. Forsey and his team had come to my house to show the final Spieth 2 prototype. We were sitting at my kitchen table when I got an idea that would help me explain my thought process. I ran to my closet and grabbed the UA trainers that I always wear to the gym. I remember saying to them, this is how I want the Spieth shoe to feel, like I don't have anything on my feet.
UA didn't disappoint, and really took my request as a challenge. The next time I saw the Spieth 2 it had a custom woven fabric for the quarter. Fast forward to the Spieth 3, they took that fabric all the way up to the vamp and around the heel, taking out weight without losing stability, all while giving me that sneaker feeling.
Forsey began working with J.J. Rivet, a biomechanics expert on how a golfer's body moves during the golf swing. Those two started talking about the Spieth 3 and J.J. introduced us to the Hendrix "Torsion" Bar, a structure in your foot that runs from your heel to your second toe. During your swing, if your weight shift stays balanced over the bar, you gain a new level of control over your body and can turn more efficiently. It's a game changer. Every design detail of the Spieth 3 supports this concept, top to bottom. The result is not only my next signature, it actually sets up how we will tackle every shoe we design from here on out.
And this brings me back to the importance of relationships.
The way I see it, if you're trusting your game to a golf shoe with my name on it, then Under Armour and I have to collaborate to deliver the absolute best to make you better. And that's an important relationship I share with you. Trust me, we won't let you down.  Photos courtesy Under Armour