On June 16, Brooks Running announced the company was partnering with 30 run specialty shops in the U.S. and Canada to launch the company's first shop-in-shop program.
The elevated store experience will feature popular offerings from Brooks' collection of apparel, including an assortment of sports bras as well as tops, bottoms and jackets for men and women. Installation at the 30 pilot locations will be complete by the end of July and the brand plans to expand to more than 150 retail stores by the end of the year.
The shop-in-shop installation is a three-year partnership between Brooks and the retailer which includes four unique apparel and marketing stories, each year designed to educate runners. In addition to the physical installation, the partnership includes an in-store launch event each season, Brooks digital marketing activations and dedicated support from a local Brooks Guru. This experience is designed to effectively showcase Brooks in a retail store environment and help retailers spotlight apparel as a key component of a runner's gear assortment.
SGB reached out to Mike Billish, VP of U.S. sales, Brooks Running, to explore the new program.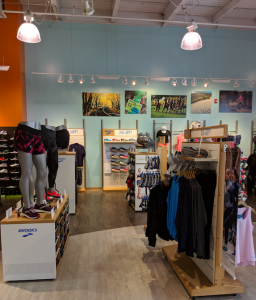 How did the program come about? We developed the Brooks shop-in-shop for two key reasons. The majority of our business is done through our retail partners, so the shop-in-shop is a great way for us to introduce our brand personality to runners that shop in these stores. The second reason was to help our retail partners refresh their running apparel business. The Brook shop-in-shop is a valuable tool that empowers our retail partners to reinvigorate their apparel business.
The concept obviously addresses the challenges of selling apparel in a run specialty environment. Why has apparel been such a tough category for run specialty? How does the in-store shop program address that? The fitness apparel business is incredibly crowded right now and our run specialty partners are facing a lot of competition. The Brooks shop-in-shop brings excitement to apparel through creative merchandising and educational storytelling which we believe will captivate runners. The program also focuses on staff to help grow their confidence in selling this category. Our involvement of key staff in bringing this program to life should give them the confidence to solve runner's needs above the show with the same confidence they have at the footwear wall.
How do the shops help Brooks' branding efforts in ways that traditional set-up couldn't accomplish? At Brooks, it's important to bring Run Happy to life in all that we do and the shop-in-shop gives us the opportunity to highlight our apparel and our brand in special ways that wouldn't be possible with any other set-up. Customers are clear that they want their in-store experience to be special and unique if they're going to respond with their wallets. The distinctive look of this program gives us just that.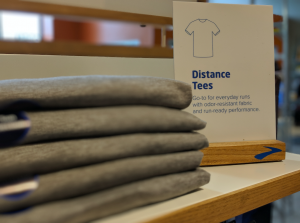 Beyond the distinct fixtures, what's unique about the program? The Brooks shop-in-shop program is a true partnership between Brooks and the retailer. What makes the Brooks shop-in-shop unique is the level of support and storytelling we provide through the experience. In addition to the physical installation, the partnership includes an in-store launch event each season, Brooks digital marketing activations and dedicated support from a local Brooks Guru.
Do the shop-in-shops mean stores will have to pair down their other apparel assortments? One of our goals with our shop-in-shop is to support the apparel business of our retail partners by driving sell-through of Brooks apparel. So, while we don't work with our partners on their overall store assortments, our want to help them tell a compelling story with a great experience. As retailers consider possibly having less brands on the floor, our aim is to help them prove their business can grow and the experience can be great with the partners they choose to lead the category.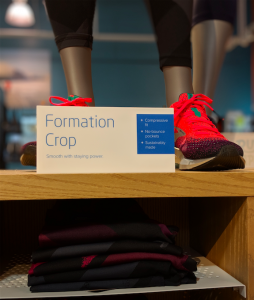 What are you and your early retail partners looking to learn with the initial test stores? The 30 retailers that are launching the shop-in-shop are some of our top specialty run partners. In developing the shop-in-shop, we worked with many of them to understand the challenges they faced and what their needs were. While our quarterly apparel and marketing stories, as well as digital and Guru support, will ensure freshness on the retail floor, we're excited to work with our partners to help them tailor the shop-in-shop for their runners and continue to evolve how we support their businesses.
Photos courtesy Brooks