A report from The World Federation Sporting Goods Industry (WFSGI), in partnership with McKinsey & Company, identified eight key themes likely to define the industry's evolution in the coming period. The report also found that despite the hype over interest in outdoor recreation and home fitness, the sporting goods industry contracted in 2020 for the first time since the financial crisis.
The report represents WFSGI's Inaugural Sporting Goods Industry Report —"Sporting Goods 2021 — The Next Normal For An Industry In Flux." WFSGI generated the study from webinars it organized with McKinsey & Company in March 2020. The webinars were well attended and drew positive feedback.
Many of the report's insights came from an in-depth survey of WFSGI and SFIA members it conducted in October 2020. Researchers also organized interviews with executives representing manufacturers, brands, retailers, WFSGI, and McKinsey experts.
The reports note that similar to many industries, most executives reported that conditions were either worse or much worse than in 2019, with nearly two-thirds posting declining sales; however, a number were more positive because they were positioned in pockets of growth fueled by the pandemic.
"Specific sports were impacted with varying degrees, depending on how easy they were to access in a locked-down environment," researchers wrote. "Outdoor individual sports and home workouts saw increased participation. Meanwhile, team sports and indoor sports struggled and were hit by the postponement or cancellation of major sporting events. Among emerging opportunities, women's clothing came to the fore, amid increased focus on activities such as home workouts, running and yoga/Pilates."
Regionally, COVID-19 had a significant impact across regions except for China, which continued its role as the industry's growth engine after expanding at an average of 16.5 percent a year (CAGR) from 2015 to 2019.
2021 Outlook Upbeat
Looking to 2021, 64 percent of respondents to the Survey expected 'better' or 'much better' market conditions. The more optimistic outlook comes amid uncertainty tied to the second wave of the virus's spread and the relatively slow ramp-up of vaccination capacity.
The report stated, "The biggest challenges for the coming year are in supply chains and COVID-19-related issues. The greatest opportunities, meanwhile, are associated with the potential return of large sports events, including, potentially, the Olympics and Paralympic Games, and the ongoing rise in popularity of outdoor and home sports."
By categories, activities that did well in 2020 (including outdoor individual, home exercise, yoga, e-sports, and virtual races) will remain on a high in 2021. Categories that saw a limited increase in participation, or a decline, are likely to make a partial recovery, but at a lower rate than categories that were winning in 2020."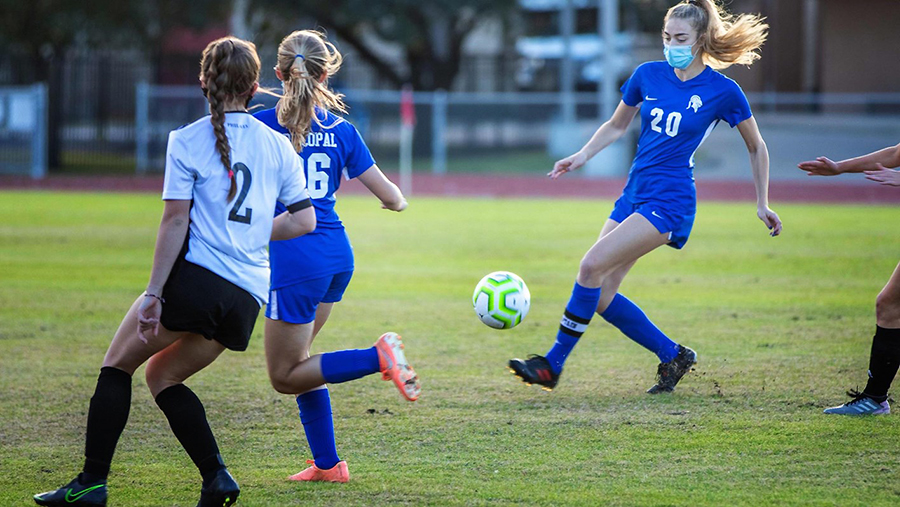 Trends Set To Shape The Industry In 2021
Researchers noted that beyond the expected short-term impact of adjustments due to the virus, the pandemic has accelerated changes that will have long-lasting implications for companies in the sporting goods value chain. These include digital commerce, rising demand for sustainable products and increased participation in individual sports and forms of exercise.
The report analyzed eight key themes likely to define the industries' evolution in the coming period that were broadly described under three banners: Consumer Shifts, Digital Leap and Industry Disruption.
Consumer Shifts
Athleisure the new default and a competitive battleground

— Athleisure was a megatrend before COVID-19, but the pandemic has served to blur the lines between work and free time, and there is a rising acceptance of comfortable wear to previously more formal contexts. With fashion brands increasingly entering this segment, sporting goods players should leverage their innovation and market knowledge to win.

Physical activity gap, an opportunity to put a healthy lifestyle within reach for all

—

COVID-19 triggered a significant shift in physical activity levels. Around 40 percent of consumers are less active, while approximately 30 percent are more so. The current crisis will drive more households into lower-income groups, which are more vulnerable to reduced physical activity levels. The sporting goods industry should embrace a multi-stakeholder approach to tackle physical inertia, especially in communities left behind.

Sustainability, the COVID-19-accelerated next normal

—

 Sustainability has become an increasingly important consumer priority, and companies have responded by introducing more sustainable products. COVID-19 accelerated the trend. The onus now is on companies to secure sustainable supply chains and engage with circularity concepts.
Digital Leap
Digital-enabled Fitness and Exercise Communities Take Center Stage

—

Digital fitness accelerated during the pandemic, as digital solutions provided both inspirations for exercise and a sense of community. Digital tools will continue to integrate into fitness routines post-COVID-19. The winners to date have been connected offerings (e.g., Peloton, Zwift), allowing remote exercising in a community/competitive setting.

Leap Forward in Online, an Accelerating Business Model Shift To DTC —

The past year saw a leap forward in online shopping, with many first-time users expected to stick with their new habit. Companies should migrate from wholesale to direct-to-consumer (DTC), putting digital commerce at the center of their business model center.

Marketing Shift from Assets to Influencers, an Opportunity to Make Digital Pay

—

Digital marketing has traditionally focused on ROI-driven performance, but with people spending more time online and many sporting events canceled, brands should find new ways to engage online. Individual athletes will play a pivotal role and become the communicators of choice to align brands with consumer values.
Industry Disruption
Retail Under Pressure, But a Critical Part of the Future Channel Mix — Brick & mortar stores had been under pressure pre-COVID-19; however, lockdown measures have increased the problem amid widespread closures and financial hardship. To attract customers back to in-store shopping, retailers should find new purpose, new experiences, and new convenience levels not offered digitally.
Supply Chains, the Flexibility Imperative, and a Raised Bar on Agility —

More agile supply chains have become a permanent feature on company agendas. There could be table stakes in some markets in a post-COVID-19 world characterized by shorter demand cycles, e-commerce and closer DTC relationships. Building stronger supply chain partnerships and alternatives such as near-shoring are advisable.
The full report is available here.