The modern yogi searches for apparel and equipment to satisfy their personal flavor.
Yoga – a word first written in ancient Rig Veda text, is now a $16-billion-dollar industry with roughly 36.7 million practitioners in the U.S. alone, according to the 2016 Yoga in America Study done in part by Yoga Alliance and Yoga Journal.
Of these consumers who open their pocketbooks for classes, gear and equipment, 74 percent are fairly new to the market, having began their practice within the last five years.
The rush of new yogis is changing the market, as more boutique and big box brands emerge to outfit the consumer with unique designs and patterns, while marketing a meditative story that reaches into the heritage of the practice. At the same time, there has been a wave of crossover among the yoga, fitness, outdoor and lifestyle categories.
Yoga apparel sales at industry retail are down 8.5 percent in units and 17 percent in dollars over the past 52 weeks, through April 30, 2016, according to SSI Data*. That suggests some pricing pressure as more brands compete for a slice of the pie. And the decline doesn't necessarily mean that the practice isn't continuing to grow through other markets — eg., a fitness shirt that works fine for yoga. On the yoga equipment side (mats, blocks, balls, etc.) SSI Data* shows sales down 3 percent in units and 11 percent in dollars over the past 52 weeks.
"This Is Who I Am. I Practice Yoga."
Today's yoga brands and stories are finding success by not only focusing on the practice, but its practitioners. Multi-function apparel that is versatile and studio-to-street dominates the category. Popular brands from Manduka, Prana and Zobha, to smaller boutique companies like Yoga Six and Stonewear Designs, all agree on this style principle going forward to the latter half of 2016 and new lines being developed for 2017.
Patterns, prints, mesh, scuba, leather and slogans do the work to help yoga users create an identity tied to the practice. This holds true for equipment as well, particularly mats.
"People will have crazy mats that retail at $100-plus and have a standout print on them, like a galaxy," said Cassie Strid, product line manager at Stonewear Designs and certified yoga instructor. "The style is wilder than I've seen before – very loud and bright. Yoga is supposed to be this spiritual letting go of ego, but I'm seeing it diverge into a mass consumer area where the consumer is saying, 'this is who I am, I practice yoga.' That's why your mat and apparel have to look good and be consistent with that image."
Other popular style pieces for next season include leggings with unique prints (as opposed to classic black), like GracedByGrit's mermaid leggings, and options from Zobha with intergalactic and jacquard patterns, along with color blocking. Layering pieces will be popular for Spring 2017, especially among brands that do a large portion of sales through partnerships with boutique or franchise studios (i.e. Corepower). Across all apparel, consumers are leaning
toward cozy and soft to the touch, as opposed to traditional performance-feeling pieces.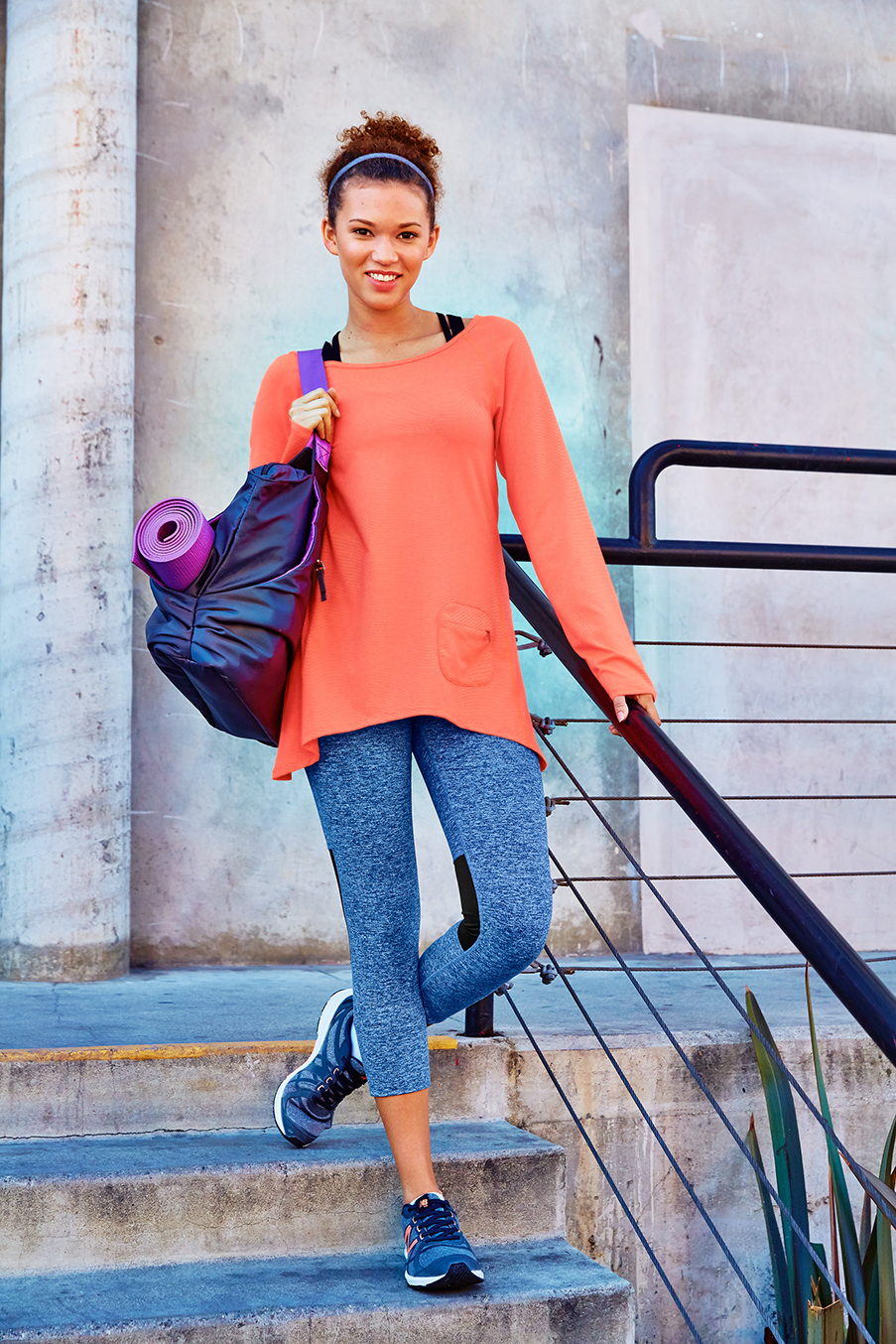 Cozy But Conscious
But just because apparel feels luxurious doesn't mean it loses function. "Although yoga apparel inspired by fast fashion and hot-off-the-runway style excites consumers, this endless barrage of newness has also increased the value for timeless, high-quality pieces," said PrAna VP of Design and Merchandising, Ellen Krimmel.
Material has emerged as a most-desired feature consumers are looking for from their Yoga apparel. The fabric and method of creation must be done with performance and sustainability in mind. "We're aiming to make our products even more functional by adding cut-out details and mesh inserts to increase ventilation," said Jennifer Vathanadireg, director of marketing at Zobha.
Yoga Six Retail Manager, Jennifer Quinn, added, "We've seen a huge evolution in materials, construction and style over the last couple years. I think we're all excited to see where that technology takes us."
In regards to emerging yoga equipment trends, Quinn added, "Like activewear, innovation in equipment comes in the form of technology and materials. A decade ago, Manduka, one of the largest manufacturers of mats, sold one type of mat. That mat is still around, but now they have a handful of different types, each with its own unique construction, purpose and price point. The same has happened with blocks and towels."
Through the expansion of new products and apparel, big and small brands alike have noticed the growing competitiveness in the industry. With so many new players having jumped on the Yoga bandwagon in the past five to ten years, we're nearing the point where only the survivors will remain in operation, "staying relevant in a saturated market with innovations in design and fabrication," said Vathanadireg with Zobha.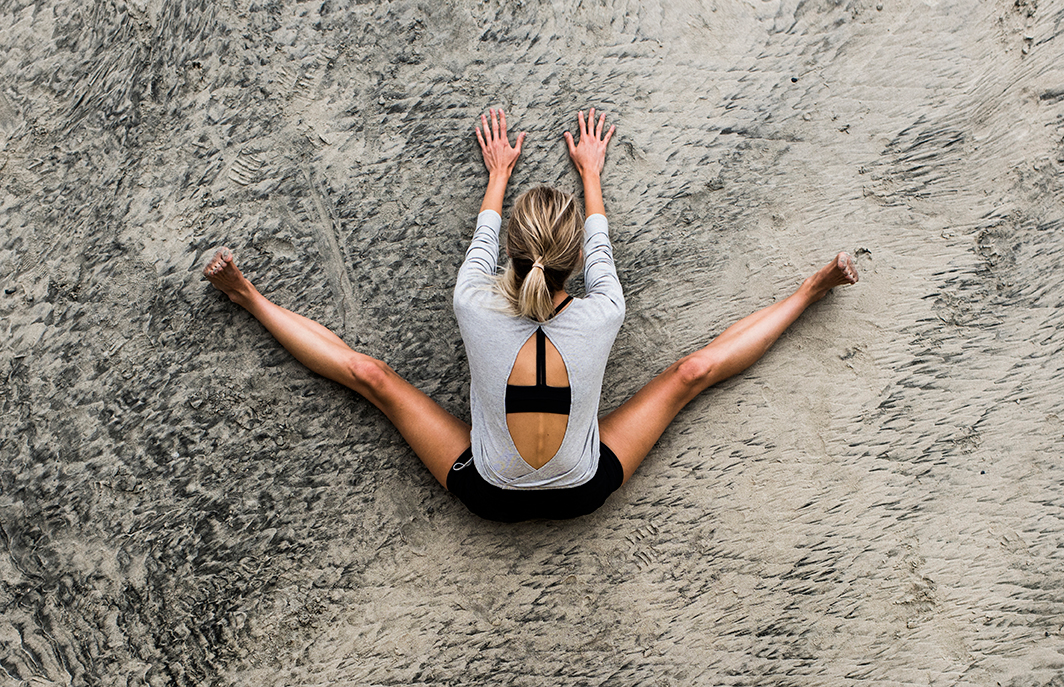 Satisfying Different Consumers
For many consumers, it's all about the equipment and apparel. But herein lies the secret to why Yoga will continue to grow as a market, whether the consumer is older, younger, likes to spend more, or spend less: You need very little to practice. In fact, one school of consumer takes preference over the less-is-more mentality.
Some brands target the loud consumer with bright hues and Om-mantras silkscreened on its tanks, while others are moving forward with a subtle approach. "We lean toward a less-is-more design — carefully constructed women's bralettes and crops paired with high-wait bottoms," said Manduka Vice President of Product, Joanne Sessler. After all, there is a huge segment of the market who prefer basics to prints.
Manduka is working to show love to male consumers alike, bringing a new collection inspired by surf and traditional sports, working with patterns like herringbone.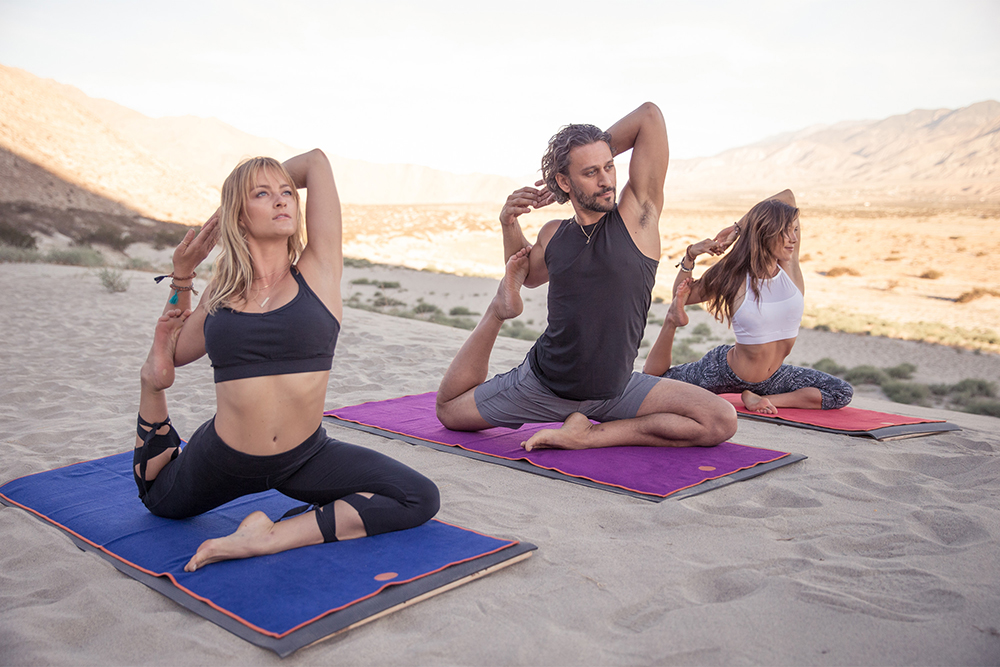 Come One, Come All
According to yoga instructors SGB spoke to from NYC to L.A, the modern yoga practice is quickly changing to make itself more available to the core fitness consumer. And why not? Yoga Alliance and Yoga Journal found 79 percent of yogis also run, cycle, lift weights or participate in at least one other athletic activity. And furthermore, once consumers find a practice style they enjoy (Yin, Vinyasa, Bikram … the list is endless), they are bringing the practice out of the studio and into their homes. A whopping 81 percent of yoga students report having practiced outside the studio.
Bringing the studio to the living room is a natural extension of the practice, since the tools remain consistent. Mat, strap, block, bolster. "It's pretty traditional equipment," said Danielle Dugan, managing teacher at Pure Studio East in NYC. "A few years ago the market was flooded with new props and clothes. That market will shrink because not every player can survive. Whatever new blanket comes out, you end up going back to the old Mexican weaves seen in every studio and not purchased from a well-known brand."
Dugan also attested to the two schools of consumer currently dividing the yoga category. "You have the person who is there to exercise, they do hot power classes, run, cycle and do CrossFit, then there's a big reemergence of the more classical yogi, doing styles which have been around for centuries."
Just because a rash of classic Ashtanga studios (a method involving synchronized breathing and progressive poses to produce internal heat) is popping up in every major city doesn't mean apparel and equipment brands are left out of the equation. These more traditional studios are still including a product rack or display with an assortment of labels and styles. Remember: The more traditional practitioner isn't exclusively buying more traditional clothing; they may want to meditate on a Milky Way galaxy mat.
The last big reemergence in the yoga space is the trend of therapeutic practice. Older consumers are interested in the category and brands are being highly responsive with a come-one-come-all mindset. This is why brands are being conscious to offer collections in a range of sizes to suit all body types, and continuing to come out with new blocks and straps, which help modify poses. Modifying equipment that in other fitness modalities may get a bad rep for being "easy" is promoted in yoga — another reason new consumers enjoy their initial experience and agree to come back a second time.
Because once they come back a second time, they invest in a mat. Then a third time, they invest in a pair of leggings. Before you know it, they're doing headstands across the Andromeda constellation.
*SSI Data, powered by SportsOneSource, collects and analyzes point-of-sale data from more than 20,000 retail doors across nine channels of distribution. To learn more call 303.997.7302.
Lead photo courtesy GracedbyGrit