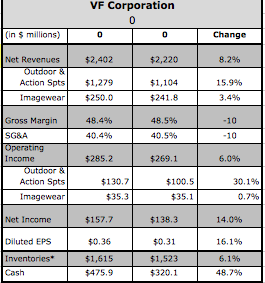 VF Corp. reported better-than-expected quarterly profit as its Outdoor & Action Sports coalition racked up its third-straight quarter of double-digit growth. Sales in its Outdoor & Action Sports coalition rose 15.9 percent. The North Face was up 11 percent; Vans jumped 21 percent; and Timberland climbed 19 percent.
Companywide, net profits rose 14.0 percent in the quarter to $157.7 million, or 36 cents per share, beating Wall Street's consensus estimate of 35 cents a share. Total revenue rose 8.1 percent to $2.40 billion, driven by double-digit growth in its Outdoor & Action Sports coalition, international and direct-to-consumer (DTC) businesses.
Gross margin was 48.4 percent, down 10 basis points against last year's same period. The shift of its revenue mix toward higher margin businesses was offset by foreign currency impact and efforts to aggressively manage inventories especially in its Jeanswear business. The company's expectation for a 90 basis point improvement for the full year remained unchanged.
SG&A as a percent of revenues was down 10 basis points to 39.3 percent. Operating income rose 9.2 percent to $219.8 million.
For investors, the one disappointment was that VF didn't raise its full-year estimates despite the slightly better-than-expected quarter. Softer demand was seen for its jeans and some of its sportswear brands with the promotional climate particularly strong in the mid-tier channel. But the strength across its core Outdoor & Action Sports coalition helped offset those pressures in the second quarter.
On a conference call with analysts, Eric Wiseman, VF's chairman, president and CEO, said the 8 percent top-line gain in the quarter was right in line with the organic growth component of its 2017 plan. It also marked acceleration off of the 6.5 percent growth achieved in the first quarter.
He said TNF, Vans and Timberland are all building "sustainable momentum" through product innovation and customer engagement.
"Momentum isn't luck and it is not random, it is earned through focused strategies that come together to consistently generate multiple growth opportunities across our diverse portfolio," said Wiseman.
In the Outdoor & Action Sports coalition, revenues reached $1.28 billion with double-digit growth in the Americas, European and Asia Pacific regions.
Operating earnings for the segment leapt 30.1 percent to $130.7 million. Operating margin expanded 120 basis points to 10.3 percent, aided by improved gross margins and despite a higher marketing to revenue ratio.
THE NORTH FACE EVOLVING INTO FOUR-SEASON BRAND
Revenues for The North Face brand rose 11 percent globally, driven by 37 percent growth in DTC sales and a low single-digit increase in the brand's wholesale business. The North Face brand's revenues were up at a mid-teen percentage rate in the Americas region, up by a high single-digit percentage rate in Europe and down at a mid single-digit rate in the Asia Pacific region, although VF expects to the brand to return to double-digit growth in the second half of the year.
Steve Rendle, VF's SVP, Americas, said efforts to position The North Face as a four-season brand are "really paying off."
In the Americas, the mid-teens gain was supported by double-digit increases in both wholesale and D2C.
"Our transitional products, led by Thermoball, continue to perform at extremely high levels, validating our ability to bring outerwear solutions to consumers across multiple seasons," said Rendle. "We are also particularly proud of the launch of our Mountain Athletics apparel and Ultra protection footwear collections. Both of these collections, which saw great sell-through across all channels, significantly amplify our ability to serve the core outdoor consumer on a year-round basis."
The North Face will look to build on its momentum with a new U.S. campaign this fall "designed to inspire the explorer in everyone" with tie-ins to in-store marketing and supported by new store openings. Added Rendle, "Definitely a very exciting fall ahead of us."
In Europe, TNF's high-single digit gain was driven by a 40 percent hike in DTC sales, with "very strong" online sales, said Karl Heinz Salzburger, VF's group president, international. Strong results were seen in running and training categories, aided by accolades received by running publications. The brand's biggest-ever marketing campaign ran across 10 countries, focusing on key spring/summer categories like running, training and hiking, helped drive "significant sell-through and brand awareness across Europe."
In Asia, TNF held back shipments to manage channel inventory but expects a return to double-digit growth in the second half. Events like the TNF 100 endurance race in China, which attracted over 3,000 participants and extensive media coverage, as well as the resumption of its TV campaign in China are helping build brand awareness.

VANS SCORES 19TH STRAIGHT QUARTER OF DOUBLE-DIGIT GROWTH
Vans brand revenues were up 21 percent in the quarter, led by strong, double-digit growth across all regions as well as in the brand's wholesale and DTC channels. Global DTC revenues for the Vans brand were up 27 percent in the quarter. Said Rendle, "This marks the 19th consecutive quarter of double-digit revenue growth for Vans, which is an incredibly impressive accomplishment."
In the Americas, Vans' revenues were up at a high-teen percentage rate, including a similar growth rate in both its D2C and wholesale channels. Vans saw a "very successful launch" around its Star Wars collaboration with boutique and lifestyle retailers. For back-to-school selling, it just launched a new Classic Light collection, which combines many of Van's old-school silhouettes with a comfortable and lightweight UltraCush insole. A summer apparel collection was recently launched, marketing the first time Vans had a four-season offering.
Rendle said Vans continues to benefit from efforts to engage its fans. Those include the launch in June of the 20th addition of the Vans Warped Tour, its late July sponsorship of the US Open of Surfing, and its fifth annual custom culture art competition. Added Rendle, "Great product connected through authentic relevant events while keeping youth culture at the center of everything we do combined for yet another stellar quarter for Vans."
In Europe, Vans grew at a high-teen percentage rate, including more than 40 percent DTC growth and a low-double-digit increase in wholesale sales. The Star Wars collection likewise performed "extremely well" in Europe. Vans first European House of Vans is set to open in early August. Said Salzburger, "This represents an amazing vehicle to engage and inspire youth culture in this extremely important market."
In Asia, Vans' revenue grew more than 40 percent, including more than a 60 percent surge in China. Overall, VF officials said Vans remains on track to deliver a mid-teen increase in global revenues for the full year and become VF's second $2 billion brand.

TIMBERLAND'S NA WHOLESALE SEEING BOUNCEBACK
Revenues for the Timberland brand were up 19 percent in the quarter, driven by more than 25 percent growth in wholesale revenues and a 10 percent growth in its D2C business. Said Rendle, "Although it is the smallest revenue and earnings quarter of the year, we couldn't be more pleased with the continued progress this powerful brand is making."
In the Americas region, revenues were up nearly 25 percent, including more than 35 percent growth in its wholesale business, and flat results in DTC sales. Rendle described the wholesale gain as "definitively clear indicator that our product, consumer connectivity and channel distribution strategies are working quite well."
Rendle said Timberland in the Americas "saw great results across every footwear category, from boat and casual shoes to hiking and boots to Timberland Pro's new Boondock family, the success is broad-based and balanced. Throw in continued success in momentum of apparel in the Americas with strong spring sell-through and fall sell-in, we're positioned very strongly going into the second half of the year."
Its Best then, Better Now brand campaign has also found success repositioning Timberland as a lifestyle brand, and "we are starting to see very positive data that indicates consumers in the Americas are starting to recognize the brand as much more than a boot company," said Rendle.
In the Europe and Asia Pacific region, Timberland brand revenues were up at a mid-teen percentage rate. Europe saw double-digit growth in both DTC and wholesale. Asia's performance was highlighted by strong sales of Timberland's classic boots and men's boat shoes. Overall, Timberland remains on track with its goal of 12 percent global growth for 2014.
Bob Shearer, VF's SVP and CFO, noted several other "smaller" brands in the Outdoor & Action sports coalition – citing Napapijri, Kipling, Eastpak and Smartwool – delivered growth of more than 20 percent in the quarter.

LUCY BENEFITING FROM WHOLESALE SHIFT
Asked in the Q&A session directly about the Lucy business, Rendle said Lucy is up mid-single digits in the half although the second-quarter was "off a little bit" due to slower traffic in Lucy's stores, which accounts for about 75 percent of the business.
"What we are really proud of with our Lucy business is the partnership that they're forming with Dick's Sporting Goods," said Rendle. "As of the end of May we had set a little over 300 doors in the new Dick's Sporting Goods Women's Studio Pad and are seeing really strong results. That partnership is building on an additional partnership we've had for just about two years with REI where we are an all door provider and seeing really strong results there as well."
Rendle also asserted that the women's athletic and yoga space is "absolutely something we are interested in."
He added, "We think it is a sector that is here to stay and one that we can do very, very well with our unique ability to understand the consumer and bring products and emotional marketing to drive our success.
In other coalitions, Jeanswear sales (including Wrangler and Lee) were down 1.0 percent in the quarter to $605.8 million, in line with expectations. Operating income slid 8.0 percent to $100.1 million.
In the Imagewear coalition (Majestic Athletic, Red Kap, Bullwark), revenues grew 3.4 percent to $250.0 million, driven by a mid single-digit increase in its work apparel business and a low single-digit increase in its licensed sports group business. Operating income inched up 0.7 percent to $35.3 million.
In the Sportswear segment (Nautica, Kipling), sales advanced 4.9 percent to $140.1 million, supported by a 27 percent global gain by Kipling. Operating profits were down 36.9 percent to $10.3 million.
Contemporary Brands (7 for all Mankind, Ella Moss, Splendid) sales were down 2.5 percent to $96.2 million. Operating income gained 12.2 percent to $8.84 million.
International revenues grew 14 percent. Revenues in Europe rose 16 percent (up 11 percent on a currency-neutral (C-N) basis) with positive results from nearly every brand in VF's portfolio. In the Asia Pacific region, revenues were up 17 percent (up 18 percent C-N) including 15 percent growth in China (up 13 percent C-N). Reported revenues in the Americas (non-U.S.) region were up 6 percent (16 percent C-N). International revenues were 36 percent of total VF sales compared with 34 percent in the same period of 2013.
DTC revenues grew 18 percent with double-digit increases in all regions of the world and growth in nearly every VF brand with a retail format. Forty-one stores were opened during the quarter bringing the total number of VF owned retail stores to 1,299. DTC revenues reached 26 percent of revenues, up from 22 percent in the 2013 period.
Looking ahead, VF said its outlook for the full year remains unchanged with revenues projected to increase 8 percent, and gross margin and operating margin expected to reach 49 percent and 15 percent, respectively. Earnings per share in 2014 are expected to reach $3.06 per share.
Third quarter revenues are expected to increase at a rate similar to that of the second quarter, driven primarily by strength within the Outdoor & Action Sports coalition, its international operations and continued strength in its DTC businesses. The strongest growth and profit comparisons of the year are expected in the fourth quarter, when DTC represents the most significant contribution of the year.

VF OPEN TO BIGGER ACQUISITIONS
Asked about potential acquisitions, Wiseman noted that while ten years ago VF mentioned the "sweet spot" for acquisitions was between $300 million to $400 million, "given our current size we are capable of doing bigger deals." VF would do a "smaller deal if it was a really smart business" like several recent acquisitions. But also mentioned that as a $12 billion company, "we need to be looking at larger opportunities for acquisitions to move the needle."
He noted that VF's success acquiring and expanding brands such as Napapijri, Kipling, Eastpak and Smartwool proves the company's reputation as "pretty capable acquirers and integrators and enablers of businesses in any category." But asked particularly about potential footwear acquisitions, he said VF's interest in footwear is "obviously growing" following the smooth integration of Timberland that followed on the acquisitions of Vans and Reef.
"We are a pretty big player in the space now and we have a lot of momentum in our footwear businesses," said Wiseman. "So, yes, that would lead us to believe that we could do another footwear acquisition. I am not going to say that is our top priority, but we could do one, yes."