From April 17-18, Utah State University will hold two separate exhibits for its graduating students from the Outdoor Product Design & Development (OPDD) program. One at USU Campus in Logan, UT and one in Salt Lake City at Petzl America's headquarters. Graduating Seniors will be displaying their work in the form of poster presentations, digital designs and physical prototypes in apparel, soft goods and hard products.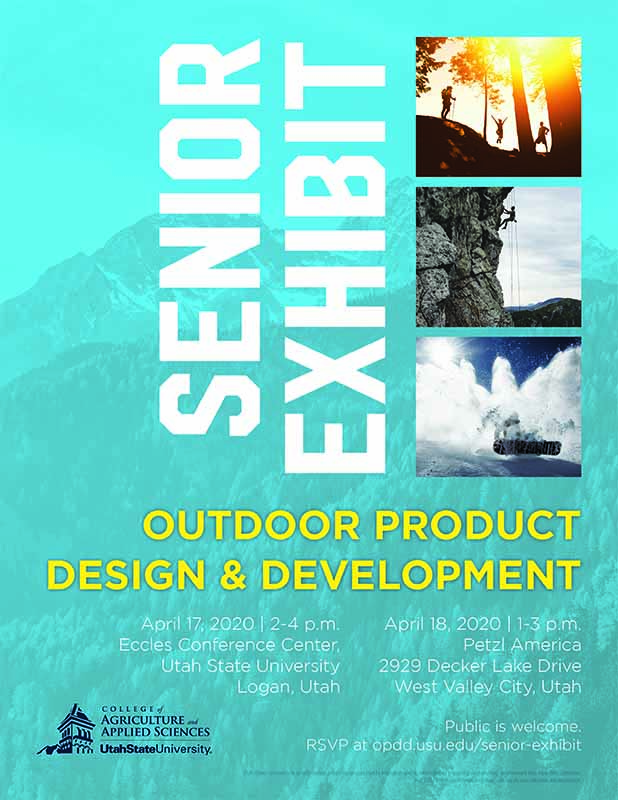 This is the second year graduates from Utah State University's Outdoor Product Design and Development program will celebrate the occasion with the presentation of their senior portfolios and final projects the OPDD Industry Advisory Board comprised of local industry representatives.
The USU Outdoor Product Design and Development program was created in Fall 2015. Students learn product design and development principles and practices to fit a growing demand in the Outdoor Industry.
The OPDD program started as an idea and quickly became a collaborative effort with the Outdoor industry. More than 200 students are currently enrolled in the degree program all who share a passion for the outdoors and an interest in joining the outdoor industry as designers.
Students in the first two years of course work learn the fundamentals and principals of design and product development theory then translate those ideas to sketches or digital designs before moving on to in-house prototypes and working at the factory level to see their designs come to fruition.
The program emphasizes sustainability and educating students on lifecycle management, supply chain, ethical standards, certifications and more. Students are formally accepted into the program after their second year where they can focus their attention on the discipline of their choice.
Faculty includes instructors from across the active lifestyle industry. The program is advised by an Industry Board that can be found here.
The program is building a strong pipeline with companies to become a destination to find talent for product designers and developers with aspirations to provide additional resources to companies and employees of the industry through increased industry collaboration on campus in various forms.
All are welcome to attend.  RSVP at here.
Photos courtesy USU