Johnny Agar's remake of the Rule Yourself film featuring Michael Phelps was made "broadcast ready" by UA and aired during the Tigers vs White Sox weekend game series.
Writer: Carly Terwilliger
Under Armour first found out about Johnny Agar when the athlete, who was born with cerebral palsy, remade the brand's Rule Yourself film featuring Michael Phelps. Agar found inspiration and strength from Michael Phelps and his UA ad; his mom took notice and helped create his own version of the film.
After discovering the story, UA helped connect Michael Phelps with the athlete and filmmaker before Team Agar competed in Ironman 70.3 in Florida in April. Agar and his father, Jeff, completed the race in 7:40:13, beating their goal by 5 minutes.
With a desire to continue sharing Johnny's story – the story of perseverance, determination, discipline, and overcoming the odds – UA took Johnny's homemade version (created by Johnny's mom, Becki) and made it "broadcast ready." The team also secured media for the spot to air on live TV during the Tigers vs White Sox weekend game series. To help make it a memorable moment for Agar, Under Armour worked with Becki Agar to plan a surprise of a lifetime for Johnny and Jeff.
On Friday night, Johnny and Jeff were brought to the Knickerbocker brewery – a local restaurant in Grand Rapids – under the impression that they were going to have a dinner with friends. But instead, when the elevator doors opened, they were greeted with a surprise. The crowd of 200-plus people was filled with family, friends, the local community and UA.
Once Johnny made his way through the crowd, Johnny and Jeff were greeted by Jasmine Maietta (senior director, global brand management) from the brand, who explained why UA was there that night – to celebrate and continue sharing their story. Maietta took the time to read the original message from Agar's Youtube video  that explained why he made the video in the first place, and shared how he embodied so much of what UA stands for.
In an effort to continue sharing his story, Maietta announced that his spot would be shown on live TV all weekend during the Tigers games. The guests were then shown the final updated spot, but not before a special pre-recorded message from his favorite athlete – Justin Verlander, UA athlete and pitcher for the Detroit Tigers.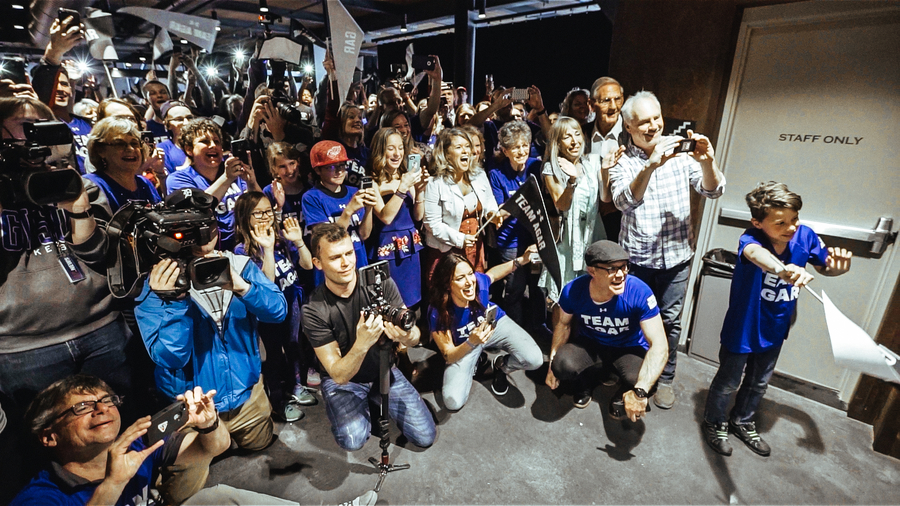 Photos and video courtesy Under Armour