The design features artwork from local Detroit artists as well as from the brand's hometown in Baltimore to honor their shared blue-collar spirit.
Writer: Thomas J. Ryan
Sitting a block away from Nike's first store in the city that opened with great fanfare last year, Under Armour on Thursday opened its first location in Detroit.
The two-story 17,200-square-foot store on the corner of Woodward Ave. and State St. in Downtown Detroit is the Baltimore-based company's 19th brand house and first in Michigan.
The Under Armour store is the first Detroit retail location in recent years to have two stories above ground. Shopping is also available in the basement.
The design features artwork from local Detroit artists as well as from the brand's hometown in Baltimore to honor their shared blue-collar spirit. Under Armour wrote in a statement, "Both Detroit and Baltimore have been driving growth through relentless work and a will to get better, pillars of Under Armour's philosophy that will be on full display through the art and presentation of the new Brand House."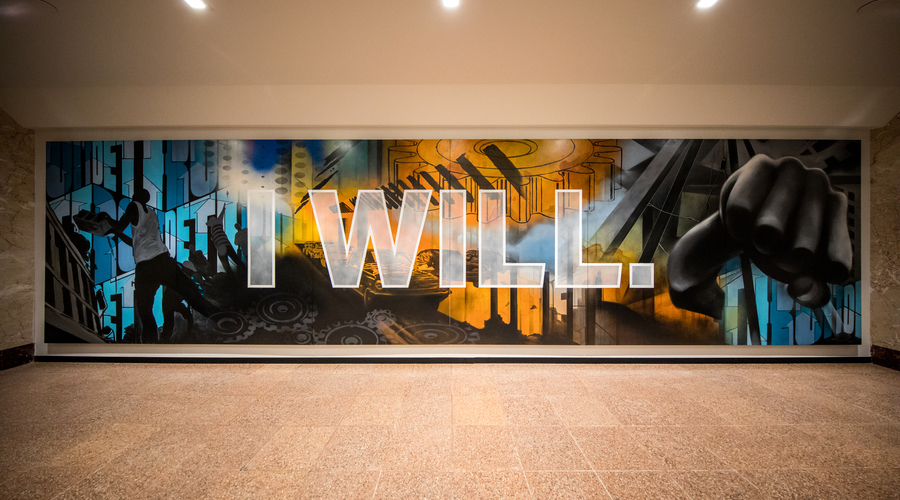 Local Detroit artists – Michelle Tanguay, Tylonn J. Sawyer and Sydney G. James – were commissioned to each paint a fitting room featuring Under Armour athletes Misty Copeland, Justin Verlander and the legendary Muhammad Ali. The new Brand House also showcases artwork from Baltimore-based artists Billy Mode, Dez Customz and Kreative Custom Kicks. Dez Customz and Creative Custom Kicks created a wall of eight custom painted shoes to detail "how the history and relentlessness of Detroit are inspirations to athletes everywhere."
The store also features a heavy mix of Detroit-specific apparel, including the Detroit Tigers gear and the Detroit Lions NFL Combine Authentic Team collection.
"The opening of the Under Armour Detroit Brand House underscores our continuous commitment to investing in strong American markets and giving all athletes access to our best-in-class products and technologies," said Susie McCabe, SVP of global retail at Under Armour, in a statement. "We are proud to introduce an unmatched shopping experience to a market that embodies our brand's core values of getting better every day through hard work, innovation and creation."
Previously home to the first Kresge five-and-dime department store in the U.S., Kraemer Design Group worked alongside Under Armour to preserve the historic elements of the building. A staircase with brass handrails, marble walls, a mezzanine and old plaster were elements the store rehabilitated. An elevator was also added to traverse the three floors.
The location will also represent the first time the brand is using Dwayne "The Rock" Johnson in store marketing.
Customers can also download the UA Play application, with which they can scan bar codes across the store to learn about product details and seek artist information from the various artist graphics. An area for shoe customization is also available.
"The world is changing and we know that digital is going to be an integral part in every consumer's experience," McCabe told Detroit MLive. "We've got an enormous number of engineers that you normally wouldn't have in an organization that's focused on athletic apparel. We are a technology company, we are rooted in innovation."
Under Armour joins the growing list of retail shops that have opened in that stretch of Woodward in the last year, including Bonobos, Warby Parker and Nike.
Photos courtesy Under Armour