By Jahla Seppanen
Innovation occurs slowly when it's done right. In activewear, there's only so many ways to reinvent the legging. So when Lucy Activewear, a brand under the VF Corp. umbrella, told SGB it would introduce a new collection of activewear that mimics the varied shades and light reflection of a denim wash, we paid attention.
Dubbed IndiGO and with the tagline, "Wear it like denim. Love it like activewear," the seemingly small event of Lucy creating a denim-looking performance product is something of which to take note.
Let us be clear: the product is nowhere near a jegging, which is denim-based — more on that below.
First, it exemplifies the reverse-athleisure pendulum swing we're seeing, where instead of making a non-performance piece look sporty, performance products are being made to look like everyday clothes.
Garmin took a similar approach when it released Fēnix Chronos, a luxury version of its popular multisport watch. Instead of a consumer picking a sporty watch for everyday use, they will opt for a Rolex-looking timepiece that has highly sophisticated fitness tracking and training technology.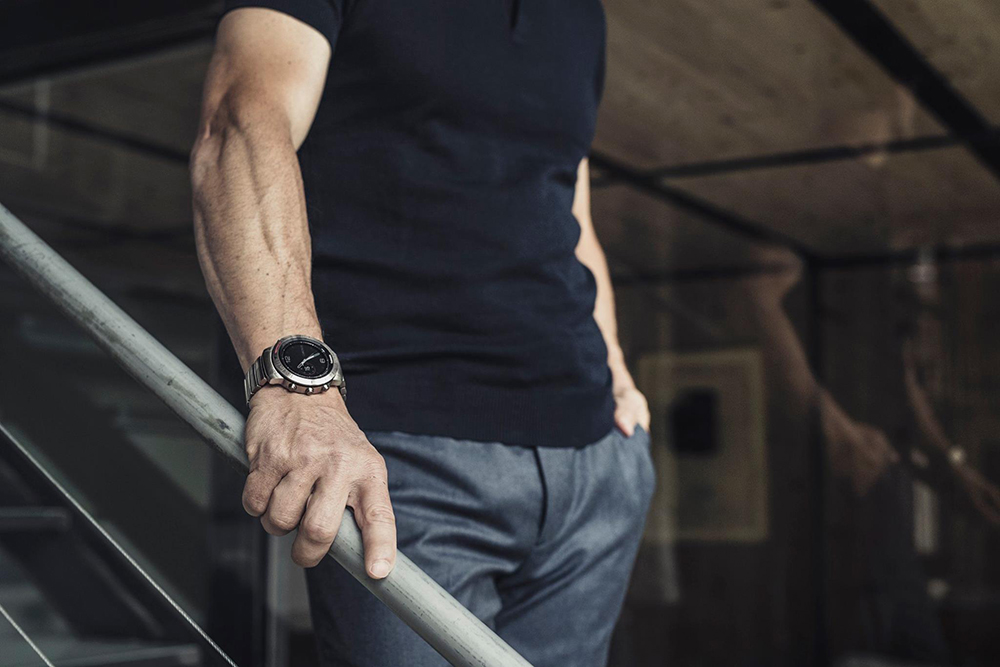 Photo courtesy Garmin
Garmin is making their luxury sports watches with jeweler's-grade materials like titanium, steel and vintage leather, which is fine because their tracking tech imparts a performance core, but Lucy isn't using a stitch of denim for IndiGO.
This brings us to the second reason why the Lucy line is important: it shows the potential of advanced printing in the activewear category.
The IndiGO line is based on the brand's best-selling silhouettes, turning a run tight into a skinny jean via hyper-realistic printing. The innovations that allowed Lucy to hone the various realistic washes were devised in VF Corp.'s innovation labs in Irvine, CA. Lucy combined VF findings in neuroscience, based on visions science and the laws of attraction, to come up with an algorithm that strategically places highlights and lowlights in the fabric's construction to flatter specific areas of a women's body.
"We're in a print cycle in overall fashion right now that will go pretty strong through 2018," said Dawn Dzedzy, director of brand marketing at Lucy Activewear. "Prints have thus far been about big, bold, fun and playful, and we're still seeing that strongly in our standard line, but this is a completely different application."
We expect the print industry will only get better and do more going forward. For IndiGO the visual resemblance to true denim is uncanny. "These are made from fabrics that already exist in our line," Dzedzy said.
Fitness buffs know the keywords: moisture wicking, low-chafe seams, ergonomic design sensibilities. They're all accounted for.
Along with the run tight/skinny jean, IndiGO has a boyfriend style, as Lucy saw more of its consumers showing preference to a loose fit option and a high-waisted flare. The flare is the most fashion-forward offering in the collection. Lucy executives saw this silhouette being worn at yoga festivals and as a larger women's wear trend in fashion.
Lucy plans to invest more resources into the collection and will continue adding seasonally appropriate pieces. "This is the biggest launch and loudest innovation we've had in a while," Dzedzy concluded.
Lead photo courtesy Lucy Activewear