By Thomas J. Ryan
On March 3, TRX, the maker of functional training equipment and training content, announced its professional education course — TRX Suspension Training Course (STC) — for the first time would be available virtually, and free of charge, in response to the current global climate amid COVID-19.
Rooted in the underpinnings of TRX's movement-based methodologies, the TRX STC typically costs $295 and has served more than 300,000 professional trainers worldwide with a 98 percent approval rating.
In an interview with SGB Executive, TRX Founder and former Navy SEAL Special Ops Commander, Randy Hetrick, shown in today's post, said the free training courses, will be available "for however long this thing lasts," support the health and fitness professionals around the world who've helped TRX become a global leader in the fitness industry. Many personal trainers across the globe can't work amid "shelter-In-place" mandates due to COVID-19.
At the same time, TRX is providing three-months of complimentary access to the TRX App and hosting two live-streaming workouts a day via Facebook for consumers stuck at home.
"Like every smart business, we're working to turn the crisis, this pandemic represents, into opportunity," said Hetrick. "Specifically, we're seizing the opportunity to SERVE those in need and grow the members of our black and yellow fan base on the commercial and consumer sides of our business."
The genesis of TRX came in 1997, when Hetrick as a U.S. Navy SEAL was deployed in a remote warehouse in Southeast Asia for weeks with no way to exercise. Throwing an old jujitsu belt and parachute webbing over a door, Hetrick created the first version of the TRX Suspension Trainer. Eventually brought to market in 2001, the system uses body weight exercises to develop strength, balance, flexibility and core stability simultaneously.
Here, Hetrick talks about how COVID-19 is elevating the opportunity for in-home fitness, the potential shakeout in fitness and what he believes will be personal growth opportunities created by the crisis.
…
Connected at-home fitness has experienced a big lift with everyone stuck at home. Are you seeing momentum in the at-home connected fitness business? At-home fitness is definitely seeing a huge lift. When you close clubs, athletic facilities, schools, beaches, parks, trails, and recreation centers…where else are people supposed to go to stay healthy and sane?Their only real safe harbor for exercise is within their own homes. The challenge for many, however, is what to do. That's where connected fitness content comes into play. Fortunately for TRX, we've focused on high-quality digital exercise content for more than a decade. The TRX app, TRX Force Conditioning Program app and our newest streaming workout service, TRXTraining.com/Live, are all being heavily consumed as TRXers around the world seek guidance and entertainment to make their workouts effective, engaging and fun.
Is the growth in connected at-home fitness sustainable? At-home fitness is certainly sustainable — in fact, COVID-19 is literally training people to train themselves in the convenience of their own homes. That said, you can't surf the internet for more than a few minutes these days without being bombarded with a host of new content services providing exercise advice and content. I don't believe that all of these connected services will survive. Pure play exercise content ventures tend to have short lifespans. Amidst the massive deluge of players currently entering the fray to create and monetize their versions of connected exercise content, the competitive landscape is only getting tougher.
How has COVID-19 impacted the overall fitness industry, and how do you see it recovering? Over the past five to six years, the boutique fitness studio landscape has literally exploded with franchises and licensed studios of every type (i.e., indoor cycling, boxing, yoga, HITT, CrossFit, etc.) opening all across the country. Even without COVID-19, a contraction and consolidation were seeming ever more likely. The fallout from the virus is almost certain to accelerate that. Beyond that, some of the established full-service gym chains that struggled with high debt loads as 2019 ended will simply not be able to survive this shutdown. And while most fitness businesses will survive, I'm fairly certain that this forced behavior shift will have an element of permanence to it. Millions of people have been forced to equip themselves to workout at home. And they've discovered that it is both manageable and convenient. Once a vaccine is discovered and deployed, I do believe that people will return to their gyms and boutique studios — though, perhaps not at the same level of patronage that they did in the past. The most successful gyms in the future will be the ones who develop capabilities to serve their members at home as well.
How has the supply chain been impacted so far for TRX, or what hurdles do you see the pandemic causing in securing and moving product? Like most businesses, we generally issue our purchase orders months in advance of when we expect to begin selling the inventory. This means the inventory we're selling today was mostly ordered in 2019 when the term "COVID-19" was yet to be born in the common parlance. As a result, we were underprepared for the increase in consumer demand that the virus later spawned. We have worked hard to serve our customers by repurposing commercial inventory for consumer purposes and air-shipping pallets of the new product that comes from the factories. We're slowly but surely catching up, but it hasn't been easy, or cheap, to do so.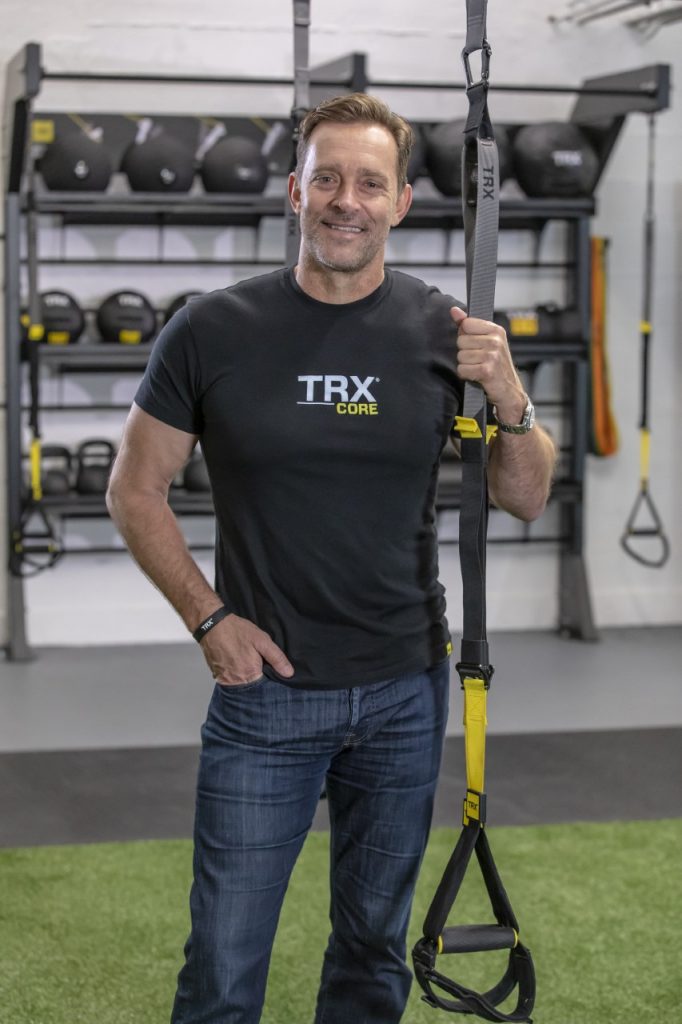 Why did you make TRX STC free? I came to fitness after a career in the Navy SEAL Teams. The Special Operations mindset is all about seizing the opportunities that exist in EVERY crisis. So, one of the first things that we did at TRX was to brainstorm with our team to identify the opportunities resident in THIS crisis. We quickly realized that we had a truly unique chance here —along with the ability — to help the very clubs and the trainers with whom we have partnered in building this brand. We decided to shift our professional education courses — normally delivered in a live, eight-hour format, with a tuition of $295/person — to a "virtually live" format, delivered via Zoom, and to make them FREE to any fitness or training professional during this time. These courses not only give trainers the qualifications to build better businesses but also provide them with the continuing education credits they need to retain their other certifications. This initiative enabled us to employ our master instructors, most of whom have also been put out of work, to teach these courses from their homes. The response has been overwhelming. We have already registered nearly 20,000 new pros (including fitness instructors, strength coaches, PE teachers, sports coaches, physical therapists, and others) to our upcoming courses and expect to give away as much as $4 million in free education to bring perhaps 50,000 new pros into our Black & Yellow family. Not only is this a great way to grow the tribe, but it's a great way to take care of the trainers who take care of us.
What's your advice to the fitness training community at this time? My advice for folks both inside and outside the training community is to use this moment to serve others, grow your following and add skills and capabilities that you always dreamt of but never had the time, or the opportunity, to develop. Everyone feels worse in a time of crisis when they feel helpless and adrift. Conversely, EVERYTHING seems more manageable when we take action and pursue a purpose. This is a great moment to seek out the silver lining around this cloud and to use this time to develop new competencies and thereby to emerge from this thing better and more marketable than when it began.
What's your message to your retail and health club gym partners? We're so grateful for the amazing partners that we have across this industry. We feel fortunate that our business is diversified to the extent that we can help others within the industry who are less fortunate. We're seizing each opportunity to support our retail and club partners and to form even stronger bonds between our brands which, I hope, will emerge stronger than ever before.
Is COVID-19 greatly impacting your go-to-market strategy or could it? It's certainly making us rethink some elements of our supply chain, and it's also encouraging us to develop new products and capabilities to serve the consumer in their homes as well as in their gyms.
What lessons learned as a Navy Seal translate into handling something like COVID-19? One of the things that I hope this crisis will do is to help normal folks appreciate the amazing men and women that defend the country as members of our military and first responder communities. Soldiers, Sailors, Airmen, Marines, and all of our domestic first responders, live their lives moving from one crisis situation to another. The one thing that they ALL embrace in enduring tough times is a belief in our nation's greatness and a belief in one another. They put that mission ahead of their personal preferences and prerogatives, and it enables their units to achieve amazing things. The rest of us are no different. If we embrace the higher mission here to care for our country and for one another, we, too, will emerge from this crisis stronger for having endured it. I can't think of one of my fellow SEALs who won't tell you how grateful he is for the experiences that he got to live — however challenging they may have felt at the time.
What other silver linings do you see possibly resulting from the challenges we now face? Twenty-five years from now, our children will look back on this experience as one of the defining moments of their lives. Our grandchildren and great-grandchildren will study this moment assiduously and will find enormously valuable lessons from it.
We are living in an extraordinary time. We should all embrace the opportunities that this unique situation presents to reconnect with our immediate friends and family, to hone some new tools for our toolkit, and to remember that we only go around once so any day spent in angst was a day not well-spent. There are objective realities here — namely the virus, its threat to our health, and its impact on the economy — that are dangerous and frightening. How we choose to respond to and cope with those realities, however, is entirely within our individual control. Those who will emerge the strongest are the ones who figure out how to stay positive, find the opportunities, and make lemonade.
Photos courtesy TRX