Personalization and accessibility are key in "Make it Personal," which features visuals that focus on athletic movement specific to six core categories.
Writer: Carly Terwilliger
TRX, the creator of Suspension Training, is setting out to broaden its reach in the fitness world with its first fully integrated marketing campaign, called "Make it Personal." SGB spoke with Paul Zadoff, the company's president, about how and why the brand is moving from "just black-and-yellow straps into the realm of being either a tool or a solution for any activity."
"For the past 10-12 years, we've been focused on the commercial and pro trainer markets," said Zadoff, "and we've built a high level of credibility within those groups." The new campaign extends that focus to the consumer, incorporating personalized digital movement assessment and training with the brand's TRX Connect platform
"'Make it Personal' distills the message we've been using in our B2B conversations and takes it to the consumer," Zadoff explained. "TRX truly can be used by anyone. The Suspension Trainer, our core product, can be used by anyone motivated by a goal." To underline this sentiment, the new campaign's message is designed to reach beyond the hardcore fitness crowd.
For example, said Zadoff, "When it comes to yoga, people don't naturally think to incorporate a tool in order to better their practice. Whether it's strength or stability, there are different obstacles for different people." But tackling those obstacles doesn't necessarily mean throwing yourself head-first into a high-intensity workout you're not prepared for. "What we want people to understand is that TRX is as simple or as challenging as you make it," Zadoff commented. "The product itself isn't intimidating."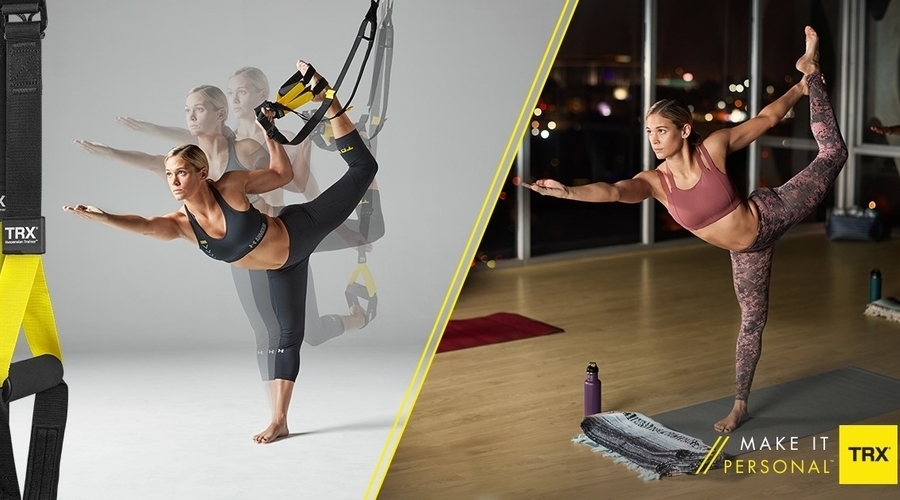 And if a suspension workout does give people pause, TRX's newly launched mobile platform "bridges the gap between the equipment and the user, with or without a trainer," said Zadoff. "People previously may have thought they needed a trainer to benefit from TRX, partly because they hear a lot of high-profile people – actors, athletes – say they were introduced to the workout through their trainer." TRX Connect is aimed at eliminating that barrier to entry and empowering goal-seekers to take charge of their fitness goals.
TRX Connect crafts its fitness regimens by first allowing gym members to get a movement assessment through TRX Maps, which takes less than 25 seconds, then linking to daily, weekly or monthly workouts. "One thing that's different from the rest of the market is the in-ear personalized dynamic coaching that uses biometric feedback to guide your workout." Even if you and a buddy are teaming up on a set of movements, the in-ear coaching will dial the intensity up or down based on how the body is responding, Zadoff explained.
Personalization and accessibility are key in the new campaign, which features visuals on trxtraining.com, social media and digital marketing that focus on athletic movement specific to six core categories – running, cycling, MMA, yoga and male and female general fitness. "The reason we feel now is the time to launch a marketing campaign has to do in part with the amount of scientific research showing the many benefits of using the TRX product," Zadoff concluded, along with "our ability to customize an experience on a personal level."
Photos courtesy TRX