Strength and personal training platform Tonal, founded in 2015, completed its latest funding round, raising $130 million through existing investors led by L Catterton, Cobalt, Dragoneer, Kindred Ventures, and THVC.
Effective immediately, Krystal Zell assumed the CEO role at Tonal, succeeding company founder Aly Orady who transitioned to chief technology officer.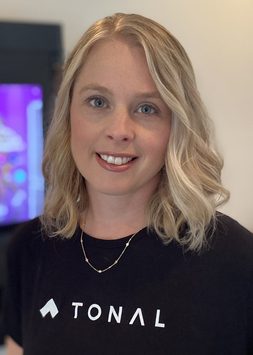 Zell joined Tonal in July 2022 as president with over 20 years of experience driving customer-centric growth working for companies in the retail and hospitality industries, including The Home Depot and Starwood Hotels & Resorts Worldwide, Inc.
Orady said, "This is an exciting moment for Tonal, our members and our team. As we embark upon this next stage of our journey, I am filled with confidence as I hand the reins over to Krystal. A proven executive at scale, Krystal is an exceptional collaborator and fierce advocate for our members, always putting customers at the center of our business. I look forward to continuing our partnership as I focus on the next phase of technology and product development."
Jon Owsley, managing partner at L Catterton's Growth Fund, on behalf of the investor group, said, "We are passionate about the long-term opportunity for connected fitness to transform the consumer's health journey, and we believe Tonal is truly unique in its ability to deliver an incredibly engaging technology-enabled personalized strength training experience easily accessible in the home. We look forward to continuing to support Tonal and are excited about the deep experience Krystal brings to the leadership team as Tonal builds on its current foundation and drives forward into the future."
Photo courtesy Tonal