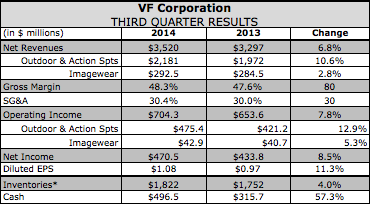 Led by accelerating momentum seen at Timberland, VF Corp. reported third-quarter earnings rose 8.5 percent in the third quarter, to $470.5 million, or $1.08 a share. Revenues grew 6.7 percent, to $3.49 billion. Results came in just short of Wall Street's consensus estimates of $1.09 a share on revenue of $3.57 billion but the company still slightly lifted its EPS guidance for the year.
On a conference call with analysts, Eric Wiseman, VFs chairman, president and CEO, said the quarter included a bit of a foreign currency headwind but the company remained on track to achieve its growth target for the year calling for an 8 percent increase.
Performance during the quarter was once again led by the Outdoor & Action Sports Coalition which was up 11 percent, said Wiseman. Our three big brands continued their strong momentum. The North Face was up 9 percent, Vans grew 12 percent, and Timberland was up 15 percent.
He was particularly enthused about Timberland, acquired three years ago. Given the strong quarterly gains, VF now expects Timberlands sales to grow 13 percent in 2014, up from its previous outlook of 12 percent, putting it in line with the brand's 2019 expectation detailed at last month's Timberland Investor Day. VF projected Timberland to reach $3.1 billion in revenues by 2019.
Said Wiseman, A powerful brand, innovative product and global growth built on the strategy supported by consumer insights, Timberland is a perfect example to illustrate the power of our One VF approach to business.
In the overall Outdoor & Action Sports Coalition, revenues rose 10.6 percent to $2.18 billion, driven by a 20 percent increase in its D2C business and a high single-digit increase in wholesale sales. Double-digit increases were seen in all three regions. Aside from The North Face, Vans and Timberland, Kipling, Eagle Creek, Lucy and Eastpak also contributed strongly to the coalitions growth, said Bob Shearer, SVP and CFO, on the call.
Operating income in the coalition rose 12.9 percent to $475.4 million with operating margins expanding 40 basis points to 21.8 percent. Said Shearer, This exceptional performance was driven by strong revenue growth and increased gross margin. We remain committed to putting the necessary resources behind these brands and expect to see continued positive comparisons.
With the better-than-expected performance by Timberland, the coalition is now expected to deliver 13 percent revenue growth in 2014.

THE NORTH FACE DRIVEN BY DTC, MOUNTAIN ATHLETICS, THERMOBALL
Elaborating on The North Faces 9 percent gain in the quarter, Steve Rendle, SVP, Americas, said the brands D2C business was especially strong, with a 32 percent hike in revenues in the quarter. The D2C momentum along with a sequential acceleration in our wholesale business has us well-positioned to deliver another record year for The North Face, Rendle added.
In the Americas, TNFs revenues were up at a low double-digit percentage rate with almost 30 percent growth in D2C and high single-digit growth in wholesale.
Among products, strong demand for the Mountain Athletics training collection led a 60 percent comp increase in its performance apparel sales at its D2C segment in the Americas. Said Rendle, We see this momentum carrying through fall-winter season as well as into next year when we will extend this line to include women's products.
Ultra footwear was also a strong performer, winning awards from both the running and outdoor magazines. TNFs daypack sales at wholesale were up 35 percent in the Americas. Other highlights include Thermoball, its transitional outerwear product, which has been a top five selling outerwear style every week this year; as well as FuseForm, its seamless fusion technology that has won six major product innovation awards around the world, including Outside Magazine's Gear of the Year in its winter buyer's guide.
To support its holiday efforts, a TV campaign will launch in the US in early November using short- and long-form spots as well as digital display and social media components. A big focus will be on ThermoBall and Mountain Athletics with an ongoing focus on exploration. Said Rendle, This land campaign highlights the inspirational and emotional reasons to explore the outdoors.
In Europe, TNF revenues increased at a low single-digit rate. Karl Heinz Salzburger, group president, international, said the wholesale business was essentially flat due to a combination of a sluggish outdoor retail environment and a shift in the timing of product shipments into the fourth quarter. However, DTC sales in Europe was up nearly 30 percent.
Its Thermoball collection likewise continued to perform strongly supported by a marketing campaign across Europe. We also successfully tested our Mountain Athletic collection in a number of stores and have plans to roll out this product much more broadly moving forward, said Heinz Salzburger.
TNF footwear in Europe is getting a boost from its new Hedgehog collection as well as the Spring 2015 launch of TNFs first ever European designed mountain trail running shoe. Said Heinz Salzburger, So far we have seen strong initial sell-in those products.
In Asia, TNFs revenues were up at a mid single-digit rate. Particularly encouraging is an improved inventory situation in China, which sets us up for significant growth in the fourth quarter, said Heinz Salzburger. The Thermoball launch was received very well by Chinese consumers and the line has reached more than 450 partner door locations.
Globally, TNFs sales in the fourth quarter are expected to be in line with its long-term target of 12 percent, putting the brand on track to achieve its 2014 target.

VANS KEEPS UP DOUBLE-DIGIT STREAK
At Vans, global revenues were up 12 percent, marking the 20th consecutive quarter of double-digit growth. Said Rendle, With an 18 percent increase in the global D2C business and a high single-digit increase in the wholesale channel in the quarter, Vans is solidly on track to become VF's second $2 billion brand.
In the Americas, revenues increased at a high single-digit rate. Fourth-quarter revenues should be up a high teen percentage rate to place Vans on track to be up at a midteen rate for the full year. With the aid of its successful collaboration with Star Wars for both footwear and apparel, Vans increased its core consumer awareness by 7 percent in North America.
Other highlights on the product side include its targeted women's campaign, Be the Original, offering fashion-forward takes on its original slip-on silhouettes. A weatherized product line across apparel and footwear was launched to support efforts to build a bigger fall business, and the collection exceeded expectations across all regions in the Americas.
On the marketing front, the Vans Warped Tour wrapped up its 20th year with a meaningful attendance increase over the prior year. Vans second US Open of Surfing drew more than 750,000 people to the event and 1.4 million online visitors. Vans is also set to kick off the next phase of its Living Off the Wall campaign with all new interactive content and videos.
In Europe, Vans revenue grew at the midteens rate with DTC growth of 25 percent and wholesale moving ahead in the low double-digits. Supporting the growth was strong early results for Vans new weatherized products. A smaller concept store in London and Rome showed strong early results with additional rollouts planned. Apparel and accessories also showed strength in Europe in the quarter. The August opening of the first European House of Vans in London exceeded expectations.
In Asia, Vans revenue grew nearly 40 percent, with China jumping more than 40 percent. Highlights in footwear include its hero product stories and Success for Liberty, Star Wars and Hello Kitty collaborations. Mobile pop-up events supporting House of Vans are opening in key markets like Shanghai and Seoul.
WHOLESALE AND APPAREL RELAUNCH BOOSTING TIMBERLAND
Timberlands 15 percent global gain was driven by 18 percent wholesale growth and a 6 percent increase in D2C.
In the Americas, Timberlands revenues were up 22 percent driven by more than 30 percent growth in the wholesale business. Rendle said the growth was similar to the second quarter and was very balanced across all products and channels.
We saw broad base sell through of our classic boots and casual shoes and our pro line continued its strong momentum particularly with the Boondocks family of boots and our newly launched Powertrain collection, said Rendle. On the apparel side, we continue to expand our distribution and see strong sell-through as our Fall 2014 collection hits retail floors across our owned and wholesale partner doors.
The "Best Then. Better Now" campaign in particular is playing a critical role in reinforcing the brand as a stylish relevant outdoor lifestyle brand. The current effort focusing on its City Outdoors brand positioning includes a six-page spread in GQ as well as an aggressive social and digital component.
Timberlands revenues in Europe were up 15 percent in the third quarter with balanced growth in both DTC and wholesale. Heinz Salzburger noted that the gain was Timberlands strongest third-quarter performance gain in several years. A new influencer campaign was launched in collaboration with one of Europe's leading youth media companies focusing on its apparel collection is expected to build on that momentum. Its flagship on Regent Street in London was also reopened.
In Asia, Timberlands revenues increased at the low single-digit rate but a meaningful acceleration is expected for the fourth quarter. Mens classic boots and boat shoes led the way in Asia while apparel performed really well, said Heinz Salzburger.
In other coalitions, Jeanswear revenues inched up 0.4 percent to $750.4 million; operating profits gained 12.6 percent to $157.0 million. Wranglers revenues grew 3 percent, offsetting a 1 percent decline in Lee due to ongoing challenges in the U.S. mid-tier/department store channel and unfavorable consumer trends in womens denim.
Imagewear increased 2.8 percent to $292.5 million, driven by a 10 percent increase in its Image (work wear) business and a mid single-digit percentage decrease in its Licensed Sports Group business, which includes Majestic Athletic. Excluding the exit from its unprofitable youth business for Major League Baseball, imagewear revenues were up 4 percent in the quarter. Operating earnings were up 5.3 percent to $42.9 million.
Sportswears sales were up 5.3 percent to 163.4 million. Nautica brand revenues grew 2 percent and the Kipling brands U.S. business was up more than 22 percent. Globally, Kipling grew 20 percent. Operating income slid 4.2 percent to $23.0 million.
Contemporary Brand revenues (7 For All Mankind, Ella Moss and Splendid) were down 5.3 percent to $99.4 million, reflecting ongoing challenges in womens contemporary apparel and premium denim. Operating income tumbled 48.5 percent to $4.9 million.

DTC SEES DOUBLE-DIGIT GAINS IN ALL REGIONS
Across coalitions, VFs DTC business were up 16 percent including increases in all VF brands with retail operations with double-digit increases in all regions of the world and growth in every VF brand with a retail format. Forty-nine stores were opened during the quarter, bringing the total number of VF owned retail stores to 1,333. DTC reached 22 percent of total revenues in the quarter, up from 19 percent in the 2013 period.
Its international business was up 9 percent or 10 percent on a currency-neutral basis with the EMEA and Asia-Pacific regions on track to reach their full-year goals. Revenues in Europe increased 8 percent and in the Asia Pacific were up 18 percent, including 19 percent growth in China. Reported revenues in the Americas (non-U.S.) region were up 4 percent (up 10 percent currency-neutral). International represented 41 percent of sales in 2014, up from 40 percent in the same period of 2013.
Gross margin for the quarter improved 70 basis points to 48.3 percent. The gains were driven by continuing strong growth in three high-margin segments: Outdoor & Action Sports coalition, D2C and international . Gross margins are expected to be up more than 100 basis versus last year's fourth quarter.
VFs SG&A rate was up a modest 40 basis points despite the addition of
131 stores versus the prior-year period. Shearer also said VF now plans to spend an incremental $10 million behind its North Face and Vans brands in the fourth quarter. Added the CFO, As you know, we have done this in the past resulting in strong momentum heading into the following year.
Total marketing spend is projected to increase by about $50 million in 2014 over 2013.
For the year, revenues are expected to reach $12.3 billion, growing 8 percent over 2013, the same rate as previous guidance. Outdoor & Action Sports revenues are expected to increase by 13 percent.
Gross margin is expected to expand to approximately 49 percent, and operating margin should reach 15 percent – both matching previous guidance. EPS is now expected to reach $3.08 per share, an increase of 2 cent a share over its previous outlook, representing a 14 percent increase over 2013 and slightly ahead of the companys long-term financial target. The new outlook includes an estimated 2 cents a share negative impact due to currency fluctuations since our prior outlook.
Asked about the state of the consumer, Wiseman noted that everybody is using the resilience word and he agreed with the sentiment. But he said innovative product and aspirational marketing is helping VFs big three brands-The North Face, Vans and Timberland-stand out.
We are just seeing that consumers are still showing up if you have innovative products supported by a strong storytelling capability and that is where why we are getting organic growth rate we are going to have this year, said Wiseman. I mean growing 8 percent globally in this environment isnt easy and it is done because we have great brands.