By Thomas J. Ryan
At VF Corp's recent 2019 Investor Day, VF officials said an "intense reset" has positioned Timberland for sequential acceleration in growth after the brand fell short of expectations over the last few years.
Timberland's sales only grew at a 1 percent CAGR (compound annual growth rate) from calendar year 2016 to fiscal 2019. That's significantly trailing a projection that called for a 4-to-6 percent CAGR from 2016 through 2021 Timberland provided at VF's last Investor Day held in March 2017.
VF's updated five-year growth target through fiscal 2024 for Timberland calls for a 3-to-4 percent CAGR.
Martino Scabbia Guerrini, EVP and group president, EMEA for VF Corp. who is also responsible for Timberland, Napapijri, Kipling, Eastpak, and Icebreaker at a global level, said he began overseeing Timberland about 18 months ago and "many fundamental changes have taken place."
He added, "We went through an intense reset of the model, of the organizations and the skills, just to make sure that we were more strategic and sustainable in our growth plan."
The forecast provided at the 2017 Investor Day came after Timberland grew at an 8 percent CAGR from 2012 through 2015.
Scabbia Guerrini said Timberland was "hit by a couple of things" since the 2017 Investor Day prediction, including a cyclical shift that led to a slowdown in sales of classic boots, which includes the iconic Yellow Boot. 
Timberland's core offering also lost appeal due to the "explosive growth" of athletic sneakers overall. Said Scabbia Guerrini, "Men's Footwear has been probably the most challenged category in our business in the last few years."
On the plus side, Timberland has made significant progress in its diversification efforts. Timberland Pro, the brand's workwear segment, grew at a 13 percent CAGR from 2017 through fiscal 2019. Both women's footwear and apparel grew at a 6 percent CAGR over that same period. However, Scabbia Guerrini said the diversification "was not strong enough to affect and create more opportunities for faster growth in the last three years."
The reset involved steps to instill a greater global approach across regions and to better define the brand's consumer targets and segmentation approach. Another push was to "bring back energy into the product engine" with new aesthetics and modern design. About nine months ago, Timberland hired Christopher Raeburn as the brand's first creative director towards that ef
Said Scabbia Guerrini, "Christopher is an award-winning British designer who's famous for a very specific ethos in responsible design, and his ethos is about recycle, renew and reduce. His approach to design and aesthetics is in sync with what Timberland is defining for its future."
On outreach, Timberland continues to invest in community service and eco-leadership that's part of its 45-year heritage. However, Scabbia Guerrini said the brand is "becoming more specific, and we're becoming more explicit in how we turn this heritage and passion for the outdoors into our purpose in trying to support and create a movement around this."
Scabbia Guerrini noted that younger generations are much more focused on brands that stand for something. He stated, "The macro trends are on our side."
The growth drivers for Timberland, according to Scabbia Guerrini, have remained largely the same over the past few years, including Diversify Product, Prioritize Digital, Distort To Asia, and Activate Purpose-Led Global Marketplace.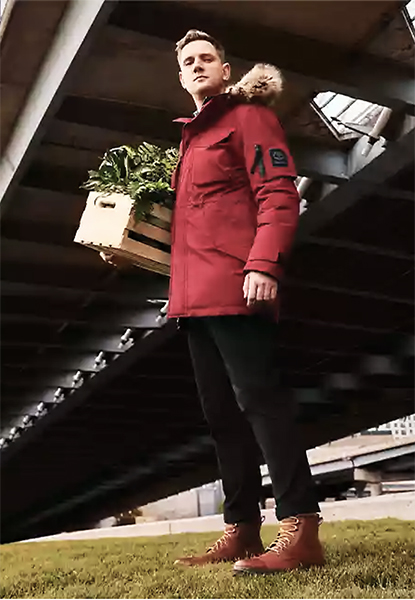 To support the brand's diversification efforts, Timberland is focusing less on the broader outdoor lifestyle customer and keying in on specific segment and style preferences to drive both design and engagement. Specific approaches have been initiated for casual, contemporary and youth culture segments. Scabbia Guerrini said focusing on sub-segments also helps support the lifecycle management of iconic footwear styles such as the boat shoe and Yellow Boot.
The women's footwear business, about 16 percent of Timberland's business and $300 million in annual sales, continues to grow. The category has benefited from considerable attention to feminine styling, as well as expanding more into sneakers and contemporary styles that have helped summer selling.
Apparel, which is about a $500 million business, continues to be led by outerwear and is particularly being helped by segmentation efforts. Earthkeepers, the brand's eco-friendly program, is launching a pinnacle platform to help reach younger consumers and provide "even stronger leadership in what we call eco-innovation."
The "digital-first" growth driver underscores how digital has become the primary communication approach for Timberland, but that digital mindset is being extended into physical stores. Said Scabbia Guerrini, "Physical stores are important. We need to elevate the experience and productivity."
"Distort to Asia" is about driving outsized growth in Asia. China has been expanding at about a 30 percent rate in recent years and is expected to benefit in the coming years as diversification efforts accelerate in the region.
Finally, Timberland will accentuate its purpose-led approach that's demonstrated by the brand's new campaign, "Natures Need Heroes," which promotes outdoor advocacy efforts.
Overall, Scabbia Guerrini's optimistic Timberland's reset efforts will revitalize growth. He said, "We're still cautious, but we see sequential acceleration….We have much more confidence, and this is our commitment. At the same time, I think, we all have much higher aspirations than this."
The five-year outlook for Timberland includes:
Overall:

 The 2024 global revenue target for Timberland calls for a 3-to-4 percent CAGR from 2019.

Region

:

The fastest growth is expected to come from the APAC region, at a 7-to-8 percent CAGR over the next five years followed by the U.S., up 3-to-4 percent and EMEA up 2-to-3 percent. Non-U.S. Americas is expected to see CAGR flat to up to 1 percent over the next year. By 2024, the U.S. region is expected to remain at 39 percent of sales; EMEA to shrink to 37 percent from 39 percent in 2019; APAC to increase to 18 percent from 15 percent; and non-U.S. Americas to decline to 6 percent from 7 percent.

Channel

:

The fastest growth is expected to come from DTC Digital, expanding at a 15-to-16 percent CAGR pace through fiscal 2024. DTC Store is expected to grow at a 2-to-3 percent CAGR with flat to a 1 percent increase in Timberland's store count. Wholesale is also expected to expand at a 2-to-3 percent CAGR. By fiscal 2024, DTC digital is expected to jump to 14 percent of Timberland's sales from 8 percent in fiscal 2019. DTC stores are projected to shrink to 24 percent of Timberland's sales from 26 percent in fiscal 2019. Wholesale is also expected to be reduced slightly, to 62 percent of Timberland's revenues from 66 percent in fiscal 2019.

Category

:

 Women's footwear is expected to see the fastest growth among categories, expanding at a 6-to-7 percent CAGR over the next five years followed by apparel & other, 4-to-5 percent CAGR, and men's footwear 2-to-3 percent CAGR. By fiscal 2024, women's footwear is projected to grow to 18 percent of Timberland's sales to 16 percent in fiscal 2019, and apparel & other to reach 29 percent of sales from 28 percent. Men's footwear is expected to shrink to 53 percent of sales by fiscal 2021 from 56 percent in fiscal 2018.
Photos courtesy Timberland