By Thomas J. Ryan
On Thule's third-quarter conference call, Magnus Welander, CEO and president, said the company's sales in the U.S. were down 6 percent in the period as rattled retailers focused on reducing inventories due to tariff concerns and consumers fretted over related higher prices. The bike category has been especially impacted and Thule is planning some reorganizational changes in the challenged region.
"What absolutely has happened clearly in the period is with the confusion and the concerns in the marketplace, it's clear that several retailers have worked on their inventory levels further," said Welander. He further added that the tariff situation has had "clearly some impact also on consumer confidence, especially related to the bike category, where sales numbers as officially reported in the U.S. market are very disappointing."
Welander pointed to figures from the National Bicycle Dealers Association (NBDA) showing cycling sales are down 15 percent in the first six months of the year. He noted that the NBDA only looks at sales in the independent bike dealer channel that's focused more on premium products but, he believes, bike sales have similarly underperformed in mass channels and suspects the overall cycling industry is seeing a double-digit decline.
He added, "The reality is that these bikes are a great majority in the U.S. made in China."
In all, bikes faced a 25 percent tariff in the third quarter. A 10 percent tariff arrived at the end of September 2018. An additional 15 percent tariff initially planned to be implemented in January was postponed but was eventually enacted in July. Additional tariffs have arrived on some other Chinese goods as well.

Welander said the higher prices that have been necessary to offset some of the 25 percent tariffs "have meant that a lot of U.S. consumers" and some are delaying purchases. Thule's management  and the U.S. team believe many consumers are "maybe hoping and holding on and waiting for some end-of-season discounts or some changes potentially to tariffs before they commit to buying new bikes."
As a result of the subpar results and the uncertainty in the U.S. market, Thule is undertaking a detailed review of the commercial organizational setup for the U.S. market. Changes will be announced during the fourth quarter.
Welander cautioned that Thule is not undergoing a "major" restructuring in the U.S. "because we have a lean and well working overall organization." At the same time, Thule sees opportunities to improve the flexibility of its operating structure in the U.S. to cost-efficiently capture market share in growing categories and channels. The changes would relate to how Thule services major and national accounts versus independents. He said, "As flows and growth rates change between these types of accounts, there are opportunities to reorganize and reshape the organization."
The planned reorganization coincides with the final phase of implementing a global ERP system, which will be finalized in the first half of 2020. As such, related non-recurring costs and savings expectations for the initiative will be provided during the fourth quarter.
Overall sales in the Americas region were down 2.0 percent in the third quarter on a currency-adjusted basis to SEK 494 million (50.4 mm) while gaining 4.7 percent on a reported basis. In the year-to-date period, sales on a currency-neutral basis were up 0.1 percent.
Beyond the tariff impact, the quarter's performance for the Americas region was impacted by the previously-announced phase-out of less profitable products linked to certain OE (original equipment) contracts that decreased sales by SEK 10 million ($1 mm).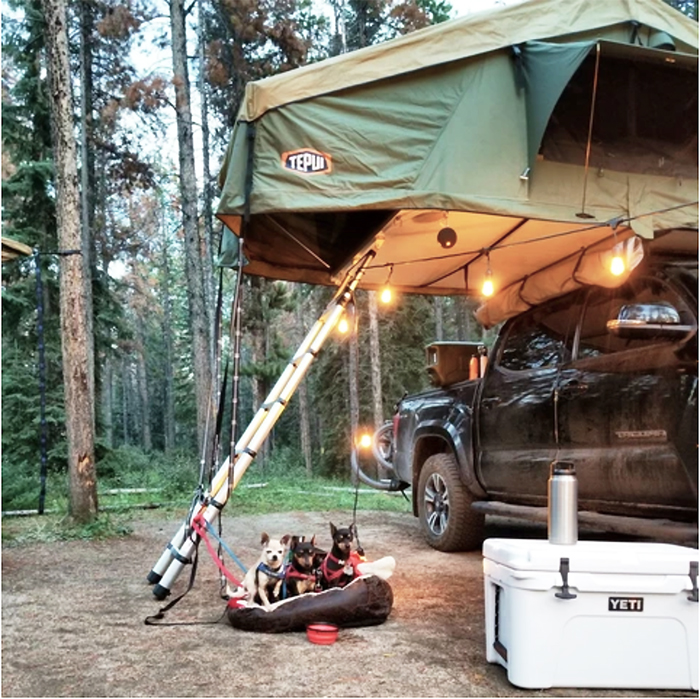 On the positive side, sales of rooftop tents in the Americas increased SEK 14 million ($1.4 mm), which was driven by the acquisition of Tepui as well as organic growth.
Welander said Tepui is tracking according to plan. For the nine months globally, sales of Tepui are SEK 61 million ($6.3 mm), up 24 percent comparatively year-over-year. Thule has already announced that as of the start of 2020, the Tepui rooftop tents brand will be rebranded to Thule Tepui. Said Welander, "It's very nice to see the strong performance of that acquisition continue."
Also positive for the Americas region in the quarter was healthy growth in Canada and Brazil, where Thule operates directly. In distributor areas, robust sales, primarily within the Packs, Bags & Luggage category, contributed to strong growth in several other countries in Latin America. Distributors captured market shares largely based on new bag products, despite overall challenging economic conditions. Said Welander, "I personally still believe that the Latin American markets will continue to be volatile, but it's nice still to see that we have a strong Q3."
Companywide, net sales for the quarter amounted to SEK 1.68 billion ($173 mm), up 3.8 percent on a currency-neutral basis and 7.7 percent on a reported basis.
Underlying EBIT amounted to SEK 274 million ($28.2 mm), corresponding to an increase of 2.6 percent. Operating income was down 6.7 percent to SEK 249 million ($25.7 mm), pulled down by a charge of SEK 25 million ($2.6 mm) pertaining to a product recall.
Net income amounted to SEK 181 million ($18.7 mm) against SEK 189 million a year ago, a decline of 4.2 percent.
Gross margins eroded 1.2 percentage points to 38.5 percent due to a negative product mix, the effects of the tariffs introduced in the U.S. on imports from China and low capacity utilization in its nine assembly plants due to lower-than-expected volumes.
The company's other operating segment, Europe & ROW, fared better than the Americas as sales in those regions rose 6.7 percent (after currency adjustment) to SEK 1.19 billion ($123 mm)and climbed 9.0 percent on a reported basis. The growth was helped by a pick-up in roof rack sales as well as a turnaround in both the Nordics region and Russia. Year-to-date, Europe & ROW saw 6.4 percent growth excluding currency effects.
Welander noted that 3.5 percent organic growth overall, excluding the Tepui acquisition, in the nine months is running below the company's target of 5 percent. Thule won't reach its annual target given that the fourth quarter is its smallest volume quarter of the year.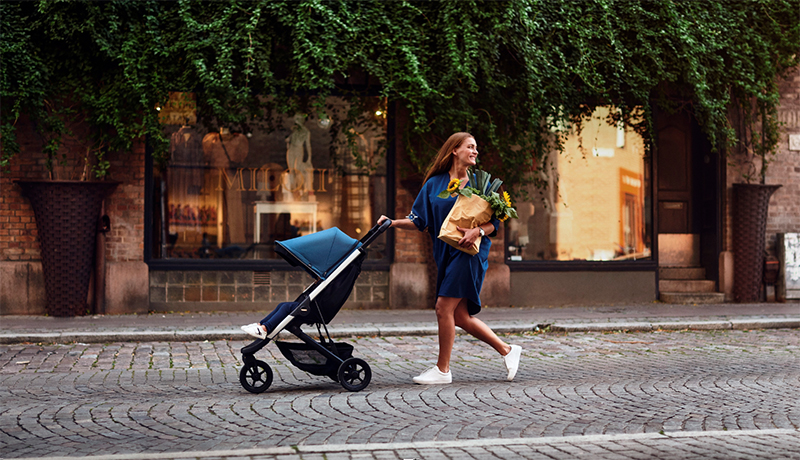 On product, Welander noted that its new stroller Thule Spring, shown above, as well as several new bag collections, drew favorable reactions at the Kind & Jugend Fair trade show. The Thule Helium hitch-mounted bike rack, according to Welander, is expected to be "a key addition in a challenged and tough bike carrier market." Updated backpacks and luggage are also expected to support 2020 growth.
Thule will be expanding its global development center in Sweden while continuing to focus on driving efficiencies at its assembly plants after a few years of investing in enhanced assembly set-up. Said Welander, "I am confident in our long-term strategy and the development is positive in most of our markets and product categories, even if we need to address a certain amount of uncertainty in the U.S. market for the coming time."
Photos courtesy Thule