The Untapped RV Outdoor Market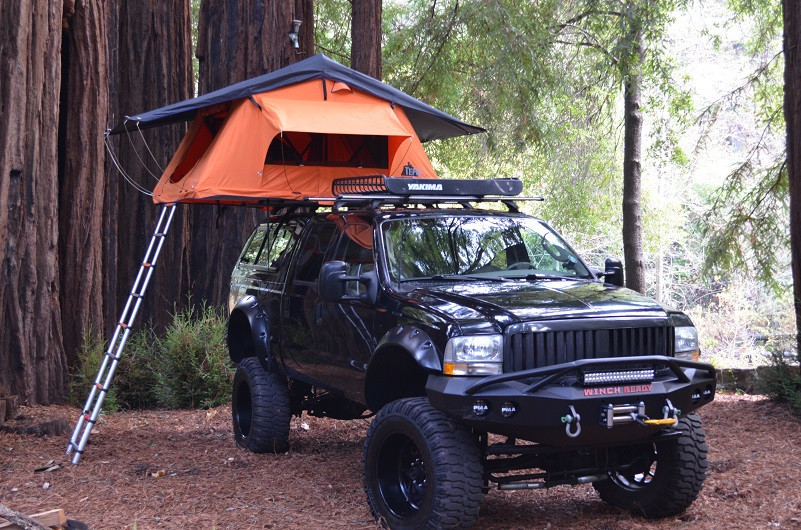 As younger adventurers flock to trailers and RVs to make their lives mobile, outdoor brands eye a slice of the market.
When SylvanSport suggested that Chad Carlson's Woodland Travel Center in Grand Rapids, MI consider selling its line of adventure trailers, he was resistant.
As an Airstream dealer, Woodland Travel Center is perched at the premium end of the RV business and Carlson did not want to tarnish his showroom with a pop-up camper.
"At first I did not want to carry it," Carlson said of the SylvanSport GO. "And then I saw it at a show and said, 'holy crap! This is best product I've ever seen.' The tooling is better than Airstream. I've sold 50 of them this year, and I just started carrying them." The dealership has also signed on as a Thule dealer so it can sell and install the Swedish brand's bicycle, kayak and other gear carriers on the trailers.
"It's the same customer looking at the Airstream or Sprinter vans. They probably have a household income of $140,000 to $170,000, and the SylvanSport is a relatively inexpensive vehicle to carry their expensive toys."
The trailers, which Woodland displays carrying kayaks, are drawing a new type of customer to the store, Carlson said, perhaps representing a foot in the door for outdoor brands to explore the RV market. "It's opening up a lot of other activities along lines we did not anticipate," he said.
Outdoor Outlier
Carlson is clearly an outlier within the RV industry. Visit campingworld.com, the online store for the country's largest chain of RV supply stores, and you will be hard pressed to find any kayaks, bikes or tents priced above $450, nor any brands you would find in an outdoor specialty shop.
While campingworld.com lists 125 items under "Bikes/Bike Racks & Carriers," that includes scooters, golf carts, wheelchairs and hitch mounts from Husky and other mass-market brands. Of 1,250 RV & Camping products listed, just 56, including folding bikes from Dahon and tents from Coleman, Sportz Camo, Gazelle, Gunnison and PahHaQue, sell for more than $250. The Camping & Tailgating section includes propane appliances, an electric leaf blower and fist-shaped foam beverage coolers emblazoned with NFL team logos.
"The RV Channel has had a nice bit of growth in recent years which, from what we can gather, is due in part to their recovery from the 2008/09 market collapse," noted Thule spokesman Chris Ritchie. "Other than the economy recovering and folks spending more of their disposable income on travel by way of RV's, it's hard to say what the major driver is since we are somewhat of a small player in this channel here in the U.S."
Overcoming "An Elitist Bias"
Carlson's enthusiasm for SylvanSport represents a huge and untapped opportunity, according to Frank Hugelmeyer, who took the reins as president of the RV Industry Association in 2015 after 14 years of serving in the same role at Outdoor Industry Association.
"Not too long ago, attendees at the Outdoor Retailer show acted like owning a four-wheel-drive vehicle was a federal offense," Hugelmeyer said. "The truth is, all sorts of people are using some sort of recreational vehicle to access the outdoors and haul gear. Whether you look at fifth-wheel trailers, pop-up campers or Class-C and Class-A motorhomes, RVs are all filled with active-lifestyle gear. The crossover has been high for a long time, and the opportunity of different brands to tap into those markets is virgin territory."
RV sales reached a record $16.5 billion in the United States last year after shipments grew 4.9 percent on top of three years of back-to-back double-digit growth. Much of that growth is being driven by young, active families buying pop-up campers, tear-drop and fifth-wheel trailers, Hugelmeyer said days after returning from the California RV Show.
"The average boat owner in America is 53," noted Hugelmeyer. "The average age of an RV owner is 45 and going down. This is as robust, diverse and exciting a market as anywhere and it all ties toward going outside and going on an adventure, whether that's tailgating at your favorite ball game or going outdoors. But no company has really taken the opportunity to tap into this market in a meaningful way because of an elitist bias."
Tom Dempsey's Venn Diagram
That's music to the ears of Tom Dempsey, who founded SylvanSport in Brevard, NC to reach consumers he felt were not being served by either outdoor or RV brands.
Dempsey said he began thinking about that opportunity in the early 1990s after taking his first job out of college as a product developer at The Coleman Company. At the time, Coleman was still making its pop-up campers, which are now manufactured by Dutchman Manufacturing. "Coleman was the first outdoor-gear company to venture into the RV space in the 1960s," Dempsey recalled. "I remember thinking, these are interesting, but I'll never use them."
Dempsey went on to design kayaks at North Carolina-based Watermark and serve as president of North Carolina Liquid Logic before founding SylvanSport in 2004. In meetings with potential employees, suppliers, dealers and investors he would draw a Venn diagram with the overlap between the two circles representing the customers shared by active outdoor and RV brands that SylvanSport would target. "It's always baffled me that it has historically always been two different communities," he said.
SylvanSport brought its first trailer to market in 2008 just as consumer credit — the lifeblood of the RV industry — was drying up in the wake of the U.S. housing collapse. Six years later, more than two dozen RV dealers have signed on as SylvanSport dealers in the United States and Dempsey's vision is catching on with other RV manufacturers, including Winnebago Industries Inc.
Winnebago Joins Outdoor Retailer
"Winnebago's senior managers came to visit us and I asked them, 'have you ever heard of the Outdoor Retailer show?' And they said no," Dempsey said. "I took them on a walk through the show and they were absolutely floored."
In 2014, Winnebago exhibited in a small area between the north entrance to the Salt Palace Convention Center and the New Exhibitor Pavilion. It has since expanded the space twice, and this past year debuted a concept adventure vehicle marketed toward the outdoor crowd.
"They are exhibiting there for the same reason I'm in business," Dempsey said. "They recognize that the next generation of RV owners are all the folks walking around the halls of OR and outdoor stores now."
Whether Outdoor Retailer's active lifestyle brands reciprocate by exhibiting at RV shows remains to be seen. Either way, Hugelmeyer thinks entrepreneurs will emerge to fill the niche. Brands like Tepui Tents and Yakima, offering pop-up-tent setups on the top of vehicles, for example, are making some noise in the space.
"The reality is you have a lot of very entrepreneurial, innovative companies serving a wide range of markets," Hugelmeyer said, "and they are not biased as to who they invite into the tent."