Gearlab is an award-winning design company and pioneer of the first modern Greenland-style paddle with exchangeable tips. We were intrigued to learn more, so we sat down last December with Founder Chung-Shih. Read the full interview here.
The company, located in Taiwan, is central to product development and manufacturing which means the design and development process is agile and efficient. Gearlab products go through systematic and rigorous research, usability analysis, and field testing before sold. The result is a paddle that is easy to transport, buoyant, efficient, light, and durable.
Today, Gearlab announced the brand's latest high-performance open-water excursion paddle — the Kalleq (KQ). The name comes from the Inuit word for lightning. With its signature patent-pending swappable paddle tip, the KQ is 13.5 percent lighter than Gearlab's top-selling Akiak, (750g ± 30g in the 220cm paddle) and the leaner edge radius is reduced from 2mm to 1.1mm which makes for a substantial improvement in performance.
The paddle is slightly wider than previous paddles at 8.8cm/3.5 inch, and the interchangeable tips are somewhat smaller and lighter. The seamless carbon paddle is an engineered hybrid that's noticeably faster than former Gearlab models.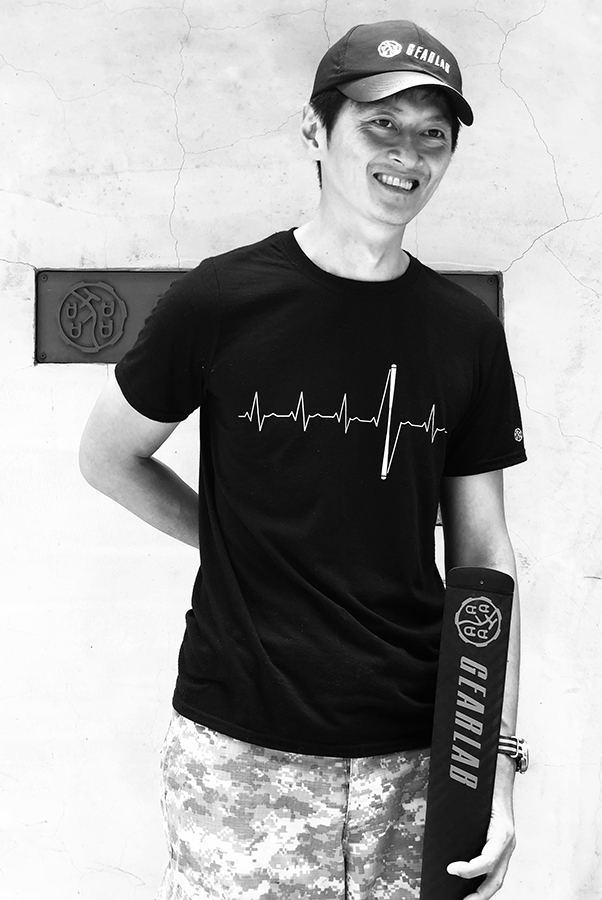 "With the Kalleq, I set out to craft the best paddle ever. The paddle is the result of two years of development, as well as drawing on experience with both the Akiak and Nukilik models. The new tip excels in the water, and it grabs the water with solid feedback. The Kalleq's lean shape supports the paddler to push the kayak forward. I am very satisfied with Kalleq. I believe it will be the perfect paddle on the market for quite a long time." —Chung-Shih Sun, Co-Founder and Design Developer, Gearlab, pictured left
The KQ'S sharper edge increases water splicing efficiency and paddling stability while the more extended paddling surface improves paddling efficiency per stroke with an internal structure that enhances strength and durability in harsh conditions. At roughly 750 grams, it is a very lightweight paddle.
Gearlab believes that the best paddle for ocean kayaking is the Greenland-style paddle and the Kalleq is the ultimate solution. While Euro blades are designed for rivers and whitewater, long and streamlined Greenland blades are innovated for open bodies of water.
Gearlab has a respected and loyal following among touring kayakers who are passionate about the paddles advantages.
"Just when I thought Gearlab's carbon fiber Greenland paddles were as good as they could be, the talented engineers at GL created a superior paddle unlike any in the industry. The new Kalleq paddle takes the best of Gearlab's touring paddle line-quality construction, lightweight, convenient flush two-piece design, with replaceable tips-and adds a sleeker design with a sharper edge that slices the water with each stroke. The slightly wider blades, strategic dihedral, and carbon composite construction move more water with no underwater flutter or drag resulting in a super smooth stroke and fluid paddling experience. The Kalleq makes paddling 30-plus miles on smooth water or confronting rough ocean tides easier than with any other paddle on the market Greenland or Euroblade. I have spent decades searching for the "perfect paddle" and have finally found it in the Kalleq." — Maureen G. Nowak, Gearlab Ambassador
"I was out testing the new Kalleq yesterday, bringing along both the old prototype and new. Remarkable difference. The new one is, of course, lighter and swings better. Also somehow the paddle is calmer in the sea — no wobbling even when I tried to provoke it. I find my top speed to be better with it. I like the new look, and the center marking is sweet when using a paddle without shoulders." — Lars Midtsand, Norway Athlete, Gearlab
"I took the new KQ out for a 30km trip yesterday in Thailand. I was immediately impressed with how light this paddle is and the sharpness of the blade. It makes for a great long-distance paddle." — Peter Strand, Gearlab US Athlete
Photos courtesy Gearlab