By Eugene Buchanan
With COVID-19 fanning people's desire to get outdoors close to home, sales are anything but cooling off in the portable cooler category. The segment is, well, on fire, and expected to snowball over the next four years (some analysts predict growth in the billions). To catch up on the craze, SGB Executive spent a few cool minutes with Igloo CEO and President Dave Allen to talk about the current market, latest trends and hottest new products (Grateful Dead or Yoda Playmate, anyone?).
Do you see the portable cooler market growing with COVID-19? Any projections? Yes, the market is growing considerably. In-mid March, we saw a decline in sales as most of the country entered into stay-at-home orders and retailers shut down. But quickly after, our direct-to-consumer sales experienced a significant increase fueled by a community-driven promotion where we donated 100 percent of the profits of our Playmate coolers sold via igloocoolers.com to the CDC Foundation. We were able to donate $299,794 to date to deliver PPE to frontline healthcare workers.
As stimulus money was delivered to businesses and individuals and the country began reopening, we saw an immediate increase in sales in almost every channel of up to 40 percent year-over-year. Outdoor recreation is on the rise as people are escaping city centers to enjoy our nation's parks, beaches and lakes. Until there's a vaccine, we project that these trends will continue.
What do you think is driving demand? We've seen growth for portable coolers fueled mostly by two things – an increase in outdoor activity and demand for personal food storage and transport. Summer vacation plans have been altered with an increase in demand to be outdoors and socially distant from others. We've seen an increase in 'staycations', there are more backyard activities happening, an increase in camping, and close-to-home outdoor adventures.
Personal food storage and transport is a safety issue with essential employees showing an increase in demand to prepare their own food for work, keep their food and drinks fresh and cold, and stay isolated from others. We expect this trend to be a long-term change in consumer behavior.
How have your sales been the first six months of 2020? The first six months of sales in 2020 have been up cumulatively over last year. The common theme has been the difficulty to forecast. We started the year strong, then had eight very soft weeks due to COVID-19 reaction and safety protocols, followed by eight incredibly strong weeks fueled by changing consumer behaviors and delivery of stimulus money. Currently, we are still performing incredibly well at retail and closer to our original forecast.
But this has been a very difficult environment for supply chain planning and fulfillment to retail. I really have to commend our incredible manufacturing and fulfillment teams at our Katy, TX-based plant that have continued to work through the pandemic. Domestic manufacturing has provided a huge advantage during the pandemic as we've been able to quickly react to changing market conditions.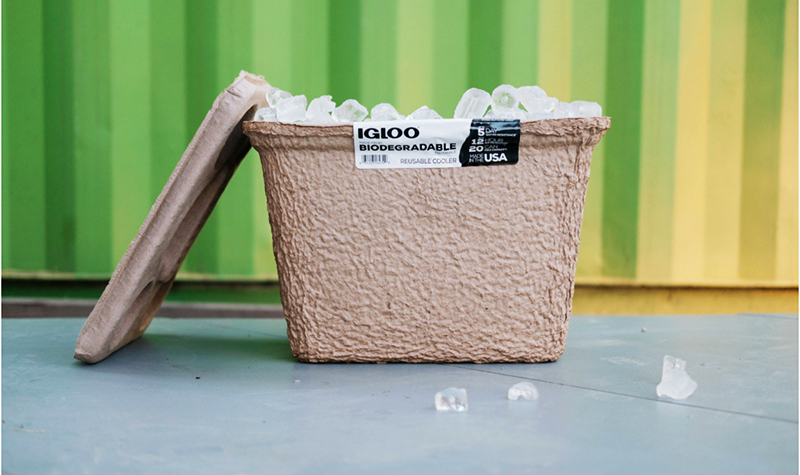 What's been your best seller so far this year? All of our product families have been performing well this year. Our star products, by far, are our licensed and decorated Playmate coolers. Growth of our Playmate category is off the charts with best performers being our Disney, Star Wars and Grateful Dead designs. We have also had several limited-edition Playmate products that sold out in a matter of minutes from launch. Other product lines that have been outperforming forecasts are our Retro Picnic Baskets, the Trailmate cooler featuring the largest wheels on the market and our new line of soft side coolers.
Any new technologies to tout? We're incredibly proud and humbled to announce Recool, the world's first biodegradable cooler, shown above right. It won its eighth award for innovation and sustainability in just its first year in the market.
Our sustainability initiatives have proven to be a solid business practice as well. All of our hard side coolers Made in the USA are now insulated with our Thermecoolä foam formula which is 50 times better for the environment than CARB regulations. Thermecoolä is found in our Retro Picnic Basket, Trailmate and Playmate coolers, which can be found on igloocoolers.com and such retail partners such as Academy, Dick's Sporting Goods, and REI.
Photos courtesy Igloo