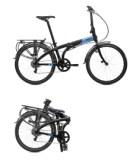 Folding bike maker Tern announced it raised $4.3 million from private equity investors. The Taipei, Taiwan-based company will use the funds to accelerate its global expansion and ramp up investments in product development.

"We're only two years old and we've grown pretty quickly," said VP Joshua Hon, who together with his month Florence still retains majority ownership of the company. "This round of funding lets us continue to invest in all of the critical parts of our operation as we establish the brand in markets around the world. We're proud, but also humbled, that our investors have this confidence in us and our mission of sustainable transport."
The Tern Node model, introduced in August and pictured above, uses larger tires (507 mm) to accommodate riders up to 250 pounds.

Hon declined to identify the investor, but said they "bring some great synergies and expertise to our team."

Privately held Tern offers 21 versions of its five bike models. In the United States the company distributes exclusively through more than 60 dealers located primarily in or near major cities or tourist destinations. Aside from the United States and Taiwan, the company has offices in China, Finland, and the United Kingdom.