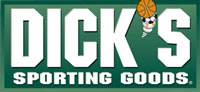 At its first-ever analyst day, Dick's Sporting Goods, Inc. set a sales target of $10 billion by the end of fiscal 2017, representing a 5-year compounded annual growth rate (CAGR) of approximately 11 percent from fiscal 2012 sales of $5.8 billion.
Other 5-year goals outlined at the event:
E-commerce sales are projected to reach approximately $1.1 billion by the end of fiscal 2017, up from $292 million in fiscal 2012;
The flagship Dick's Sporting Goods chain is expected to end of fiscal 2017 with 800 stores, up from 518 stores at the end of last year, reaching $7.9 billion in sales;
Golf Galaxy is expected to expand to $350 million from $300 million, with the addition of 5 stores over the next five years;
It plans to grow its new Field & Stream hunt & fish concept to approximately 55 stores by 2017, reaching $750 million in sales by that year. It opened the first Field & Stream on August 15 on Cranberry Township, PA, with one more set to open in Kentucky in November. It plans to increase the pace to about 15 per year through 2017;
Operating margins are expected to expand by 150 basis points from roughly 9 percent to 10.5 percent by 2017; through both the expansion of gross margin and leverage of SG&A expenses;
Capital expenditures are expected to amount to approximately $1.8 billion, primarily to pay for new stores, store remodels and e-commerce.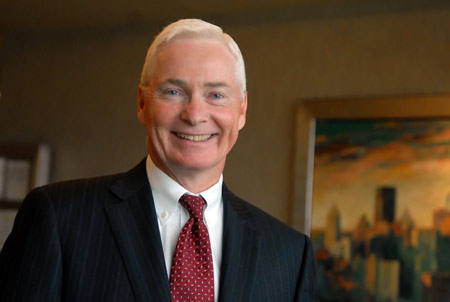 At the event near its Pittsburgh headquarters Chairman and CEO Ed Stack delved into the 65-year history of Dick's Sporting Goods, including how his father borrowed $300 from his grandmother to open the first precursor of Dick's Sporting Goods in Binghamton, NY as a retailer of fishing tackle, hunting and camping goods. Working there since he was 13, Stack said he initially "hated every minute of it. I wanted nothing to do with that business" and went to college with a dream of becoming a lawyer. In his later college years in the mid-seventies, his dad became ill and he became more intricately involved with the business. Within a few months, "I fell in love with retail. I fell in love with the business. I fell in love with the sports business. I just absolutely fell in love with the business."
After many "spirited conversations" with his father generally over expansion into categories such as athletic footwear and cleats as well as store growth, Stack partnered with his younger brothers and sisters to acquired the business when it was as two-store operation. Expansion ensued, particularly after Dick's Sporting Goods (NYSE:DKS) went public in 2002.
Looking back in recent decades, Stack discussed how several decisions management has made that weren't "really very popular at the time, but they ended up to be really good decisions."
In early 1999, for instance, DKS invested in e-commerce "right from the very beginning" of the dot.com boon, while many retailers were slowly exploring the opportunity. In 1999, a "significant amount of money" was invested into a separately company, dsports.com, through the early 2000s with its vice chairman Bill Colombo put in charge of it.
Realizing "we weren't going to be able to make any money for a very long time," the company licensed its name to GSI Commerce, which then managed the Dick's Sporting Goods e-commerce business.
DKS received an equity position in GSI as part of the deal and has realized a profit of about $30 million over time from its investment. Stack said at the time, the deal seemed "perfect," although it is "not perfect today." The chain has partnered with IBM and WebSphere to build its own platform.
Still, Stack believes that the GSI partnership has made the company "much further ahead" and "much more invested" than its sporting goods competitors and other retailers in the growing e-commerce space.
Stack also discussed the purchasing decision around Galyan's. Management had been closely following the concept since it began selling sporting goods in the sixties and developing its big box model. After being acquired by The Limited in 1995, the new owners pushed to make the chain like "Abercrombie & Fitch on steroids." After Limited bought in Freeman Spogli as in investing partner after Galyan's began struggling, a switch in focus back to sporting goods "concerned us," Stack admitted.
At the same time, DKS developed its own two-level store for the Dick's Sporting Goods banner (DSG) to better understand the Galyan's approach and "the store worked great." That encouraged DKS to acquire Galyan's in 2004 amid the chain's struggles.
The buy gave the company a foothold in a number of key markets such as Chicago, Minneapolis, Washington D.C, Boston, Dallas and Denver but also encouraged management to experiment with new formats.
"If we didn't have this foothold in these key markets and there was a different competitive landscape out there, we'd be a different company today," said Stack. "If we had never tried that first 2-level store and hadn't purchased Galyan's, Dick's Sporting Goods would not be who Dick's Sporting Goods is today."
On the 2007 purchase of Golf Galaxy, Stack said the golf business at that time was "pretty good," led by Golfsmith, Golf Galaxy, Edwin Watts and others. The category accounted for 15 percent of DSG's business and management was hearing "segmentation discussions" that would have significantly reduced its access to golf's premier brands.
After successfully testing two stores with a golf shop concept to understand the business, Golf Galaxy's owners became more comfortable in selling the business. Even though the company could have acquired Golf Galaxy for a lot less when the downturn arrived in 2008, the acquisition has offered "enormous" benefits in preserving and enhancing its golf category. Stack estimated that without Golf Galaxy, the golf category would likely now represent 5 or 6 percent of sales versus 15 percent where its golf business is today. The category would also look "no different than Sports Authority or some other competitors out there."
Stack also talked up the benefits of the Ativa, the short-lived women's-only 25-plus concept it tested in 2003. He said while management was "pretty pleased" with the concept, "we were too small at the time and too undercapitalized to try to run two businesses."
Ativa was quickly closed but learnings from the venture were applied to the DSG stores.
"The results from the woman standpoint have been phenomenal," Stack said. "What we learned from Ativa is the genesis of what our women's business is today."
He said DSG has become the largest women's premium retailer for Nike, Under Armour and Reebok — and he believes Adidas as well. The chain continues to push its vendor partners and its internal team to build a larger share of the women's business. Added Stack, "We really feel that if we hadn't tried the Ativa concept, our business, our women's business and our business as a whole, would be very different than it is today. It was a great learning experience."
Stack listed these moves as proof of how DKS's commitment to testing and "courage to experiment" helps the company "stay ahead of the curve." Such experimentations continue to pay off today with the success of the Nike Fieldhouse and Under Armour in-store shops concepts as well as its co-branded marketing partnerships such as those with ESPN and The Golf Channel.
Said Stack, "As we take future risks in trying something new, before the red flags go up and everybody starts talking about all that could go wrong, I'd ask you to instead ask, "What will they learn from this? How will they apply this to their business?"
Stack also touched on several issues that the investment community has been fixated on recently.
Addressing some concerns over whether DSG's stores may be too large with recent weakness in the fitness, outdoor and golf category, Stack said he believes the size "is appropriate." Indeed, management has identified a few categories it feels it can "grow significantly," and even feels "a bit space-constrained." It is looking for ways to double the space devoted to the women's business, and sees similar growth opportunities for its youth area as well as its fan shop department. Stack noted that the margin rate in those three categories are "significantly higher than the rest of the company."
DSG expects to find room to expand those areas by reducing fitness and golf and possibly hunt/fish if Field & Stream continues to expand.
Regarding whether the 1,100 potential for the DSG chain target in the U.S. was doable, Stack said at the 1,100 level, the company will "be smaller than most other significant big-box retailers," citing Kohl's, Tractor Supply, Staples, PetSmart a as few. He also touted the company's stringent "return hurdles" that help drive smart real estate decisions as well as its flexibility to exit many leases, if needed, in coming years. Of the 1,100 openings, 200 will be smaller locations that are already testing well in markets such as Oneonta, NY; Bend, OR; Plattsburgh, NY; and Paducah, KY.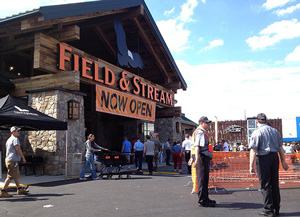 Regarding concerns around Field & Stream's ability to compete against Cabela's and Bass Pro, he said DSG currently captures about only 6 percent of the hunt & fish category, with that shopper looking to shop "in a specialty shop."
Still, with Cabela's at 47 stores, and Bass at 58, "we're not that far behind in this category," and estimated the size of the category at over $30 billion.
Stack added, "We feel, given our balance sheet, given our real estate machine, the infrastructure, our discipline around real estate selection process, we believe we can move faster than our competitors beginning in 2014 as we develop this concept further."

Later in the afternoon, officials gave attendees a visit to the new store, with Stack calling initial results "really, really terrific."
Stack also further elaborated on Q2's shortfall. As reported, the flagship DSG chain saw a small comp decline in the second quarter due to particular weakness in golf equipment, outdoor equipment, and fitness categories. The cool weather, a sluggish consumer environment, and lack of innovation were the culprits. It missed its own EPS targets for the quarter and projected a decline in the third quarter, below Wall Street targets
Stack said DSG was hit by "the perfect storm," with the weakness not do to any "structural issue in this business."
He noted that last winter was the 10th warmest winter in 118 years, and the following "unbelievably cool and wet spring" affected a wide range of retailers.
The lack of innovation particularly impacted the golf area. He noted that TaylorMade "is to the golf business what Nike or Under Armour is to the athletic business," and Adidas had noted that the TaylorMade saw an 8 percent decline in the quarter. With TaylorMade's release of the new SLDR driver this fall, the category has revived in the third quarter.
Finally, Stack said that while consumer spending may have shifted toward homes and cars, "we feel that doesn't really matter because we've got to go our share of wallet no matter what's happening with the consumer out there."
He also reiterated that pickup mentioned on its second-quarter conference call is continuing in the third quarter.
Stack noted, "We're much further into the third quarter today, probably a little more than halfway through the third quarter, and I will tell you the business has gotten better. We're pretty pleased with what's going on right now."
Also speaking at the event, Lauren Hobart, chief marketing officer and SVP, expanded on the company's efforts to target "true athletes, who we define as someone dedicated to relentless improvement in his or her sports" through its brand campaigns, the first of which launched in early 2012. The mission is "to inform the mind, train the body and, of course, provide the best equipment to help them achieve their dreams."
With executions earlier this year such as 'Day 1,' 'Every Pitch,' and 'Every Snap,' she believes Dick's SG is "succeeding in breaking through the clutter with both the trade and the mainstream public."
An increased emphasis on content is evident in programs such as its Hell Week documentary that ran across ESPN2 and other ESPN properties, its 13 digital videos online supporting its running campaign, and its online Jersey Report that documents best-selling NFL jerseys. On social media, Dick's SG has more than doubled its Facebook fans and has seen "some terrific growth" with Twitter, Instagram, Pinterest and Vine as well.
Hobart said its ScoreCard Rewards loyalty program has been significantly enhanced with the addition of a mobile map this year. ScoreCard members tend to spend 20 percent more per transaction while also offering detailed purchasing insights for marketing purposes. Toward that end, a big push will focus on building omni-channel marketing functions and tap predictive analytics capabilities to improve the tailoring of messages to customers.
"For example, in the future, our goal is to be able to identify that a consumer is training for a marathon based on her shopping patterns," said Hobart. "It might be statistically proven that customers who buy gels, heart rate monitors, running shoes highly correlates to marathon runners. Once we quantify the right set of triggers to identify that individual, we can then send marathon-related messages to reach that customer throughout all phases of her training."
John Duken, EVP of global merchandising, detailed how the chain will connect with consumers at the store level through differentiated assortment, "attacking trends," amplifying the in-store experience, and providing omni-channel access.
Product differentiation will be aided by gaining exclusives from its strong vendor partnerships with a focus on gaining franchise exclusives, style exclusives and color print and pattern exclusives. He cited several such exclusives from its two top brands, Nike and Under Armour. Combining its vendor exclusives and private label assortments, exclusives represented around 23 percent of sales in 2012.
Discussing developing trends, he pointed to several emerging fall trends the chain is hopping on.
One breakout hit has been Under Armour's Alter Ego line of compression apparel featuring Superman and other superheroes. After a successful test last year, DSG wound up with the "vast majority of Under Armour's total production" of this product earlier this year and plans to "continue to support this trend with plenty of new receipts through the holiday selling season."
Another "significant trend," according to Duken, is basketball, with an added emphasis on apparel hookups, including socks, as part of a head-to-toe opportunity. Said Duken, "Our customers have told us that they also want a great basketball shoe selection year round."
Its young athlete apparel section is experiencing "fantastic results" and the category is receiving more space and greater visibility with an emphasis on color, novelty and graphics.
Other areas significant investments this fall includes fitness trackers and monitors, products tied to the buildup around the 2014 World Cup, athletic fleece and women's athletic apparel. On athletic fleece, Duken noted that college through grade school students "have adopted the hoodie as a key staple of their daily uniform."
Women's buys are focusing on color, prints and patterns to help women not only work out but "look great, whether she's in the gym, shopping or picking up the kids from school," said Duken. More attention is being paid to hookups for women into footwear, socks, hats and hair bands.
Around the in store experience, a particularly focus continues to be on establishing in-store shops with graphic elements, mannequins, specialty enhancements "to bring dominance and separation." It plans to add 120 Nike in-store shops this year to end 2013 with 290, 133 UA doors to reach 240, and 68 Adidas shops to end with 75. The North Face shops will open for the first time with 80 expected to be in place by the fall.
Other critical departments include licensed fan apparel, footwear with a focus on runners, as well as shops dedicated to football, baseball and lacrosse. It's also testing even more specialized shops such as Under Armour hunting apparel, which has seen "seeing very positive trends."
Summed up Duken, "To win at 2 feet, we must engage the customer at 20 feet, and that's exactly what these shops allow us to do. While these shops are having a very positive impact in our business today, the fact is, we've only just begun."
To drive omni-channel capability, the focus includes extending online assortments to styles, colors, sizes and brands not found in stores. Similar to its in-store shops, DSG will look to "elevate the online experience" as it's done with its Nike microsite. Expanding ship-from-store capabilities also remains a priority. DSG is also investing in bringing lookbooks, product information and customer reviews to the store level. E-commerce will be further used to test new assortment possibilities.
Michele Willoughby, EVP of inventory, supply chain and e-commerce, talked about five key steps to drive e-commerce sales to $1.1 billion by 2017. The first is driving assortment differentiation through exclusives as well as by focusing on content expansion, including selector tools for technical categories like running shoes, tents and kayaks.
The second is driving traffic by optimizing e-mail and digital ad efforts as well as through search engine optimization. Third, building "multi-channel loyalty" with internal data showing a multi-channel customer is worth at least 3X a single-channel customer. The fourth is capturing greater smartphone and tablet usage, and the last is focusing on driving conversion. Steps to improve conversion over the next two years include improvements to the design, look and feel of the homepage in key landing pages; improved navigation; a new search engine; custom product builders and comparison tools; a new digital platform for its weekly circular; and a new store locator with individual store pages.
To bolster online profitability, the emphasis will be on driving volume, leveraging omni-channel fulfillment with online pickup and ship-from store, and taking e-commerce capabilities in-house. The company is taking control of its e-commerce platform beginning with Golf Galaxy and Field & Stream in 2014 and DSG stores by the end of fiscal 2017.
Joe Schmidt, president and COO, noted that 75 apparel remodels which feature branded shop-in-shops are expected to be completed at the DSG chain this year, with expectations of both enhanced sales and margins in these stores. It expects to complete approximately 275 apparel remodels through 2017. Shared service footwear decks will also continue to be rolled out.
On Golf Galaxy, Schmidt said the concept is undergoing a repositioning as a third-party study has confirmed there's' "little differentiation between the competitors. It's a sea of sameness out there."
The average Golf Galaxy store size will increase to 30,000 to 40,000 square feet compared to its legacy stores, which are approximately 15,000 square feet. The larger format stores will include a hitting base, driving ranges with launch monitors, a large putting green and two PGA lesson certification centers. As part of a new training model, fitters will go through more than 20 hours of training to be certified to deliver tour level fittings.
Nike, Puma, Adidas and Oakley apparel shops are being added, and key footwear brands are being further highlighted within the store as part of an overall premier positioning. Adding capabilities such as in-store pickup, ship from store and vendor direct as well as enhanced content to a revamped Golf Galaxy website, set the go live in 2014, is also expected to support growth.
Regarding the Field & Stream opportunity, Schmidt built on Stack's remarks by noting that the outdoor equipment industry remains highly fragmented, with the top five companies accounting for only approximately 27 percent of the market. Similar to DSG locations, the stores will feature shop-in-shops dedicated to archery, guns and tackle as well as pro-level services supporting them. He said the feedback from customers from the first store "has been overwhelmingly positive,"
DKS officials didn't discuss any expansion plans for True Runner, a run specialty concept that is being tested with two locations.