At CES 2021, executives from the NFL, NHL, WNBA, and WWE discussed how technology has helped their organizations reach sports fans during the pandemic and save their playing seasons. Advancements involve online or mobile engagement with fans that are expected to continue post-COVID-19.
"A crisis tends to accelerate and deepen issues that existed before the crisis, but it's also an opportunity to fix those weaknesses," said Cathy Engelbert, commissioner, WNBA, during the session titled "Trends Shaping the Future of The Fan Experience."
Also participating in the session were Gary Bettman, commissioner of the NHL, and Stephanie McMahon, chief brand officer, WWE.
The WNBA avoided an initial hit from the pandemic because the league starts in the summer but was forced to hold its first virtual draft. Augmented reality (AR) activations via Snapchat and Google lenses were used to engage with draftees and fans watching from home.
Updates to the WNBA app supporting fan engagement is expected to continue moving forward. Particularly successful was adding the "Tap To Cheer" functionality to the app marking the first time the league provided a second-screen experience for fans watching games on TV. Fans could virtually cheer their team through the league's mobile app and compete with other team's fans. Said Engelbert, "That real-time data integration not only created more awareness around the WNBA, but it created this competitive atmosphere."
In total, 140 million taps occurred during the 2020 WNBA season, and the gamification feature helped drive an 85 percent increase year-over-year in average weekly mobile app downloads.
"The second screen experience is going to be something we all are going to have to live with going forward and innovate around," said Engelbert, who joined the WNBA in May 2019 after a long career at Deloitte.
Engelbert noted that Nielsen data shows almost 80 percent of consumers between the ages 18 to 24 use their mobile device while watching TV, and that figure drops only 60 percent for those between the ages of 35 to 49. Engelbert said, "This is something that innovation will carry through and pay dividends as we go forward."
WWE was forced to cancel its primary event this year, WrestleMania, set to take place at Raymond James Stadium in Tampa, FL in front of 80,000 fans the first week of April. The organization, which produces content on a year-round basis, tried to bring back events without fans in attendance with piped-in crowd-noise audio but found that was far from enough, said McMahon.
WWE instead partnered with The Famous Group to bring nearly 1,000 fans virtually into the arena live. Said McMahon, "We have it set up in around so it's multiple levels deep, and it does feel like the audience is there. And I've had the opportunity to perform and be a part of the show, and it does feel so much better than having an empty arena because, as we all know in sports, our fans are critical. Their reactions are critical."
WWE experimented with virtual reality and the AR app Pyro to enhance the viewing experience. WWE's broadcasts were also able to feature two drone cameras that the league hadn't been able to use before because of the risk to in-person crowds.
"We're learning a ton," said McMahon. "And we did start mixing audio and piping that in real crowd reactions, and it has been a tremendous additive value. It did bring the spectacle back to WWE. It brought our fans back to WWE, and we feel alive again."
Bettman said 89 percent of the NHL's games in the 2019/20 season were over when the pandemic paused play in mid-March. The priority in bringing back games was player safety.
A Return To Play format was created to support the playoffs with a play-in round for teams close to contention. The league used a "bubble" format with games played at two sites – Toronto and Edmonton – because, at the time, those two locations were the safest major cities in North America, said Bettman. Across two-and-a-half months of play in the bubble format, the NHL conducted 33,000 COVID-19 tests and not one positive case for players.
For viewership, the NHL put tarps over seats, used extra videoboards and piped-in background noise "to give you a din that made it feel like a real game." For fans, Bettman found that "after the first game, you didn't even notice it."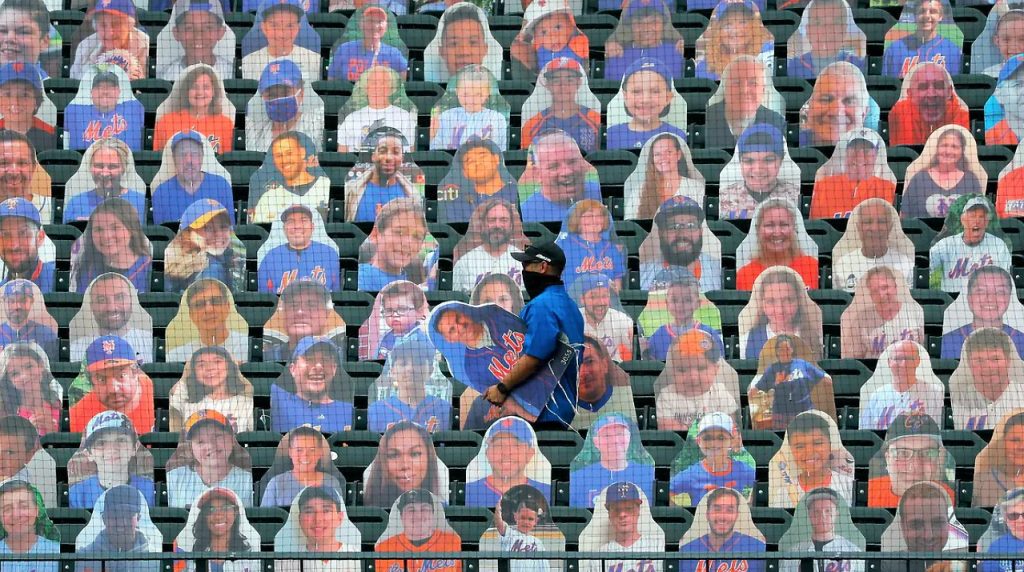 At the same time, the NHL reached out to keep fans engaged across every digital platform. Viewership was also enhanced by adding more cameras and more camera angles than used previously because the league didn't want to block fan views.
The NHL also introduced the Puck And Player tracking system set to roll out for the playoffs. The design features sensors embedded in game pucks and the stitching of players' jerseys. Arena cameras detect movement captured by the sensors with the data used to fuel in-game statistics for broadcasts and highlight aspects such as a player's top speed, shift distance and total distance traveled.
Bettman said Puck And Player tracking has allowed the league to "create more data and a more connected experience, especially for young fans, so they feel a part of the game, even in the absence of fans in the building."
Bettman also joked that a final benefit of not being able to have fans in attendance is that he "got to present the Stanley Cup without getting booed, which I thought was a pretty good innovation."
A separate session at CES 2021, "Tech-Driven Solutions for Fan Safety and Engagement," featured Natara Holloway, VP, business operations & strategy, football operations, NFL; and Russ Simons, chief listening officer, Venue Solutions Group, a consultancy specializing in stadium and arena operations. The session, in part, focused on bringing fans safely back to games in person. The NFL has been able to bring fans back in a limited capacity.
Simons said sanitation and hygiene were a priority for stadiums pre-COVID-19 but are now at a higher standard due to the pandemic and expected to remain post-COVID-19. For example, he suspects using UVC lighting to sanitize escalator handrails or incorporated in HVAC systems will become a routine sanitation step.
"Anything that we incorporate in this in the future is going to be an expectation of our guests," said Simmons. "And it's going to make us better at what we do. No one is going to be disappointed in the fact that we are cleaner, safer and more sanitary."
Simons also said the crisis had forced stadium and arena operators to understand better and control how fans navigate a facility.
Holloway said while a more significant focus on ingress, egress, and how to space fans out in the stadium is being addressed for safety reasons, it will improve a fan's overall experience.
"When we get that right, I think you're going to be able to address the safety and health perspective, but also the actual engagement perspective," said Holloway. "Part of the challenge around people coming to stadiums is they don't want to wait in lines."
Holloway believes solutions may finally be found for lines related to parking, the bathroom, food, and entering and existing. Many solutions stem from mobile devices, whether ordering food from seats or potentially joining virtual waitlists for the restroom. Contactless payments and grab & go options are also expected to help speed food lines and support fan safety in the near term.
Holloway also touched on lessons learns from engaging with "virtual fans" over the season, pointing to the success of the NFL's first virtual draft. The event was called by NFL commissioner Roger Goodell from his "man cave" at his home with virtual visits to top draftees' homes.
She said, "What was so exciting was to see the prospects be that fan as well when you were invited into their homes. And now you're going to see that go forward when we have live events."
Holloway believes, "I think what we're going to see come out of this is increased access, and that's special for sports, period."
Photos courtesy Getty, AP