By Eugene Buchanan
Stand-up paddleboarders (SUP) are hitting the water in — well — waves, resulting in a boom for the SUP industry during COVID-19.
Leading the surge are inflatables, which — with improved drop-stitch technology, or internal threads, enhancing rigidity — are stable, don't get dinged-up on rocks and roll up for easy storage back home.
Like paddling out from a dock, sales didn't get up to speed right away. But once the summer kicked in, and people got tired of being cooped up inside during the lockdown, sales rose with the temperature.
"At first, COVID-19 caused a wave of order cancellations that broke our shipping cycle," said Peter Hall, president of Colorado-based SUP maker Hala Gear. "We got delayed by about two and a half months. But then we saw the best demand cycle we've ever seen. It's the same reason everyone's been buying bikes — people want to get outside and find their own island, and SUPs are perfect for that."
One of their main attributes, Hall added, is that they're user-friendly and entry-level, but let you escape outside simply. "They allow you to get out in the middle of nowhere pretty easily," he said. "And a lot of people are looking for that kind of serenity right now."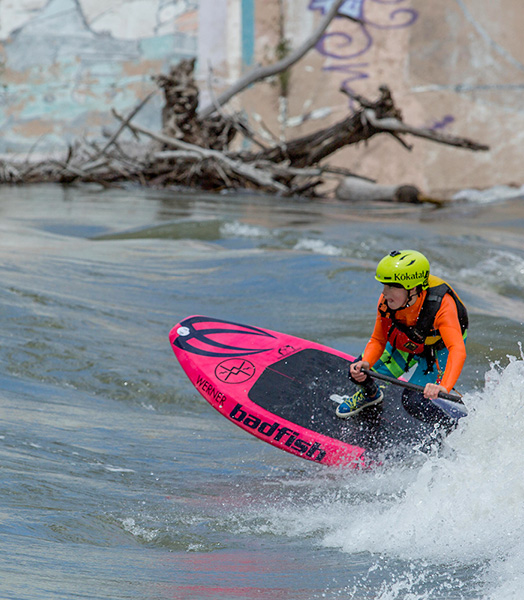 What's been surprising in wake of COVID-19, he added, is the speed at which shelves have emptied. "It's been amazing," he said. "We hit the inventory ceiling every year, but this year it came faster than ever. We've also had more web sales than we've ever seen."
Helping was a new program where they drop-shipped boards to customers from any dealer around the nation. "It helps both the customer and the dealer," he said. 'The program has shipping direct to our dealers' customers, with the dealers still getting their margins."
Other manufacturers report similar findings.
"It's been sheer insanity," added Mike Harvey of Colorado SUP-maker BadFish. "Everyone canceled in March and April, but then it turned on April 30, and there's still demand. Normally, we're way into our taper by now, but it's still crazy."
Harvey added that the company has a container of 530 SUPs arriving at the end of August "and they're 100 percent pre-sold."
"Nowhere in our business plan would we order boards to show up in August — it's not a good strategy," he said, adding that 90 percent of their sales have been in inflatables. "But we have two more containers coming this year as well. It's shaping up to be a record season."
And everything is moving, he added, with all-rounders leading the surge.
Even Canadian manufacturers are enjoying the uptick. "Our inflatable SUP sales took off this year," said Kevin Cook of Canada's Level Six. "Once restrictions started to lift, our phone rang off the hook. We're completely sold out and have pre-sold everything we've been able to make."
The drawback, he added, is leaving money on the table. "If we were able to predict this, we could have sold hundreds more, but our production got put on hold, and we didn't expect this demand," he said.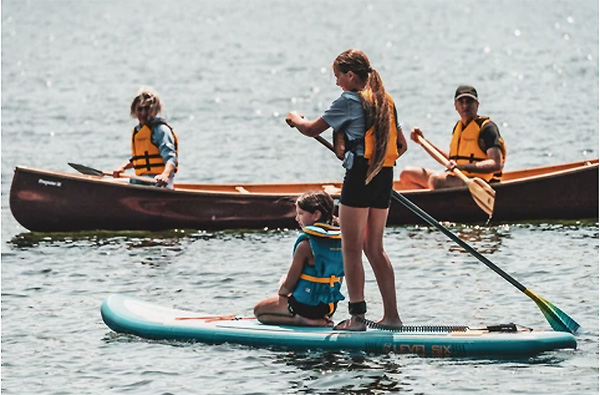 Hall agreed, adding inventory control was the main adversary. "We have more inventory coming in now, which is great, but this year was definitely late and lean on the supply side," he said. "We had to delay payments to get raw materials in motion. But our forecasting was correct. We already knew the demand was there, we just couldn't inventory properly."
Like eyeing an unobstructed line ahead on a river, the key now is forecasting where things will go next spring. And most are anticipating the wave to continue.
"We're betting COVID doesn't miraculously resolve itself," said BadFish's Harvey. "But even if it does, we're thinking this is the new baseline. Like a ball rolling downhill, once you have a surge in interest, you're building from there. And, I think, it will extend across a variety of outdoor sports."
Cook said Level Six also expects to see the sales momentum continue into next spring and that they're planning accordingly — especially when it comes to inflatable SUPs. "Our inflatable sales have been growing year-over-year compared to hard boards, which have started to flatten out," he said. "And this year especially."
Photos courtesy Hala Gear, BadFish, Level Six