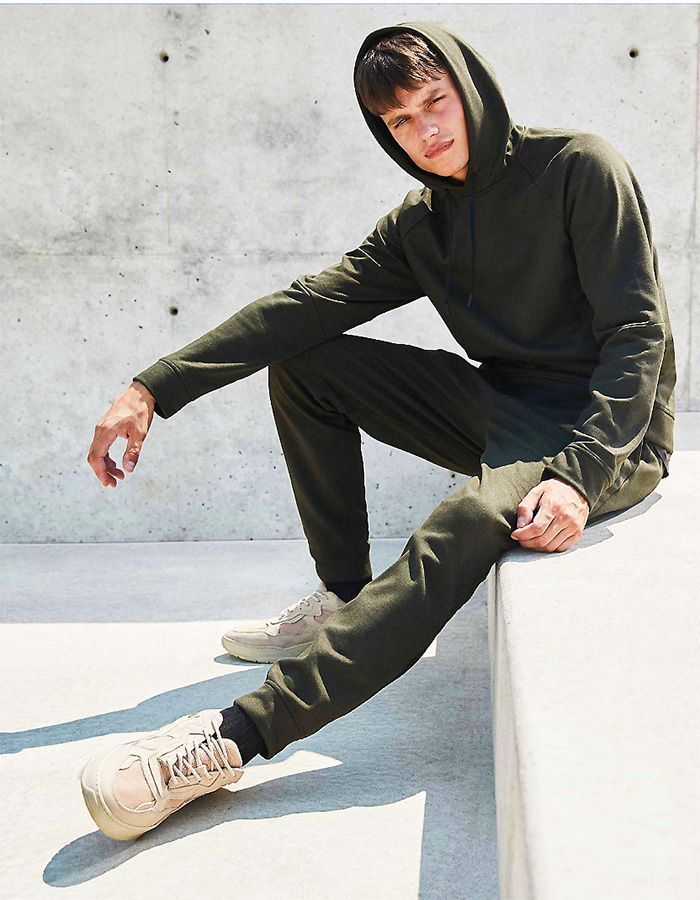 Lululemon, Under Armour and Adidas led a number of major players in the sporting goods sector generating robust stock gains in the first half of 2019. Overall, 58 percent of the 77 industry stocks covered by SGB Executive posted gains.
Lululemon, which last month delivered first-quarter earnings that again surpassed Wall Street's targets while showing a 14.4 percent comp gain, saw the company's stock price run ahead 48.2 percent in the first six months on top of a 54.7 percent hike in 2018.
Under Armour, which has shown further stabilization in the brand's business, added 43.5 percent in the first half after recovering 22.5 percent in 2018.
Adidas vaulted 47.8 percent in the first six months after climbing only 6 percent last year due to concerns over slowing growth.
Clarus Corp., up 42.7 percent, and Deckers Brands, ahead 37.5 percent, were among other industry stocks adding to healthy gains in the prior year.
Among those bouncing back from stock declines in 2018 in the first half were Skechers, GoPro, Gildan Activewear, Hibbett Sports and Hanesbrands. VF Corp. tacked on 22.4 percent after losing 1.3 percent in 2018.
Nike and Dick's Sporting Goods moved ahead largely in line with broader market averages. Shares of Columbia Sportswear gained 19.1 percent against an 18.2 percent lift in 2018.
Among the declining issues in the first half were several stocks in the challenged department store and hunting spaces. Off-price shoe chains also lost ground. The steepest decline was seen by Nautilus, which collapsed 79.7 percent after the company's CEO exited and advertising missteps waylayed Q1 revenues in Nautilus' direct segment. Other notable declines in the half included Canada Goose, Foot Locker, Newell Brands, and Big 5 Sporting Goods.
All three of the major indexes were up in the six months and trading close to their all-time high. The broader market saw a bounce in June on encouraging remarks from the Federal Reserve after facing pressure in the prior months due to trade concerns.
In the six months, the S&P 500 climbed 17 percent, the Dow Jones Industrial Average rose 14 percent and the technology-heavy Nasdaq Composite Index jumped 20 percent.
| | | | | |
| --- | --- | --- | --- | --- |
| Company | Symbol | June 18, 2019 | Dec 28, 2018 | Percentage Change |
| Iconix Brand Group, Inc.  | ICON | $0.85 | $0.08 | 962.50% |
| Boot Barn Holdings, Inc. | BOOT | $35.64 | $17.03 | 109.28% |
| Phoenix Footwear Group, Inc. | PXFG | $0.20 | $0.10 | 100.50% |
| Winnebago Industries, Inc. | WGO | $38.65 | $24.21 | 59.64% |
| Lululemon Athletica, Inc. | LULU | $180.21 | $121.61 | 48.19% |
| Adidas AG | ADDYY | $154.21 | $104.34 | 47.80% |
| Under Armour, Inc. | UAA | $25.35 | $17.67 | 43.46% |
| Clarus Corporation | CLAR | $14.44 | $10.12 | 42.69% |
| eBay, Inc. | EBAY | $39.50 | $28.07 | 40.72% |
| Skechers U.S.A., Inc. | SKX | $31.49 | $22.89 | 37.57% |
| Deckers Outdoor Corporation | DECK | $175.97 | $127.95 | 37.53% |
| Hanesbrands, Inc. | HBI | $17.22 | $12.53 | 37.43% |
| Zumiez, Inc. | ZUMZ | $26.10 | $19.17 | 36.15% |
| Delta Apparel, Inc. | DLA | $23.18 | $17.23 | 34.53% |
| Target Corporation | TGT | $86.61 | $66.09 | 31.05% |
| Costco Wholesale Corporation | COST | $264.26 | $203.71 | 29.72% |
| GoPro, Inc. | GPRO | $5.46 | $4.24 | 28.77% |
| Gildan Activewear, Inc. | GIL | $38.68 | $30.36 | 27.40% |
| Hibbett Sports, Inc. | HIBB | $18.20 | $14.30 | 27.27% |
| Johnson Outdoors, Inc. | JOUT | $74.57 | $58.74 | 26.95% |
| Acushnet Holdings Corp. | GOLF | $26.66 | $21.07 | 26.53% |
| Amazon.com, Inc. | AMZN | $1,893.63 | $1,501.97 | 26.08% |
| Garmin Ltd. | GRMN | $79.80 | $63.32 | 26.03% |
| V.F. Corporation | VFC | $87.35 | $71.34 | 22.44% |
| Ross Stores, Inc. | ROST | $99.12 | $83.2 | 19.13% |
| Columbia Sportswear Company | COLM | $100.16 | $84.09 | 19.11% |
| Walmart, Inc. | WMT | $110.49 | $93.15 | 18.62% |
| The TJX Companies, Inc. | TJX | $52.88 | $44.74 | 18.19% |
| SPY, Inc. | XSPY | $0.07 | $0.06 | 13.33% |
| Nike, Inc. | NKE | $83.95 | $74.14 | 13.23% |
| Callaway Golf Company | ELY | $17.16 | $15.30 | 12.16% |
| Dick's Sporting Goods, Inc. | DKS | $34.63 | $31.20 | 10.99% |
| J. C. Penney Company, Inc. | JCP | $1.14 | $1.04 | 9.62% |
| Olin Corporation | OLN | $21.91 | $20.11 | 8.95% |
| Winmark Corp. | WINA | $173.15 | $159.00 | 8.90% |
| Camping World Holdings, Inc. | CWH | $12.42 | $11.47 | 8.28% |
| Canadian Tire Corporation, Ltd. | CTC.TO | $228.00 | $211.10 | 8.01% |
| Amer Sports Corporation | AMEAS.HE | $40.79 | $38.37 | 6.31% |
| Vail Resorts, Inc. | MTN | $223.18 | $210.82 | 5.86% |
| G-III Apparel Group, Ltd. | GIII | $29.42 | $27.89 | 5.49% |
| Rocky Brands, Inc. | RCKY | $27.28 | $26.00 | 4.92% |
| Stage Stores, Inc. | SSI | $0.77 | $0.74 | 4.05% |
| Dillard's, Inc. | DDS | $62.28 | $60.31 | 3.27% |
| Sturm, Ruger & Company, Inc. | RGR | $54.48 | $53.22 | 2.37% |
| PVH Corp. | PVH | $94.64 | $92.95 | 1.82% |
| Escalade, Inc. | ESCA | $11.47 | $11.45 | 0.17% |
| RYU Apparel Inc. | RYUN | $0.19 | $0.19 | -0.32% |
| Helen of Troy | HELE | $130.59 | $131.18 | -0.45% |
| Brunswick Corporation | BC | $45.89 | $46.45 | -1.21% |
| Genesco, Inc. | GCO | $42.29 | $44.30 | -4.54% |
| Weyco Group, Inc. | WEYS | $26.71 | $29.17 | -8.43% |
| DSW, Inc. | DSW | $22.51 | $24.70 | -8.87% |
| Emerald Expositions Events, Inc. | EEX | $11.15 | $12.34 | -9.64% |
| Canada Goose Holdings, Inc. | GOOS | $38.73 | $43.72 | -11.41% |
| Fitbit, Inc. | FIT | $4.40 | $4.97 | -11.47% |
| Wolverine World Wide, Inc. | WWW | $27.54 | $31.89 | -13.64% |
| Sportsman's Warehouse Holdings, Inc. | SPWH | $3.78 | $4.38 | -13.70% |
| Apex Global Brands (Cherokee) | APEX | $0.42 | $0.50 | -16.00% |
| Newell Brands, Inc. | NWL | $15.42 | $18.59 | -17.05% |
| Shoe Carnival, Inc. | SCVL | $27.60 | $33.51 | -17.64% |
| Unifi, Inc. | UFI | $18.17 | $22.84 | -20.45% |
| Foot Locker, Inc. | FL | $41.92 | $53.20 | -21.20% |
| Vista Outdoor, Inc. | VSTO | $8.88 | $11.35 | -21.76% |
| Designer Brands (DSW) | DBI | $19.17 | $24.70 | -22.39% |
| Crocs, Inc. | CROX | $19.75 | $25.98 | -23.98% |
| Big 5 Sporting Goods Corporation | BGFV | $1.95 | $2.59 | -24.71% |
| Gaia, Inc. | GAIA | $7.58 | $10.36 | -26.83% |
| Macy's, Inc. | M | $21.40 | $29.78 | -28.14% |
| Kohl's Corporation | KSS | $47.55 | $66.34 | -28.32% |
| Caleres, Inc. | CAL | $19.92 | $27.83 | -28.42% |
| Tilly's, Inc. | TLYS | $7.63 | $10.86 | -29.74% |
| American Outdoor Brands Corporation | AOBC | $9.01 | $12.86 | -29.94% |
| The Gap, Inc. | GPS | $17.97 | $25.76 | -30.24% |
| Sequential Brands Group, Inc. | SQBG | $0.55 | $0.80 | -31.25% |
| Nordstrom, Inc. | JWN | $31.86 | $46.61 | -31.65% |
| Dorel Industries, Inc. | DII-B.TO | $10.61 | $17.64 | -39.85% |
| Duluth Holdings, Inc. | DLTH | $13.59 | $25.23 | -46.14% |
| Nautilus, Inc. | NLS | $2.21 | $10.90 | -79.72% |
Photos courtesy Lululemon