Climb-On's comprehensive maps of popular climbing spots are waterproof, tear-proof and complement area guidebooks and Mountain Project.
Writer: Carly Terwilliger
Climb-On Maps is in the midst of a Kickstarter campaign for its first run of trail maps showing approaches and walk-offs to climbs in Red Rock Canyon, NV; Joshua Tree, CA; and Smith Rock, OR.
Husband-and-wife founders Stefani Dawn and Rick Momsen (pictured above) left their jobs a year ago to begin full-time mapping of climbing areas.
Momsen boasts nearly 20 years in the mapping industry as a Geographic Information Specialist (GIS). A rock climber since 2005, he is responsible for translating the GPS and terrain data into a visually intuitive and usable map.
Dawn, among a myriad of other skills, is a climbing writer and the creator of the Common Climber website. She manages the social media and business side and also supports the graphic design of the maps in partnership with Bob Deck Graphic Design.
With more areas to come, the inaugural round of maps provides the difficulty level, locations of exposure, potential severity of injury and comprehensive route statistics for each wall showing the total number of climbs and distribution of sport, traditional and top rope as well as distribution of route grade. Labeled orientation photos assist with navigation at confusion points.
We asked the founders of Climb-On about why crushers deserve better, more detailed maps.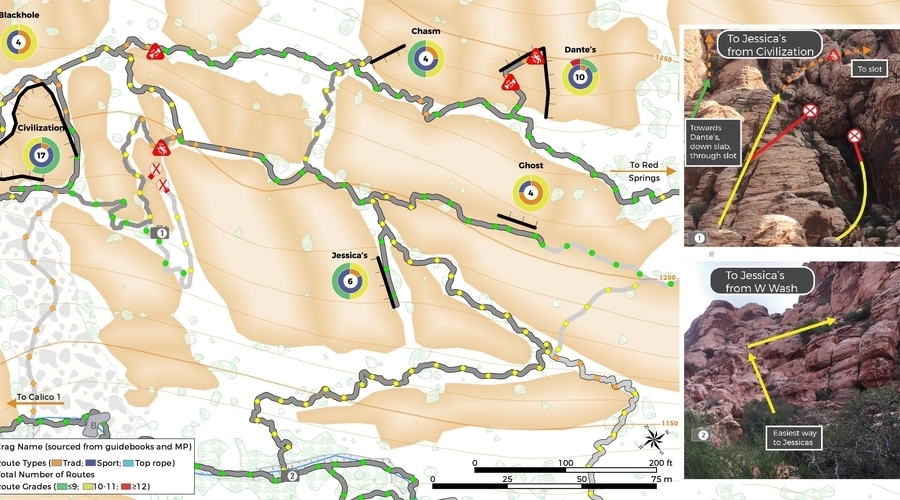 Mountain Project and guidebooks have maps and GPS coordinates. Why should I get a Climb-On map? Mountain Project and guidebooks primarily focus on the climbs rather than how to get to the climbs. And unless a helicopter is dropping you off, GPS coordinates provide no information on how to get from point A to B – there may be a mountain, cliff, or canyon in the way.
With respect to directions to a climb, Mountain Project is quite incomplete and often inaccurate. Although guidebooks have maps, they are small scale and generalized. Climb-On Maps are the only product available that clearly show you how to get to a climb, get off a climb, and get to climbs on nearby walls.
When mapping, we follow guidebook and MP directions on a daily basis and end up on the wrong path multiple times a day. We figure many people are making the same mistakes, so we note common errors on the maps so they can be avoided.
Climbers are notoriously thrifty. Why should I spend money on a map? Time is money. You spend the money to get to a climbing area and if you waste hours looking for a climb, you have wasted your money. Think about how many hours of work it took you to be able to pay for the trip you are on.
By having an accurate, detailed map you will save time, money and frustration. We go to someplace like Red Rocks, Joshua Tree or Smith Rocks to climb, not wander lost. Since Climb-On Maps are waterproof and tear-proof, they will also last for many years. Buy once, use for years to come.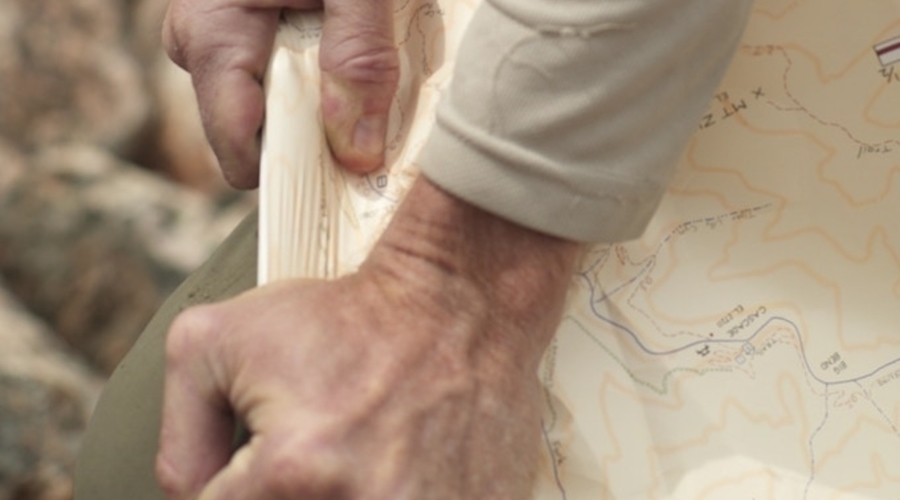 How do you make the maps? We walk it. Nearly every square inch of trail you see on the maps we walked it – and then some. We estimate that to date, we have walked upwards of 1,000 miles to create these maps, and these aren't just flat easy trail miles. Many are steep, burly, physical, heavily vegetated (with lots of thorns) and sometimes really scary.
Then many, many hours are spent processing the data, labeling photos and creating the crag statistics that go onto the maps. But it doesn't stop there. We share the maps with community members and the relevant park service officials to obtain feedback and input. We apply that feedback to refine the maps making them a much better product. We are proud of what we have produced.
How are Climb-On Maps different from other maps? We use zoomed in scales that help you navigate through complex mountains and canyons. We use labeled photos, from the ground, to help you visually orient yourself in a confusing area. We tell you the difficulty level of a trail. Will you have to deal with steep scree or difficult boulder-hopping or dangerous exposure? Our maps let you know because we have walked every trail and mapped it with our accurate, sub-meter GPS units. We don't just trace lines over a satellite or topographical image. Our maps include the most important terrain features and remove the clutter to keep you on track.