Sales of Sport Footwear sold at industry retail rose 7.3 percent in dollars and 9 percent in units during the 13-week, fiscal spring 2016 quarter (January 31-April 30), according to SSI Data*, but average selling prices dipped 1.5 percent.
The continued active-lifestyle/fashion footwear trend helped boost sales, along with higher promotional activity in the face of several sporting goods and outdoor retail bankruptcies and going-out-of-business sales.
But those positives were a double-edged sword as the lifestyle/fashion trend further cut into higher priced performance footwear sales (particularly in running and basketball) and overall discount pricing lowered average sale prices.

Running Footwear sales remained the largest volume category during the fiscal first quarter, contributing 32 percent of total sales. Sales increased 3.2 percent on the strength of Fashion Running styles increasing in the mid 20s for the period. Performance Running footwear decreased in the mid-teens.
Casual Athletic Footwear sales moved into the number two category spot, having the largest sales improvement, as sales increased in the low 20s during the fiscal first quarter. Lifestyle Fashion and Classic styles drove the category.
"Brands continue to capitalize on the Athletic Lifestyle fashion trend, updating colors and styles while providing comfort," noted Andy Annunziata, vice president and senior softlines analyst for SSI Data. "Classic styles with new color and material twists added a reason to purchase", he said.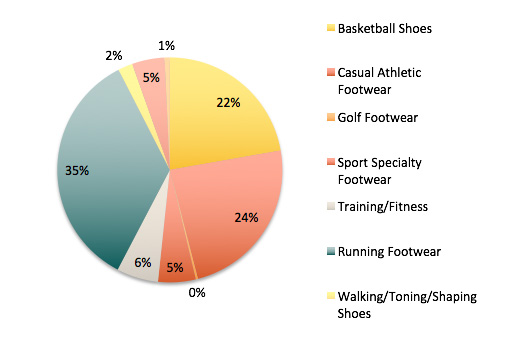 Basketball Footwear sales slipped to the number three spot despite sales improving by the mid-single digits for fiscal first quarter. Fashion Basketball styles were strong during the early part of the quarter with new launches around the NBA All-Star game leading to a mid-single digit improvement for the period. Performance and Value Style sales declined in the high-single digits as sales moved to Casual Athletic and Classic.
Rugged Casual/Urban Boot sales improved by strong double-digits during the fiscal first quarter as Timberland premium boots turned in strong sales, as did Nike's ACG styles. "Fashion Pac Boots outperformed Shearling Boots as the new go-to women's fashion style," Annunziata noted.
Sandals improved in the high-single digits during the period, which was much more seasonable versus last year's unseasonable cold and wet spring across much of the country.
Men's and Kids Sport Footwear sales growth slightly outpaced Women's — growing in the mid-teens, versus the low-teens for the latter.
Sport Footwear sales by retail channel in the fiscal first quarter showed their strongest gains at Family Footwear stores — up 14.5 percent, fueled by a 20 percent increase in Casual Athletic Footwear sales — followed by the Internet channel, up 11 percent; the Athletic Specialty/Sporting Goods channel up 6.3 percent; and the Specialty Store channel down 2.9 percent. The latter's decline largely came from a 15 percent drop in sales from Running Specialty stores, versus a 5.8 percent gain from Chain Specialty and a 4.6-percent gain from Sport Specialty stores.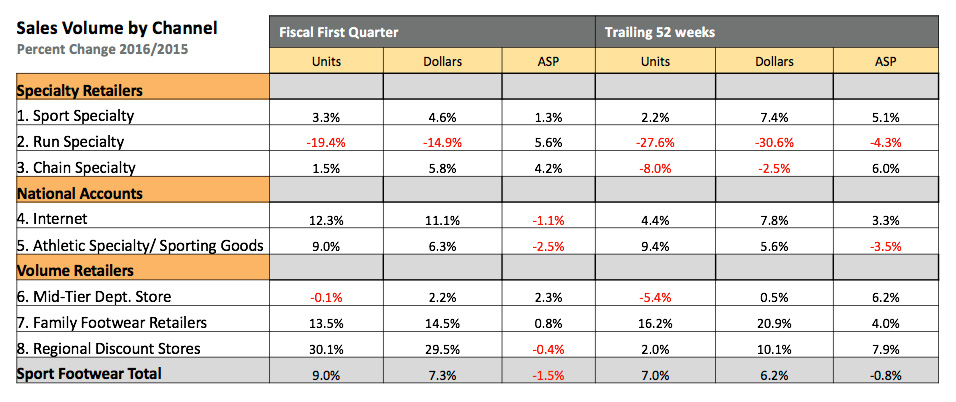 As for brand market share, Nike continued its hold on the Sport Footwear space during the fiscal first quarter, but despite seeing its retail sales rise 4.2 percent, it slipped 120 basis points in market share to 40.9 percent. Jordan Brand (owned by Nike, but tracked as a separate brand), came in at the number two spot with 15.7 percent market share (up 90 basis points on a 14 percent rise in sales), and Adidas came in at number three with 6.2 percent market share (up 110 basis points on a 31.2 percent increase in sales). Skechers, Under Armour, Asics, Converse, New Balance, Merrell and Brooks, rounded out the top 10 brands in that order, commanding 5 percent or less market share of Sport Footwear during the fiscal first quarter.
Looking ahead, SSI Data's Annunziata said "fiscal second-quarter 2016 outlook is uncertain as both retailers and wholesalers try to figure out what will happen as retailers run going-out-of-business sales." Sales might again increase, he noted, but to expect lower average retail prices in the promotional environment.
"On a positive note," Annunziata added, "as the athletic lifestyle trend continues and consumer fashion trends shift, there will be a need to replace last year's model and brands are giving us some great new product and fashion updates to classic styles. Also encouraging, brands likely will have plenty of new technologies and marketing dollars heading into the Summer Olympics."
*SSI Data, powered by SportsOneSource, collects and analyzes POS data from more than 20,000 retail doors across nine channels of distribution. To learn more contact Ben Pickel, Sports & Fitness Category Manager, SSI Data | SportsOneSource at 303.997.7302 or email bpickel@sportsonesource.com.
Photo courtesy Adidas; Charts courtesy SSI Data.