Spyder has been a little bit silent of late, but behind the scenes, there have been exciting things happening especially in Freeski. Unveiling their reintroduced Freeski line, on hiatus for almost a decade, at OR last month, we spoke with Maddie Baker, Freeski Brand Manager, pictured below left, to learn why Spyder walked away from the category and why the brand feels so good to be back as a player in the space.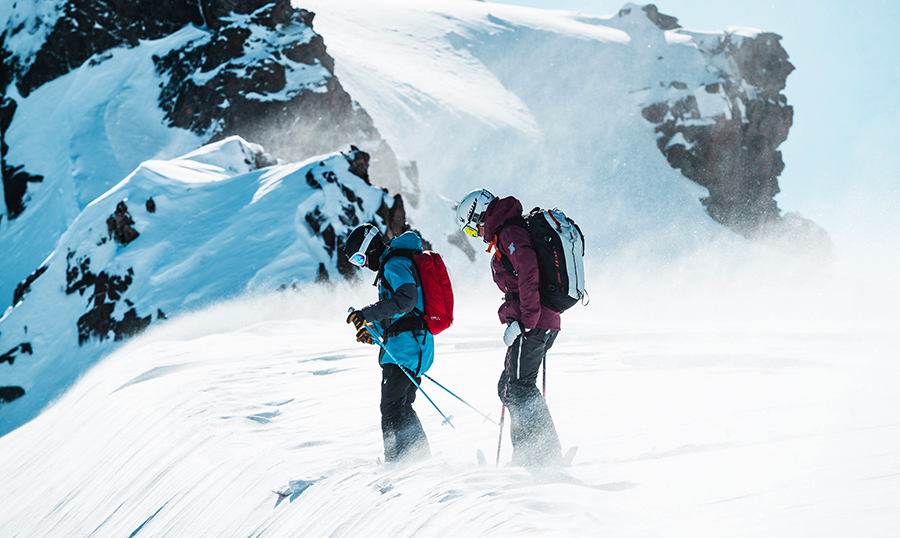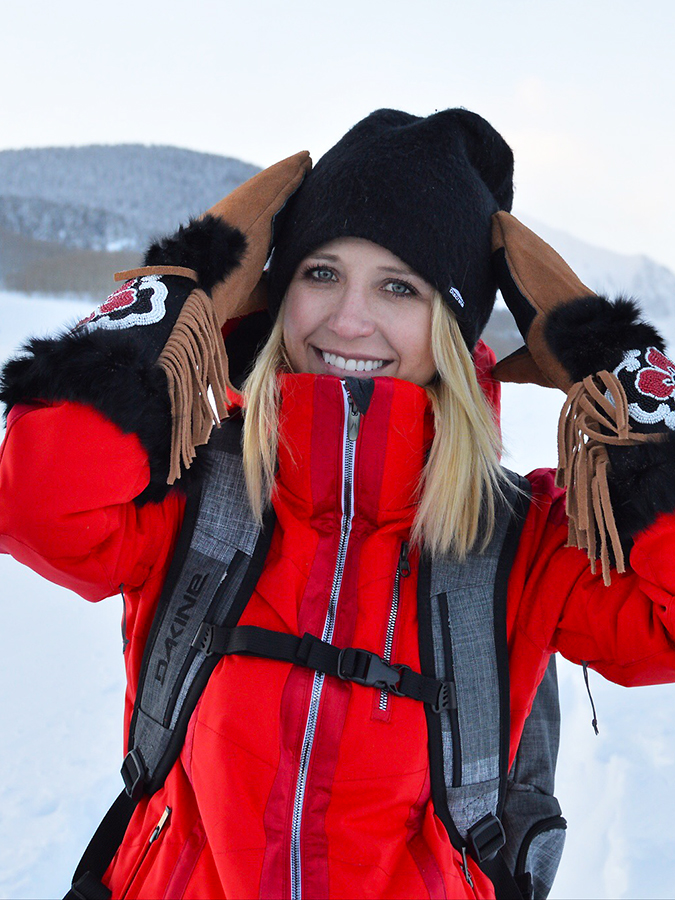 For us, Spyder has always been a leading player in the ski resort industry. We've held our ground with kids under 10 and adults over 40. Also, that's been a primary focus and an excellent business for us especially with our partnership with GoreTex coming on this season. However, we realized that we've been missing the 11-to 35-year-old consumer and similarly where we played previously and had a firm hold on that market.
Ten years ago we walked away from the Freeski space. It wasn't a priority focus for us, and we turned our attention elsewhere. However, Spyder Is Skiing, and we decided to get back to our roots, gain market share again and in doing so, re-entered the Freeski space in 2019. It was a perfect time and the ideal place and the message we conveyed at OR last month. We're back, and we're excited to be present and be a force in the Freeski space.
With our partnership with Gore-Tex and introducing six new athletes to the Spyder team, we're here to make a purposeful product with passionate people again. At OR we showed next level gear for the backcountry with great fabrics and great fit. For consumers who haven't considered Spyder from ages 11-to-35, it's gear they'll want to try.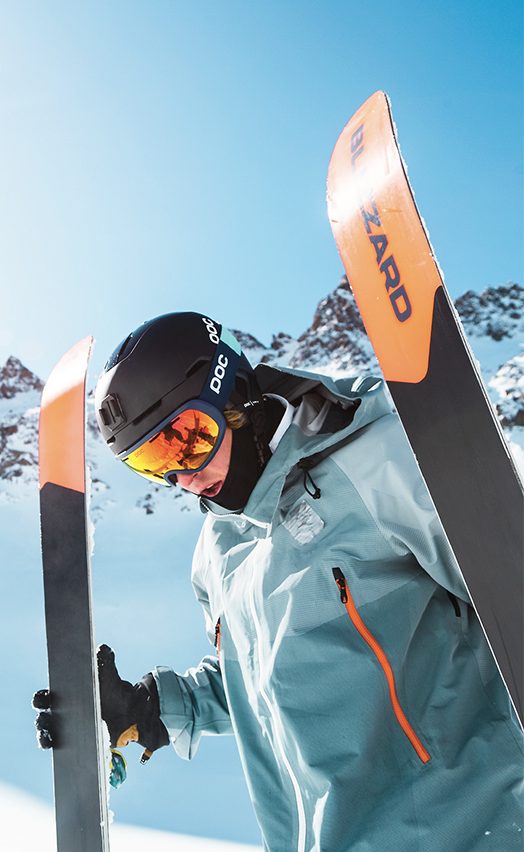 Our alpine consumer has been loyal to us, and we're excited to show them our latest innovations for 2019, but adding the Freeski category brings on a new group of people, and speaking with them in a relatable way.
The Freeski collection was created in partnership with our ambassador athletes. They came to us and said that they were tired of being wet and cold all of the time. Because of our innovative technology, we were able to design a collection that met the demands of the elite athlete and consumer in the category.
The best fabrics from Gore-Tex, Primaloft, and Avra were used throughout, and all of our Freeski athletes had a say in the line. That's what's important to us, that they can show up to do their jobs on the mountain and say 'I just wasn't handed product to wear for the year, I had a part in creating the product.' Now it's more meaning for each of our athletes to wear Spyder product. And it had to be a collaboration between not only our partners, our athletes but also our design team to bring the line to life.
In total, there are 35 Freeski products in the 2019 collection. We received two ISPO Gold Awards this year for the men's Eiger GTX Shell Jacket and Nordwand GTX Shell Pant for our fabric technology story that we've been working on for two years with GoreTex.
Our Alpine product fits a specific consumer while our big mountain and Park-N-Pike lines are athlete driven. From day one they worked with our design team in understanding what kind of trends, technologies, and features they needed in the clothing that they wear, and nailed it right away.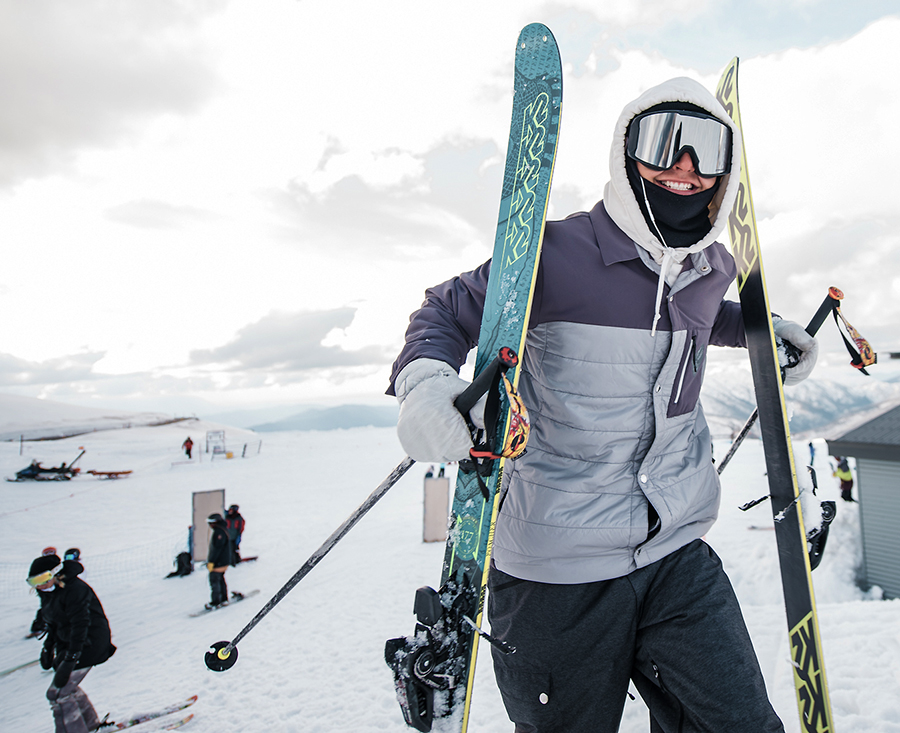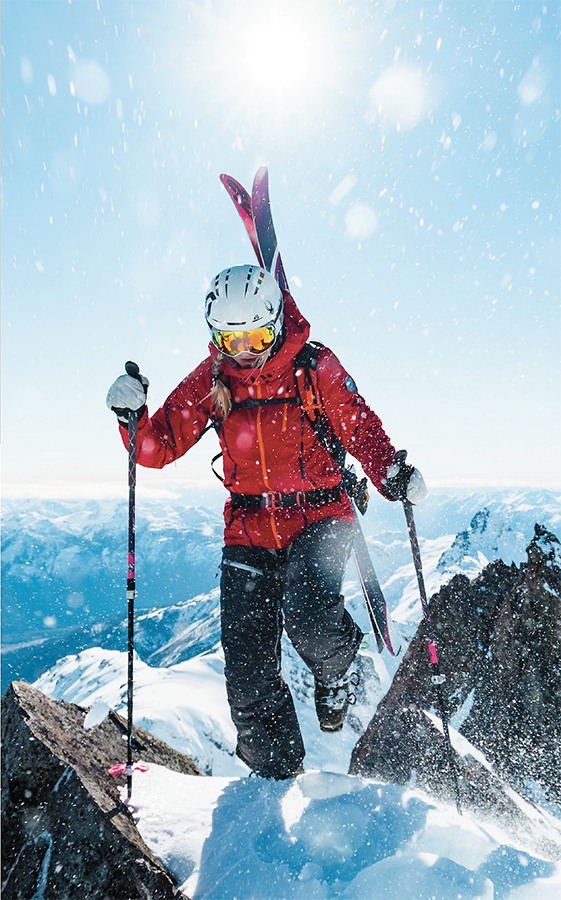 We used GoreTex, PrimaLoft, and Avra fabrics in the entire Freeski collection and all of the technology was brought over from our Alpine collection for the athlete and consumer.
To shout out the highlights of the Freeski collection, we're most proud of the Ispo Gold Awards we received this year. The fabric is engineered, woven together with less waste, and more eco-friendly. The construction is both durable while breathable, keeps you warm and dry, and allows you to dump heat when you need to and to have a perfect day at the resort or touring the backcountry.
In collaboration with Gore-Tex, Spyder developed for the Freeski a 3L Gore fabric. So where you see color blocking in the designs, that is one piece of cloth. We call it engineered color blocked jacquard fabric and proprietary to Spyder. The Gore-Tex fabric has different densities depending on where it is on the jacket — similar to athletic socks. The anatomy of the fabric is an engineered polyester treatment layered with Gore-Tex laminate, similar to GoreTex pro-shell but does much more.
In addition to the engineered fabric, we strategically integrated Topo fabric, an extremely flexible structure where strategic areas are placed to give athletes more stretch in the areas that are needed most.
Our designers have been working with our ambassador athletes for two years on the Freeski collection and to see it come to life, is unique for them and for us. We feel good coming back into the market in a big way to play again in the Freeski space. We know how to do it, and we're just realigning to what we know how to do best. Photos courtesy Spyder