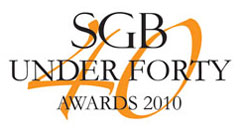 The weekend in South Beach Miami to honor this year's SGB 40 Under 40 recipients had the energy, excitement, and enthusiasm one would expect when pulling this many high achievers together in one place at the same time, but the weekend also offered some great surprises for those in attendance at the event May 21-23. This one will be talked about for some time.

The weekend event, which kicked off with a roof-top pool welcome reception on Friday evening, also offered attendees and honorees options for beach activities, golf, or a little work through a tour of South Beach retail on Lincoln Road with SportsOneSource Chief Retail Analyst Matt Powell and SVP Business Development Manager Al Tunstall. Retailers in attendance found new ideas to bring product to life at their stores and build excitement, while the vendors took advantage of the event to build new relationships with retailers in the market and obtain new perspectives on key market trends.

The Saturday awards banquet cruise, which featured great networking and helped build new friendships and business relationships, also featured a surprise when one award recipient took the opportunity of the event to propose marriage to his girlfriend, a move that resulted in a standing ovation from the record crowd — and a 'yes.'

"This year's event is going to be tough to top," said SportsOneSource President and CEO James Hartford. "The award recipients are what we all expect — the best at what they do. With that comes great personal and relationship-building skills and the ability to engage everyone in the room. We knew instantly that there was more than a few future CEO's in the room."

The awards banquet also featured a presentation by long-time industry veteran and future hall-of-famer Rusty Saunders, who enrolled the audience in the Get in the Game program (www.GetInTheGameCareers.org), an initiative started two years ago to communicate the benefits of a sporting goods industry career to college students. Sporting goods industry veterans such as Keven Plank, Matt Powell, Scott Carey, Julie Nimmons, Todd Vore, Tom Cove and many others have made dozens of presentations to universities and B-schools. Many of the 40 Under 40 honorees have already joined the volunteer effort to engage the next generation of industry professionals.

In a surprise move, Mr. Saunders was named an Honorary SGB 40 Under 40 recipient for his tireless work in developing a pathway for college students to get involved in the sporting goods industry and his ongoing work with the trade in creating better educational events and training opportunities for younger industry professionals.

This year, the event was been expanded to a full weekend and was open to other industry professionals, friends and peers to help honor the recipients.

"This year was the first year we held the SGB 40 Under 40 Awards as a stand-alone event," said Hartford. "We doubled attendance by both recipients and others interested in honoring the new class — including past 40 Under 40 honorees."

The 2010 Honorees:




Brian Anderson, President, EB Sport Group

Sutton Bacon, President & CEO, Nantahala Outdoor Center

Jason Borg, National Accounts Manager, Escalade Sports

Jim BelBruno, VP Marketing, Mattingly Sports

Robert Coughlin, VP Sales, High Sierra Sport Company

Dana Davis, General Manager, Summit Hut

Angela Dominick, Buyer – Women's Footwear, Dicks Sporting Goods

John Fahnestock, Buyer- Baseball, Dick's Sporting Goods

Robyn Goby, Director of Marketing and Communication, Fleet Feet, Inc.

Evan Greenberg, Corporate VP, Efinger Sporting Goods

Jeff Gruenhut, Partner, Formula4 Media

Seth Hochberg, Sr. Product Manager, Franklin Sports

Seth Horowitz, President, Modell's Sporting Goods

Ronnie Jefferson, DMM — Lifestyle Footwear, Finish Line

Neal Klein, Director of Sales, Aloe Up

Todd Krinsky, VP, Sports and Entertainment Marketing, Reebok International

Brent Lamm, Product Manager – Footwear and Apparel, Performance Bicycle Inc.

Jonathan Lantz, President, La Sportiva N.A.

Jill Layfield, VP Product Development, Backcountry.com

Thac Lecong, General Merchandise Manager, Frontrunners/LA

Jason Levinthal, Rebel Command, Line Skis/Full Tilt Ski Boots

Katrin Ley, VP Brand Strategy, Business Development, Reebok

Jason Lutz, Founder, Sneaker Villa

Andrew Martin, Director Investment Banking, RW Baird

Michael McAbee, VP of Planning, Hibbett Sports

Andrew McLellan, Director of Information Systems, Arcteryx

Marshall Merriam, Footwear Buyer, Eastern Mountain Sports

Denise Miller, VP Sales and Marketing, Otis Technology

Sarah Robb O'Hagan, Chief Marketing Officer, Gatorade div of Pepsico

Christopher Peake, Senior Buyer, Zappos.com

Clint Pierce, VP Apparel, The Sports Authority

Daniella Reichstetter, Founder and CEO, Gyrobike

Parks Robinson, Owner/General Manager, Fit 2 Run

Ryan Samuelson, Director of Licensing, Major League Baseball Properties

Nate Simmons, Partner, Global Director of Marketing, Backbone Media, Polartec

Dan Sullivan, VP Footwear, Saucony

Christopher Svezia, Senior Analyst, Susquehanna Financial

Craig Throne, VP Marketing, Outdoor Group/Wolverine WorldWide

Jon Vacca, VP Customer Relations & Credit, Puma North America

Kris Versteegen, Director Specialty Business, The SportsOneSource Group
SportsOneSource is expanding the weekend event in 2011 to a three-day leadership development program that will include speakers, educational sessions and presentations by previous recipients and current industry executives.
For more information on next year's awards ceremony, advertising sponsorship, or to request tickets, contact Joy Matheny at 704.987.3450 x107 or e-mail Joy at:
Under40@sportsonesource.com
. Nominations for the 2011 SGB 40 Under 40 Awards will open in August 2010.