Sportsman's Warehouse's earnings vaulted in the second quarter as sales jumped 79 percent on significant increases in firearms, ammunition, fishing, and camping. The performance benefited from market share gains, a surge in outdoor participation and civil disorder.
"Quite simply, demand outstripped supply for many of our products," said Jon Barker, CEO, on a conference call with analysts. "Although we are not satisfied with our current inventory levels, we believe, based on our market share gains, that in most cases, we are better positioned than our competition, which is a testament to our team's planning, processes and vendor relationships."
Sales reached $381.0 million, compared to $211.8 million in the second quarter of 2019. Same-store sales jumped 61 percent in the quarter, led by firearms and ammunition, which increased 123 percent and 75 percent, respectively. Camping and fishing also had strong quarters, increasing over the prior-year period by 46 percent and 45 percent, respectively. Footwear and apparel were up 30 percent and 19 percent, respectively, all on a same-store basis.
Net income reached $32.5 million, or 75 cents a share, climbing over five-fold from $5.5 million, or 13 cents, a year ago. Adjusted net income was $33.6 million, or 76 cents, against $5.7 million, or 13 cents, last year.
Gross margins declined 70 basis points to 33.9 percent. Product and channel mix caused a 250-basis-point headwind due to a higher proportion of revenue coming from firearms and ammunition, and more sales coming through e-commerce. Higher product margins, volume incentives, and other adjustments positively impacted gross margin by 180 basis points.
SG&A expense increased 12 percent to $83.6 million due hazard pay for in-store staff, minimum wage increases and new store growth, but was lowered by 800 basis points as a percent of sales to 21.9 percent. Operating earnings reached $45.5 million, more than triple sales of $9.8 million in the prior-year period.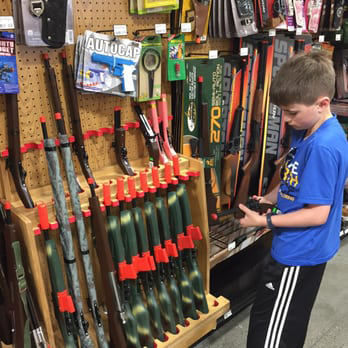 Firearms Sales Soar 171 Percent
Barker said total Sportsman's Warehouse firearm unit sales increased 171 percent, while the adjusted NICS checks were up 111 percent. The CEO stated, "Our unit sales materially exceeded the NICS checks increase for the quarter, which confirms that we are continuing to gain market share and new customers."
The footwear and apparel gains marked a recovery from the first quarter. Barker added, "We saw particular strength in our functional footwear and apparel such as hunting boots, waders and camouflage."
Barker said Sportsman's Warehouse is "highly encouraged" by the significant increase in participants in outdoor activities across the U.S. In addition to the increase in fishing, hunting, camping, and hiking activities, most state national park attendance is up versus prior year, he noted.
"Across the country, many Americans are transitioning their resources away from travel and entertainment toward spending time with family and friends in the outdoors," said Barker.
But firearms have particularly benefited from a strong pick-up in new customers as nearly 5 million individuals purchased a firearm for the first time in the first seven months of the calendar year. Barker noted that a firearm customer traditionally has the highest lifetime value of any segment within its customer base and drive significant value across other product categories in the chain's business.
"History has shown that outdoor activities, particularly those done with family and friends, typically have remarkable participation resilience, especially during recessionary times," added Barker. "We are optimistic that the new participants in outdoor activities, including hunting and fishing, bode well for outdoor specialty retail in general and Sportsman's Warehouse, in particular."
E-commerce Revenues Triple
E-commerce revenue grew over 300 percent and now accounts for more than 10 percent of total sales. Online selling was launched in late 2018 and the channel's growth has exceeded expectations. Said Barker," The events of 2020, especially COVID-19 and social unrest, accelerated adoption of our e-commerce platform, including BOPUS and ship-to-home."
At the store level, its first small-format store, measuring 7,500 square feet, opened in early August in Laramie, WY and the company is "highly encouraged" by the location's early performance. Said Barker, "This store is currently the smallest in our portfolio and an ideal approach to further penetrate small to midsize markets where our national competitors cannot perform."
The retailer opened four new Sportsman's Warehouse stores year to date and plans to open another three for the full year.
Sportsman's Warehouse reduced its net debt in the quarter by $150 million and improved liquidity by $130 million compared to last year. At the quarter's end, the company had a net debt-to-EBITDA ratio of less than 0.1, reflecting its nearly debt-free position.
Inventories at quarter's end were $297 million against $289 million at the end of Q219 and down 9 percent on a per-store basis compared to the prior year.
Said Barker on inventory, "Actually, we feel like we're in a better position than most going into the back half of the year. Now with that said, there's probably going to be some spots within the chain that will have some think inventory. The team is working diligently every day to fill in those gaps. The manufacturers, of course, and the vendors are working diligently. But, as you can imagine, the supply chain, in general, has seen some impact from COVID and the things that are related to the regulatory and attendance that might be occurring in a particular location. So, each one of those is unique. We're feeling pretty good about our ability to be successful across the board in the back half of the year, knowing there'll be some spots that will be a little light."
Looking ahead, Barker said Sportsman's Warehouse has a "substantial opportunity" to turn the new customers discovering the retailer amid the pandemic into life-long customers. The company didn't provide guidance due to uncertainties although Barker cited the upcoming election cycle and economic uncertainty as two near-term factors that could influence its near-term business.
He added, "We remain optimistic that over the long run. There is significant opportunity for continued market share gains, e-commerce growth, and physical store expansion. We believe these factors and our laser focus on execution for both an operational and strategic perspective position Sportsman's Warehouse for long-term growth and profitability."
Photos courtesy Sportsman's Warehouse