Mad Dogg Athletics Inc. launched a new belt-drive system for its line of commercial Spinner bikes that it says last longer, run quieter and better duplicate the sensation of riding an outdoor bicycle.
The system was developed in partnership with Star Trac, the licensed
manufacturer and distributor of the patented line of Spinner bikes for
the commercial Spinning market.
"This is the first integrated system that utilizes several advanced technologies to achieve a natural road-bike feel, previously unavailable in any belt-driven bike," said John Baudhuin, CEO of Mad Dogg Athletics Inc, which created and owns the Spinning trademark. "We built our first belt driven prototype over seven years ago, but not until the advent of our Fusion Drive system has the industry had a bike worthy of the ride quality and standards set by Spinning. We have over a dozen patents on our bikes and continue to push innovation to create the perfect bike for riders and facilities."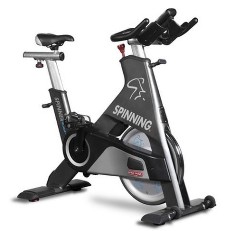 The Spinner Blade Ion
The Fusion Drive system features an ultra-durable Poly-V Isoprene belt, a unique tensioning system, and the real road feel of a perimeter-weighted flywheel. Together, the system transfers more direct cranking energy without the sponginess or slippage found in other belt-driven systems.
"The way we describe it is that our Fusion Drive system has 'more push, less mush'," added Baudhuin.
"The heart of our innovation is always anchored in our rider and owner experience, and Fusion Drive is the only system that is smooth and quiet with a truly superior natural ride compared to other belt bikes," said John Cook, Vice President of Design. "For our 35,000 facilities, Fusion Drive not only offers the world's best inertia-driven belt drive option, but also has the benefit of being a very low-maintenance system."
The new Fusion Drive system is now available on several commercial bike models including the Spinner® Blade ION™, the Spinner Blade, and the Spinner NXT Black Belt. Each model also is available with a classic chain drive system that offers the most authentic road bike experience.
Mad Dogg Athletics has trained over 200,000 instructors and has reached
millions of enthusiasts around the world through a network of over
35,000 fitness facilities. The company designs, engineers, and
manufactures Spinner bikes for the consumer market, Pilates equipment,
functional training equipment, and a complete line of Spinning-branded
apparel and accessories. Mad Dogg Athletics works closely with Star Trac to develop bikes for the commercial market. Mad Dogg Athletics has successfully registered trademarks in the Spin, Spinner and Spinning family of products in over 80 countries.

Star Trac offers a complete line of cardiovascular, strength and group exercise products with varied feature options and multiple price points to meet the needs of any complete facility design.