It's No Secret that the SOG brand started with a mission 25 years ago to create knives that stand apart from the pack and that Spencer Frazer's, Founder and Lead Image, mission to create innovative products would continue to meet the demands of the company's customers.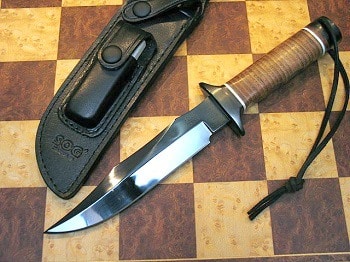 For Today readers who are not familiar with SOG, the story begins in Vietnam, where members of a highly classified U.S. special ops unit carried a unique combat knife into the jungle on covert missions. In 1986, that knife inspired Spencer Frazer to found SOG Specialty Knives.
His mission: to reproduce the original Vietnam SOG Bowie knife, pictured left and below and in the movie Terminator 2, and to pay tribute to the special ops unit that created it.
What began as a single commemorative tool soon became a full product line, field-proven by U.S. Special Forces, honored as the Navy Seal knife of choice and carried into the most demanding situations.